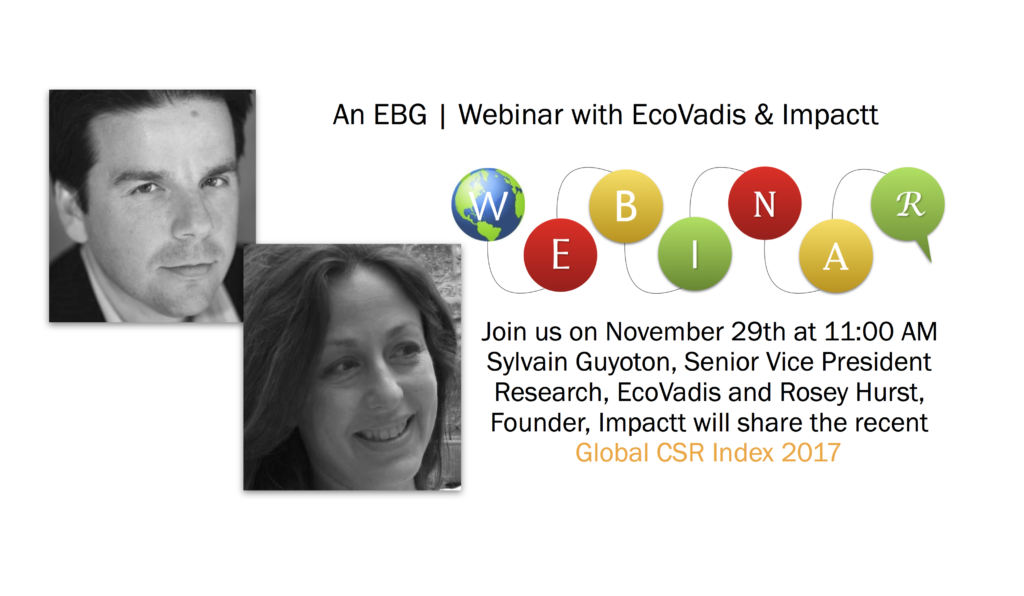 For the first time, EcoVadis has leveraged its deep database of environmental, social and ethical performance ratings of global supply chains and publish the inaugural edition of a Global CSR Risk & Performance Index. The Index analyzes the CSR practices of more than 20,400 companies over 2015 and 2016 using EcoVadis' CSR Ratings, which evaluate companies on 21 CSR criteria across four themes: environment, labor practices / human rights, ethics/fair business practices, and supply chain. Join us for a presentation of key findings of the report which reveals CSR performance and trends across company sizes, geographic regions and sectors of activity, and a deep dive into some of the hot issues.
Date: November 29th 2017
Time: 11:00-11:50 AM CET
Place: Your computer/tablet/phone
Language: English
Cost: Free of charge but requires registration
Organizer: EBG | Network & EcoVadis
For this webinar we will welcome Sylvain Guyoton, Senior Vice President Research, EcoVadis and Rosey Hurst, Founder, Impactt who will share highlights from the report and discuss human trafficking and modern slavery trends across major global industries.
EBG | Network are happy to invite you to a session giving you vital benchmark opportunities and to the point advice about what to consider in your CSR risk management strategy and execution plans.
You will learn:
Regional comparison across Europe, Americas and Asia/Middle-east/Africa
What CSR risks and opportunities are more prevalent in which sectors?
"Deep dive" spotlight on human rights: Where are the biggest challenges – both obvious, and those that are 'hidden', and what is making large organizations take action?
This report sets a benchmark and will challenge procurement teams to discover how do their value-chain partners measure up against industry peers? Where are the biggest risks – and opportunities? Are they laggards, part of the herd, or leaders?
The Index was built using EcoVadis' CSR Ratings, which evaluate companies on 21 CSR criteria across four themes: environment, labor practices and human rights, fair business ethics and sustainable procurement.
"The overall results are promising. We're observing many companies, across all markets, making crucial year-over-year improvements to CSR performance, and many industries edging toward lower CSR risk," said Pierre-Francois Thaler, co-founder and co-CEO of EcoVadis. "While the progress has been terrific, the criticality of supply chain CSR remains extremely high, and there's a lot of room for all businesses to grow and improve. Our grading scale and evaluations represent this reality – we've seen strong progress in 2016, but there's still a major gap between today's scores and peak CSR performance."
You can read the full EcoVadis CSR Risk and Performance Index, download the full 2017 report, and bring your burning questions to this timely session.
As always it should be worth your while attending live – make sure to ask questions and benchmark live via appreciated polls. All who register will receive the slides and recording, your registration and webinar responses will only be shared with the co-organizer.
Welcome!
EBG | Network & EcoVadis
About EcoVadis
EcoVadis is the first collaborative platform providing sustainability ratings and performance improvement tools for global supply chains. Combining powerful technology and a global team of CSR experts, EcoVadis' easy-to-use CSR ratings and scorecards are used by procurement teams to monitor environmental, social and ethical risks across 150 purchasing categories and 110 countries. Over 175 industry leaders such as TeliaSonera, Nokia, SEB, Oriflame, Hempel, DNB, ING Bank, Kemira, Coca Cola European Partners, Nestle, Heineken, Johnson & Johnson, GSK, Salesforce and L'Oréal use EcoVadis to reduce risk, drive innovation and foster transparency and trust among over 35,000 trading partners. Learn more at ecovadis.com, Twitter or LinkedIn.
About Impactt Limited
Impactt enables organisations to improve working conditions and livelihoods across global supply chains in a way that brings clear business benefits to both ends of the chain. We are a leading consultancy specialising in ethical trade, human rights, labour standards and international development. Impactt works with a wide range of stakeholders, from large retailers and government bodies to factory workers and local communities. Often the experiences and languages of these different stakeholders are so far apart that they do not 'see' or interact with each other. Impactt helps to bridge the gap and deliver real change on the ground. Impactt's approach is change-focused, innovative and practical. We are a passionate and committed team with extensive local experience. We have offices in the UK, China, Bangladesh and India, and a network of Impactt associates across Cambodia, Ethiopia, India, Kenya, Malaysia, Myanmar, Poland, Romania, South Africa, Sri Lanka, Turkey, Thailand, Vietnam and elsewhere.