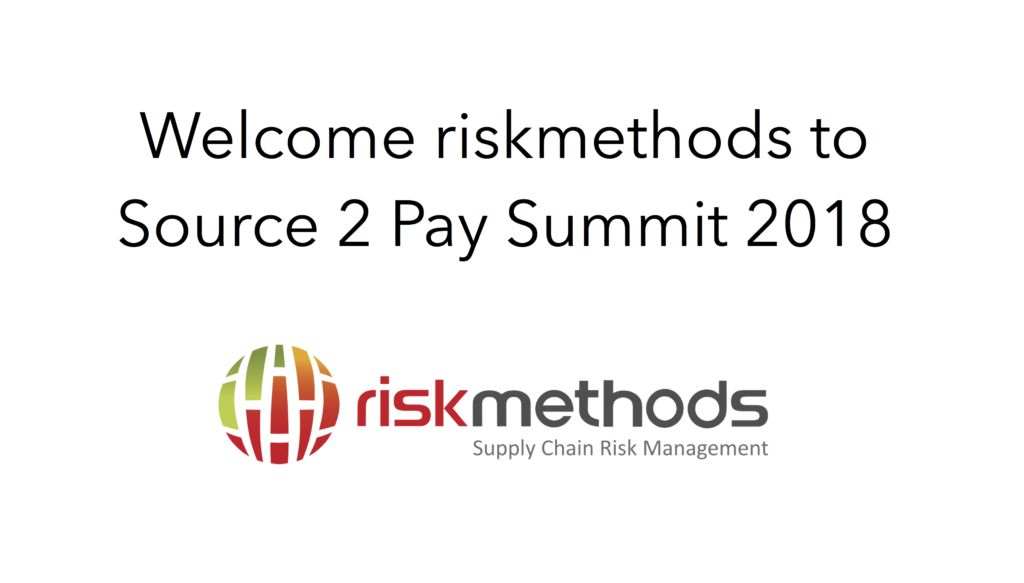 Reducing cost and avoid and manage risk – still the two major priorities most sourcing and procurement organizations deal with? Consider what you are monitoring and how – most have thousands of suppliers in a networked environment with agents, traders, subcontractors and a mix of tier 1, tier 2, tier 3 suppliers and so on. How do you go about increasing control?
What does supply chain risk management mean?
EBG | Network are happy to welcome riskmethods to Source 2 Pay Summit 2018, a company offering cloud-based supply chain risk management solution. But what does that mean? Below is an interview with CEO Heiko Scwarz EBG did to give you an overview over their thoughts on risk management.

EBG have done several webinars and interviews focusing on how companies monitor risk in their supply chain. Considering that up to 70% of revenue is invested externally this issue is not only for audit purposes but a matter of knowing your extended business network. With that mindset it is extra interesting to see what respondents focus on monitoring, so we asked during a webinar.
How do you manage risk?
During the webinar session two poll questions were asked focusing on how the attendees – coming mainly from across the Nordics, Europe and the US – how they choose to manage risk and what risk areas they focus on. (You can view the recording further down in the article)
The respondents were allowed to choose one or several options.
The above results have been shown numerous times, making riskmethods CEO Heiko Schwarz respond with a list for you to consider. His response to the tier 1 and financial health focus is:
Report with many data points about supply disruption root causes (financials is no. 10 there!)
Our data of more 4 years in operations with millions of data points (financials are no 17 there!)
7 of 10 respondents do not have sub-tier visibility – this is tough as 51% of the supply disruptions origin from tier 2 or below!
3 of 10 don not track risks in their supply base at all!
23% of respondents consider logistic hubs in their monitoring: 77% do not and haven´t switched their mindset to supply chain oriented approaches. what happens if the port is at strike?
Those 73% who monitor threats of their supplier watch at supplier health (88%) – disastrous as this is a minor root cause of disruptions (they miss 10 to 16 more likely root causes)
Sources: Business Continuity Institute & Zurich Insurance 2016 & riskmethod's own studies and data
Below you can also view the recorded session with Benjamin A. Sutherland, Project Manager Group Sourcing at Husqvarna enabled by riskmethods.

About riskmethods
From the company website: riskmethods offers a SaaS, cloud-based supply chain risk management solution. The company focuses primarily on SMEs and large businesses in all industries, which purchase on an international basis.
The two executive partners Rolf Zimmer and Heiko Schwarz are responsible for the company management, and together have over 25 years' experience in strategic purchasing. They have both been honored with the "Pro To Know Award" for their forward thinking on the topic of supply chain risk management. Also Bill DeMartino, General Manager of North America has been honored with the "Pro To Know Award" 2017. Rolf, Heiko and Bill are distinguished speakers for global procurement and supply chain conventions.
riskmethods customers benefit from a comprehensive supply chain risk management solution for proactive monitoring and assessment of risks in the supply chain. An early warning system for potential risks,ensures that proactive steps can be taken to avoid supply interruption, enforce compliance and protect the corporate image. The SaaS solution, which was developed in Germany, combines state-of-the-art technology with cutting-edge provision of risk intelligence, to establish a leading standard in supply chain risk management.
About Source 2 Pay Summit 2018
Spend control are often a number one priority and still a true challenge. It is argued that no matter how well you reduce cost by 2-5% on a yearly basis – it will not determine if your business will still be here in 3-10 years. And so oversight with insight is the new gold. Insight about your networked business where suppliers can be a vital part of making or breaking your development plans. Plans that sourcing, procurement and finance need to be an integrated part of.
With the increasing strive to grow insight come the desire to learn more about your networked businesses and to be able to widen your risk management scope. It is all part of doing modern business and EBG | Network offer a smorgasbord of insights with the aim to help You both overcome your challenges today and give you tools – in the shape of know how and actual tools – to help grow your business tomorrow.
Welcome! Register today – EBG are working furiously to ensure You have a great day ahead.