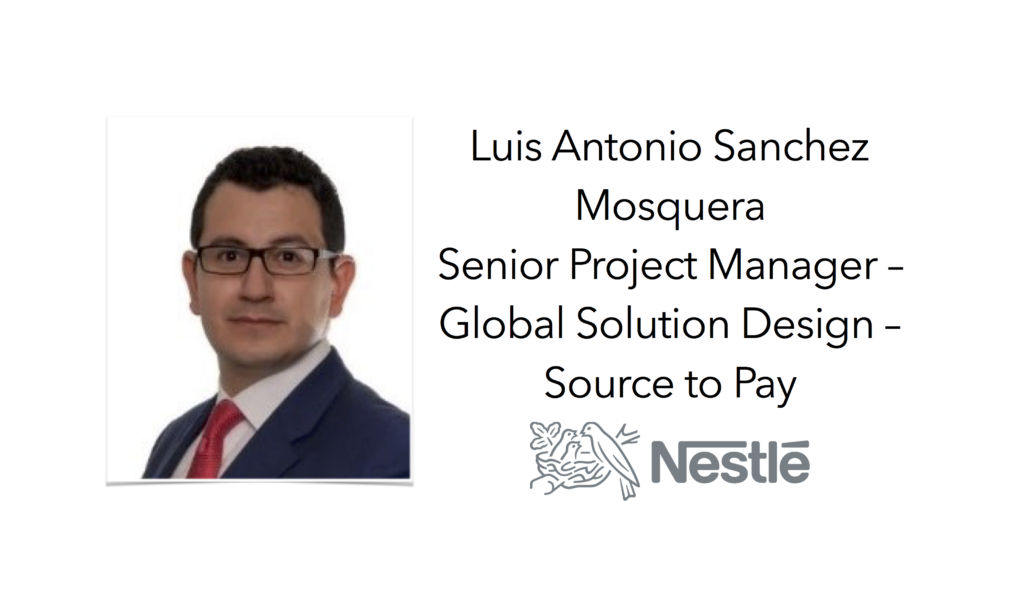 For EBG | Network it is a treat welcoming a Nestlé to Source 2 Pay Summit who both talk the talk and walk the walk. It is becoming increasingly common to see large companies combine the need to control spend with the possibilities that lies in a increased business need insight.
Luis Antonio Sanchez Mosquera, Senior Project Manager – Global Solution Design – Source to Pay at Nestlé is joining us and we look forward to learning more from his and their experiences! In April you will be able to sit down during round table discussions – a well known feature since 2010 at EBG | Network summits – and enjoy to the point discussions.
About Nestlé
Nestlé have been providing safe quality nutrition for more than 150 years. With more than 2000 brands ranging from global icons to local favorites, a presence in 191 countries around the world and around 328 000 employees – Nestlé is the world's largest food and beverage company. Nestlé work with almost 165,000 direct suppliers and 695,000 individual farmers worldwide.
About Source 2 Pay Summit 2018
People joining Source 2 Pay Summit usually have an interest in widening their business development scope. As most realize optimizing end to end flows is not a one woman or man job nor a one function task. Too rarely this fact is taken into account and this summit do its best to bring different competences together.
Welcome! To learn more and register (each round table session have a limited number of seats) >>go here
What others think about Source 2 Pay Summit
"Very professional
Good international coverage-well done!
I think the dinner is really good evening before in order to network" #SKF
"Flawless organization! Good mix of companies and industries." #DeLaval
"Fantastically organized with lots of opportunity to discuss relevant and interesting topics with a wide mix of moderators and attendees." #AGA/Linde
"Very well organized.
Topics very relevant.
Very good possibilities of interactions among participants."
#Vestas Wind Systems