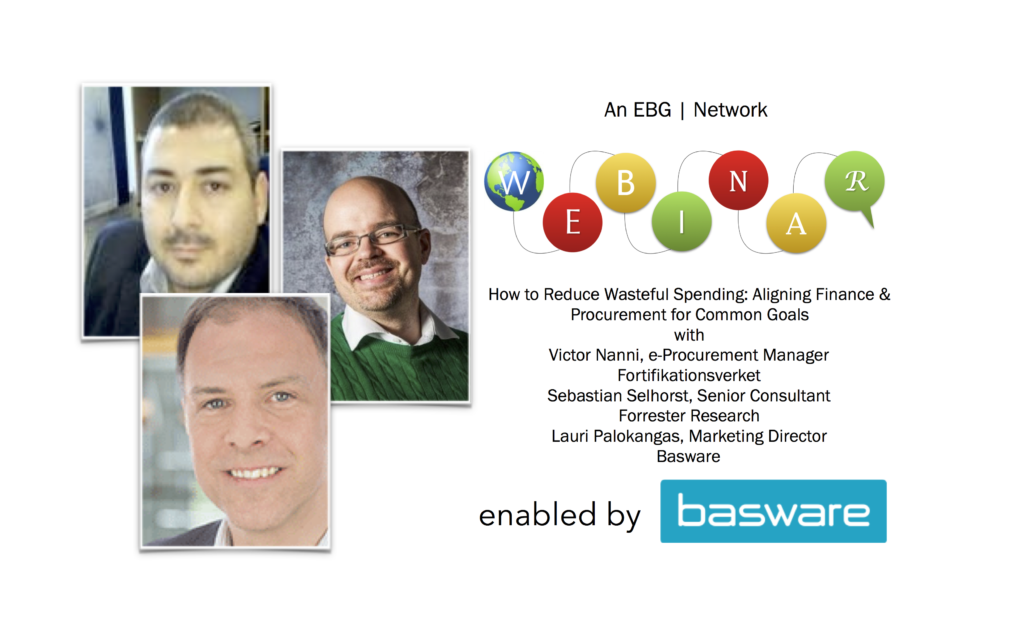 Register today for this EBG | Network webinar – How to Reduce Wasteful Spending: Aligning Finance & Procurement for Common Goals, featuring guest speakers Victor Nanni, e-Procurement Manager at Fortifikationsverket, Sebastian Selhorst, Senior Consultant at Forrester Research, and Lauri Palokangas, Marketing Director at Basware.
Date: March 22nd 2018
Time: 14:00-15:00 PM CET
Place: Your computer/tablet/phone
Language: English
Cost: Free of charge but requires registration
Organizer: EBG | Network & Basware
Why is this an important topic?
Finance and procurement professionals are often tasked to do more with fewer resources, leveraging data to drive decision-making, become more strategic, and ensure corporate growth. These departments have common goals and need advice on how to align in order to effectively automate manual processes, release time to focus on strategic initiatives, and aggregate reliable, complete data for analysis – ultimately working together to reduce wasteful spending and produce savings for the organization.
What are the challenges?
The challenges in both procurement and finance are similar, and they work with the same supplier base, but in many instances disparate systems prevent them from collaborating effectively. Because of this disjointed approach, both sides struggle with:
Inefficient, manual processes that consume valuable time and precious resources
A lack of visibility to see spending trends as well as opportunities to save cost and reduce risk
Challenges in reporting and closing the books on time
Inability to accurately forecast and properly plan
Difficulty managing budget and cash flow without a single source of truth
Trouble with compliance and spend control
What will you learn?
During this webinar you will learn valuable insights and best practices from lessons learned, including:
What it means to align procurement and finance departments
How to optimize spend visibility
What value increased accounts payable productivity offers
How to benchmark your process efficiency and evolve further
What ROI you should expect from implementing a fully integrated P2P solution
As always, we will engage the you joining the live event, making your time spent worthwhile. This will be your opportunity to ask questions and hear the thoughts of your peers on the topic. All who register will receive the slides and recording.
Welcome!
EBG | Network & Basware
About Fortifikationsverket
The Swedish Fortifications Agency is the largest real estate owner in Sweden. Their main focus is to manage the diverse defence estates.
The agency also take part in creating a secure and robust civil society. Since 2008 they are a part of Sweden's emergency management system. Ultra-secure facilities are their forte.
About Forrester
Forrester (Nasdaq: FORR) is one of the most influential research and advisory firms in the world. We work with business and technology leaders to develop customer-obsessed strategies that drive growth. Forrester's unique insights are grounded in annual surveys of more than 675,000 consumers and business leaders worldwide, rigorous and objective methodologies, and the shared wisdom of our most innovative clients. Through proprietary research, data, custom consulting, exclusive executive peer groups, and events, the Forrester experience is about a singular and powerful purpose: to challenge the thinking of our clients to help them lead change in their organizations.
About Basware
Basware is the global leader in providing purchase-to-pay and e-invoicing solutions in the world of commerce. We empower companies to unlock value across their financial operations by simplifying and streamlining key financial processes. We help our customers to succeed and create added value to their business through better financial management. Our Basware Commerce Network, the largest open business network in the world, connects 1 million companies across 100 countries and enables easy collaboration between buyers and suppliers of all sizes. Through this network, leading companies around the world achieve new levels of spend control, efficiency, and closer relations with their suppliers. With Basware, businesses can introduce completely new ways of buying and selling to achieve significant cost savings and boost their cash flow. Find out how Basware helps money move more easily and lets commerce flow at www.basware.com
www.twitter.com/basware
www.facebook.com/BaswareCorporation
www.linkedin.com/company/basware