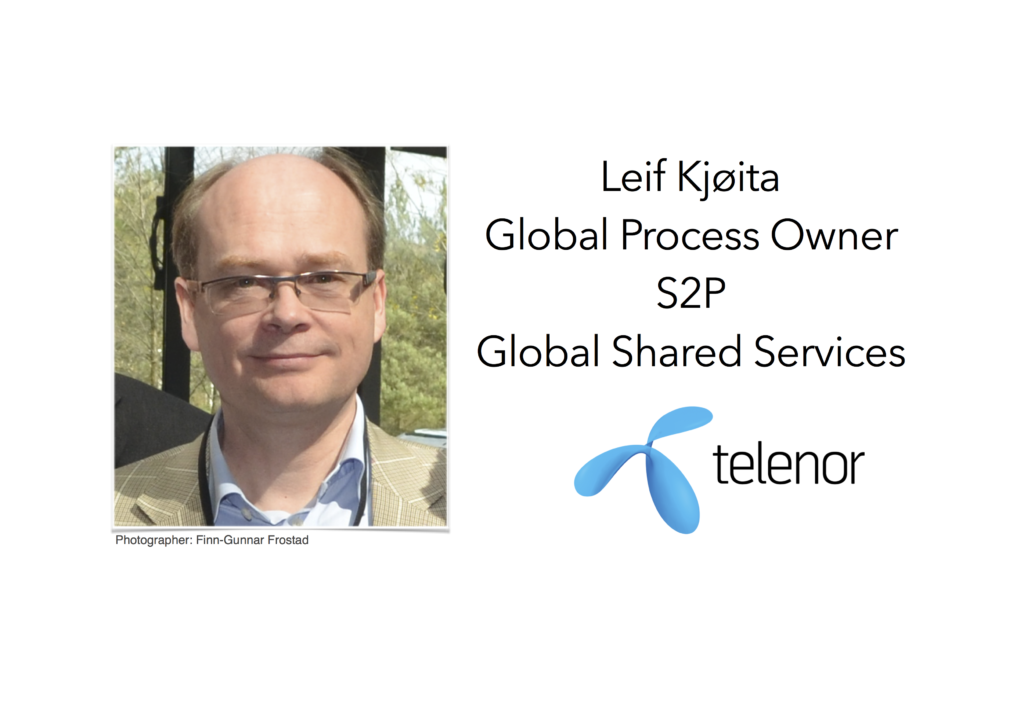 For us it has always been of interest how large organizations choose to manage the desire to centralize and push down head count and transaction cost and the need to gain end to end control and visibility. Doing so not only to be able to reduce cost but to be able to have a single view on company books and find ways to steer towards end to end value ad.
EBG | Network are thrilled Leif Kjøita, Global Process Owner S2P at Telenor Global Shared Services is joining Source 2 Pay Summit 2018 on April 24th in Stockholm.
Together with Leif you can learn from their experiences and the developments they have been through over the past years (and they are many!). You can also learn from the other peers joining the discussions we have chosen to call Theme Discussions.
Telenor Group is embarking on a transformation journey within the procurement area. With 12 markets and more than 30 000 employees, end to end performance is key. Telenor has a Global Shared Services organization that started out in the Nordics 15 years ago. But within source to pay the focus in this organization has mainly been on the invoice to pay part. In 2017 Telenor therefore established the global Telenor Procurement Company (TPC) with HQ in Singapore. The last couple of years Telenor has been focusing on increasing the use purchase orders, but since one size does not fit all spend they are now moving towards a more flexible approach.
When could you last sit down and share views on what could potentially solve current headaches worth millions and ease your burden through the know how of others?
About Telenor
Telenor Group connects its 178 million customers to what matters most. Connecting the world has been Telenor's domain for more than 160 years and we currently operate in 12 markets* across Scandinavia, Central Eastern Europe and Asia. Our 30,000 employees are committed to responsible business conduct and driven by the ambition of empowering societies.
* With effect from Q1 2017, Telenor India is treated as an asset held for sale and discontinued operations in Telenor's financial Reporting.
About Source 2 Pay Summit
Any of the below of interest for your persona and/or company growth? If yes we hope you make it to Stockholm in April! Register here
Some example of topics during the day:
Digitalisation and automation
Maersk
Key Note: Finding the balance between all things digital and human behavior
Speakers: Lucas Rulff, Senior Manager, Digital Procurement & Lars J Johansson, Head of Procurement automation and analytics
Danske Bank
Round Table sessions: Road map towards step by step digitalization from source to pay
Moderator: Jurgita Bergmann, Project Manager Group Procurement – Procurement Development
Basware
Round Table sessions: New technology impact on source to pay efficiency success
Moderator: Herman von Greiff, Country Manager
OpusCapita
Round Table sessions: Benchmark your degree of end to end spend control
Moderator: Martin Casserdahl, Director, P2P Presales and Consulting
Organization, strategy and structure

Telenor
Round Table sessions: Benchmark: From invoice to pay control to balanced multi channel source to pay
Speakers/moderators: Leif Kjøita, Global Process Owner S2P at Telenor Global Shared Services
Ericsson
Key Note: The Road to spend control through infrastructure consolidation and process compliance
Round Table sessions: Spend Control a compliance matter?
Speakers/moderators: Lotta Carlsson, Head of Sourcing Process Management & Peter Ringström, Program Management Office, Group Sourcing
ISS A/S
Focus Session: Category management as a key enabler towards ISS' strategy
Round Table sessions: What is supplier enabled innovation to you?
Speaker/moderator: Emmanuel Buyse, Director, Head of Category Management
Vattenfall
Focus Session: Road to go live in one of the Nordics largest outsourcing agreements
Round Table sessions: How can you decide whats best – keep in-house or outsource?
Speaker/moderator: Stefano Dell'Orto, Head of Procurement Performance
SEB
Round Table sessions: How are you structuring Source to Pay, front, middle and back office?
Moderator: Urban Hollström, Head of Procure To Pay
Sustainability & risk reduction end to end
EcoVadis
Round Table sessions: Turning code of conduct into active and alive ways of working
Moderator: Nico Sagel, Account Executive Benelux & Nordics, EcoVadis
riskmethods
Round Table sessions: Widening risk assessments from mainly tier 1 and financial health
Moderator: Dugan Trevathan, Key Account Manager EMEA
Developing procurement further beyond operational efficiency
Deutsche Post DHL
Key Note: Then: outsourcing and focus on compliance Now: operational excellence as hygiene factor and focus on procurement as expert advisors
Round Table sessions: What lies beyond end to end sourcing, procurement and finance compliance?
Speaker/moderator: Jerker Gunnarsson, Vice President, Head of Global Purchasing
Nestlé
Round Table sessions: Creating a global roadmap towards E2E optimization while fuelling company growth
Speaker/moderator: Luis Antonio Sanchez Mosquera, Senior Project Manager – Global Solution Design – Source to Pay