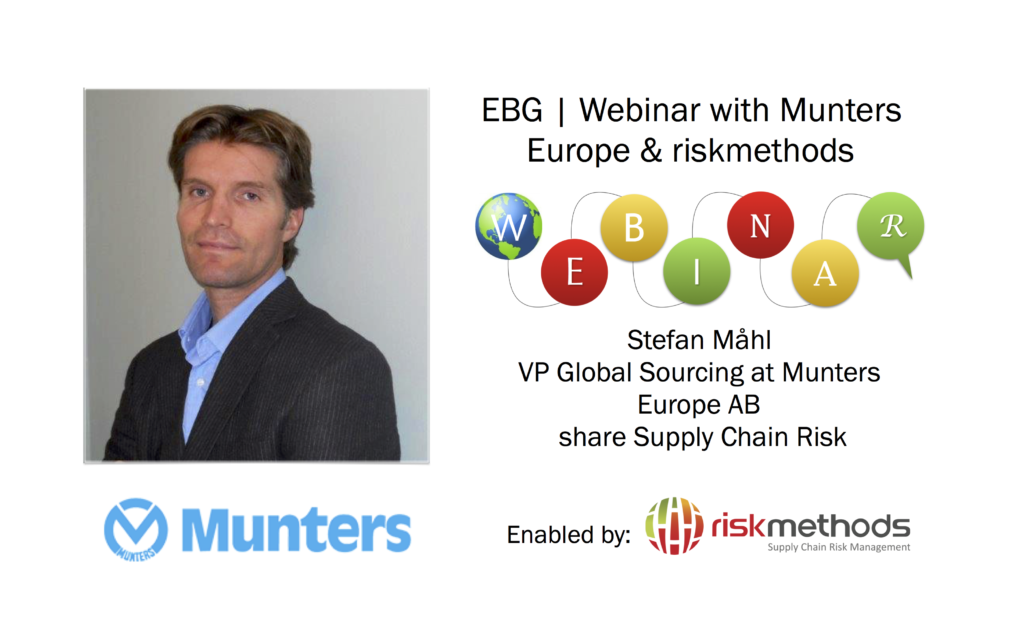 Welcome to insights from a global leader in energy efficient air treatment, Munters Europe. EBG | Network host webinars with the aim to enable you to learn and share valid know how without even leaving the office. Free of charge. EBG encourage you to log on live since an appreciated EBG webinar feature are the live polls giving you an instant benchmark!
Date: April 9th 2018
Time: 16:00-16:45 PM CEST
Place: Your computer/tablet/phone
Language: English
Cost: Free of charge but requires registration
Organizer: EBG | Network & riskmethods
Join Stefan Måhl, VP Global Sourcing of Munters Europe, and Rolf Zimmer, Founder and Managing Director of riskmethods in their conversation with EBG's Founder and Editorial Director Anna Bjärkerud and learn what a smart Supply Chain Risk Management approach is.
Unavoidable risks are a constant threat in our supply chains. The consequences of not actively managing one's supply chain can severely impact profitability, the brand and potentially the very existence of the company. Munters Europe AB realized exactly that and started creating transparency along their global supply chains.
Important reasons for initiating supply chain risk management at Munters Europe was the need for a more holistic supply chain risk overview, an understanding that a financial health check is not enough and a desire to incorporate structured risk awareness early in the sourcing process.
But how do you go from insight to strategy to execution? During this session we will go through;
How to achieve a 360 degrees view of potential risks lurking in a supply chain
Why only monitoring suppliers' financials is not enough
How to drill down further beyond tier 1 suppliers and into your entire supplier network
In what ways Supply Chain Risk Management can be integrated as an early part in the sourcing process
All who register will receive the slides and recording, joining us online will give you the opportunity to compare live with peers. Your online and registration details will only be shared with the co-organizer.
Welcome! We promise to take care of your time spent with us.
EBG | Network & riskmethods
About Munters Europe
Munters is a global leader in energy efficient air treatment and climate solutions. Using innovative technologies, Munters creates the perfect climate for customers in a wide range of industries, the largest being the food, pharmaceutical and data center sectors. Munters has been defining the future of air treatment since 1955. Today, around 3,500 employees carry out manufacturing, sales and service in more than 30 countries. Munters reports annual net sales in the region of SEK 6 billion and is listed on Nasdaq Stockholm.
Facts and Figures
Global presence with sales and manufacturing in 30 markets
About SEK 6 billion in annual net sales
Around 3,500 employees
17 manufacturing plants, 7 smaller assembly hubs, and 55 sales and service centers
Installed base of more than 320,000 air treatment systems
About riskmethods
riskmethods provides award winning Supply Chain Risk Management solutions to address the entire lifecycle of identifying risk, assessing impact and enacting plans to prevent or mitigate risk. Our approach combines innovative Big Data and Artificial intelligence capabilities with insightful risk intelligence to ensure that the right people have the right information at the right time.  Over 100 businesses trust riskmethods to fuel their supply chain risk management programs.  Armed with a digitized representation of the risk profile for their supply network, our customers are able to make better decisions and achieve first-mover advantage in the face of threats. This immediate visibility to emerging risk exposure helps clients assure supply, maintain compliance and protect their revenue and reputation
riskmethods.net | @riskmethods1