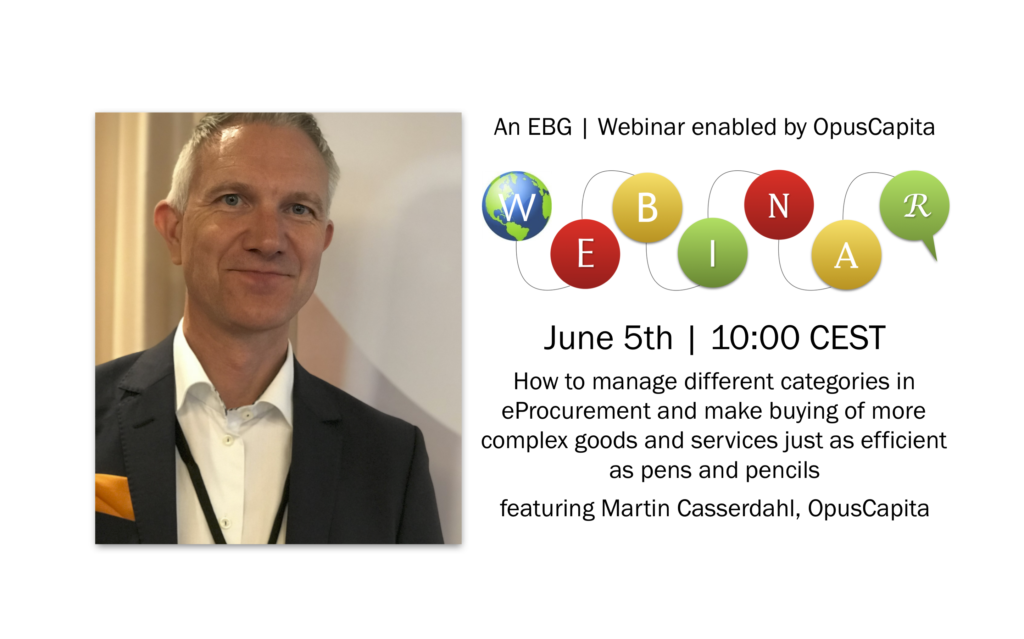 How do you manage different categories in eProcurement? How do you make buying of more complex goods and services just as efficient as pens and pencils? Purchasing Pens and pencils is easy, but how can you make buying all goods and services just as efficient? Join us for a webinar sharing experiences in how to widen eProcurement spend reach.

Date: June 5th 2018
Time: 10:00-10:45 CEST
Place: Your computer/tablet/phone
Language: English
Cost: Free of charge but requires registration
Organizer: EBG | Network & OpusCapita
Join a webinar featuring Martin Casserdahl, Director, P2P Presales and Consulting who will share experiences into how to get a better understanding into how more complex categories can be incorporated into an eProcurement system and what common mistakes to avoid.
Managing spend via eProcurement has typically been focused on and good in addressing categories like IT and Office Supplies through electronic catalogs. With increased maturity more complex categories are targeted, but these are more difficult to manage and often involve deep integration with the ERP, Inventory or EAM systems. Here you can benchmark your insights and discuss ways to overcome commonly known obstacles.
Learn from Martin who will take you through these topics and more:
Basic Maturity Curve: What are the common stages an organization takes as they grow?
Services: typically one of the biggest challenges to overcome. What steps can we take to make buying services easier and how can suppliers support the process?
Integration: when is the right time to integrate to inventory, ERP and EAM systems and what are the benefits?
All who register will receive the slides and recording, joining us online will give you the opportunity to compare live with peers. Your online and registration details will only be shared with the co-organizer. We promise to take care of your time spent with us.
Welcome!
EBG | Network & OpusCapita