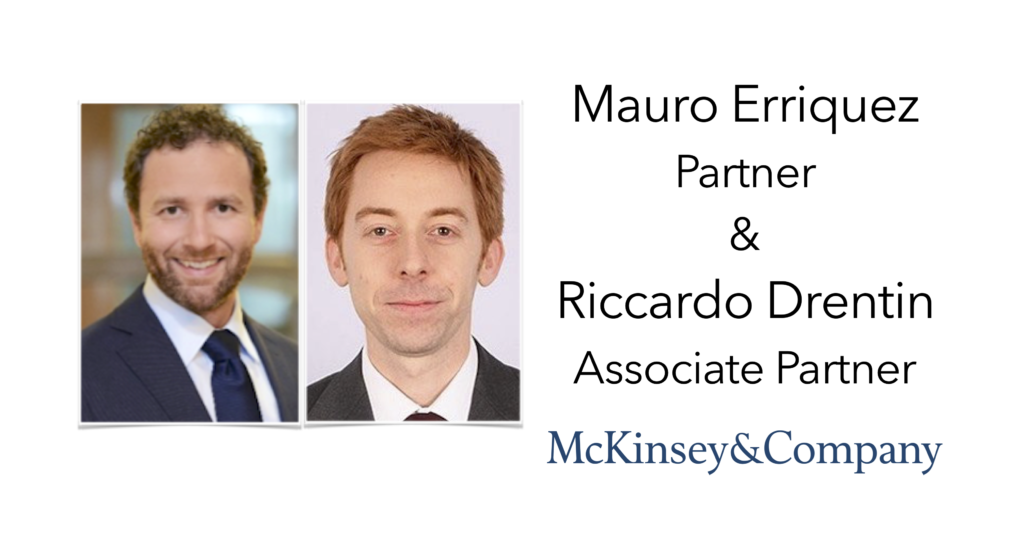 It started with a report. A report sharing an overview over the possible impact and potential in digitizing source to pay. EBG | Network are happy to share the great know how McKinsey & Company will bring to Sourcing Outlook October 11th 2018 in Stockholm!
At Sourcing Outlook 2018 we will learn form Mauro Erriquez and Riccardo Drentin at McKinsey & Company who both have extensive experience from both strategic and operational aspects of developing businesses from a sourcing and procurement perspective.
Keynote speakers and round table hosts
Mauro Erriquez is a Partner in the Frankfurt Office of McKinsey & Company, Inc. His core area of expertise lies on Operations (in particular Purchasing, Supply Chain, Manufacturing), with over 10 years of experience in McKinsey. He is a core leader of Procurement practice at McKinsey, and is the Global Head of McKinsey's Source-to-Pay service line. Mauro has a deep experience of Procurement digitalization across industries, specially focusing on Automotive, Utility and Chemicals industry
Riccardo Drentin is an Associate Partner in the London Office of McKinsey & Company, Inc. He is an expert in S2P and Procurement operating model design. He is a core member of McKinsey's procurement practice and a co-leader of McKinsey's Source-to-Pay service line. Riccardo has led S2P transformations and designed procurement operating model across many global organizations across industries, including Chemicals, Energy and Advanced Industries.
The report
There is a lot of discussions today about digitizing almost any part of business processes across organizations. Finance, procurement, supply chain, HR, logistics – you name it. What is interesting – since automation is nothing new – is that technologies are no longer science fiction but applied science.
Defining source-to-pay
One of the best aspects of the report is the definition of source to pay. For long seen as purely transaction aspects we here get a better description:
In the >>report McKinsey & Company share the view that "Several emerging technologies, including robotic process automation (RPA), machine learning, and advanced artificial-intelligence programs or "cognitive agents," have the potential to overcome hitherto stubborn barriers to automation in the enterprise environment. By applying a new form of analysis to the hundreds of individual tasks involved in the source-to-pay process, we have found that almost 60 percent of them have the potential to be fully or largely automated using currently available technologies."
Technology isn't all
At Sourcing Outlook 2018 we will not only learn about how companies are choosing to embrace technology to be more efficient. We will learn about overall trends in the market, skill sets needed, what companies that do well do and what each in the room can consider when choosing how to develop further.
Apart from sharing their know how during a keynote presentation – Mauro and Riccardo invite you who join the summit to join their round table discussions – you do not want to miss that opportunity!