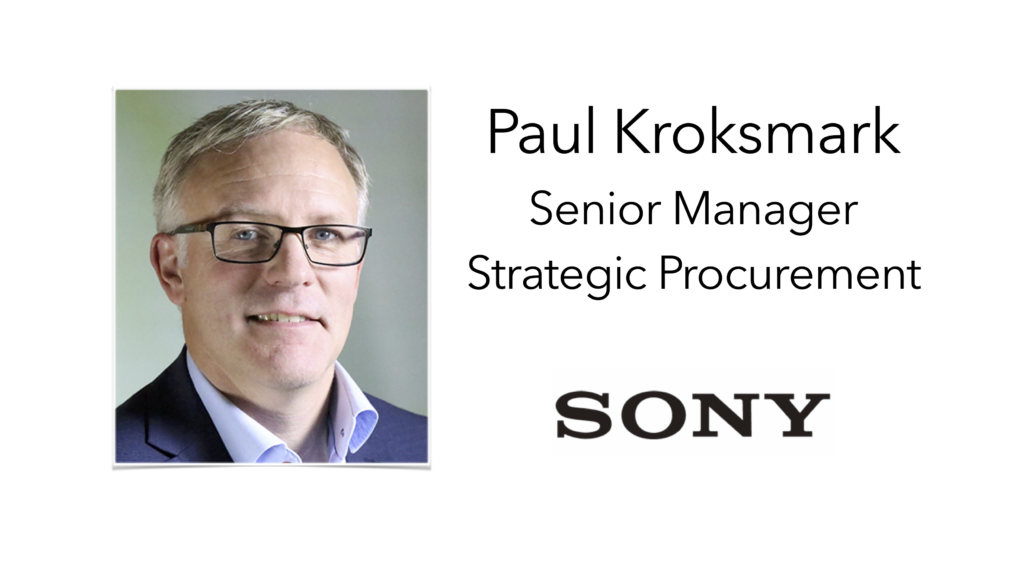 On October 11th, a great bunch of sourcing and procurement professionals meet in Stockholm to share ideas and experiences. Experiences about how to reach that impact desired, know how about how to manage change and a common interest in making a difference.
EBG | Network are pleased to welcome Paul Kroksmark, Senior Manager Strategic Procurement at Sony Mobile Communications as a Theme Discussion moderator. Paul bring up a forward thinking topic focusing on "How to support innovation projects in parallel with the traditional business".
In times of constant market movements, especially within the smartphone industry and technology at large, it is vital to be agile, have speed to market and constantly seek innovation.
Imagine aspects – from a sourcing and procurement perspective where you may have worked hard to set up certain processes.
How do you manage approval of new vendors that are sometimes start ups, when approval criteria are done for large companies and projects?
How do you manage contracts and collaboration with those small companies?
How do you manage risk?
What considerations do you have considering agile and flexible vs rigid processes?
How do you enable production of pilots and smaller volumes in a company structure designed for large and global volumes?
In what ways do you allocate resources for new business vs traditional business?
As you register you will be sent a link and be able to start choosing what round table discussions – in total four – you want to join. There is a maximum number of seats and new for this autumn is that when it is full it is full – all to enable You who join to have the best possible experience exchange. >>Learn more here
Until August 11th EBG offer a "best price" rate (what else :-)) so don't wait too long!
About Sony
In 1946, Tokyo Tsushin Kogyo K.K. (Tokyo Telecommunications Engineering Corporation, the predecessor of Sony) started as a small company with capital of just 190,000 yen and approximately 20 employees.
Founder Masaru Ibuka said the purpose of setting up the company was to "establish an ideal factory
that stresses a spirit of freedom and open mindedness that will, through technology, contribute to Japanese culture." Symbolizing Sony's spirit of challenge to "do what has never been done before,"
the company has continued to release countless "Japan's first" and "world's first" products.
About Sony Mobile
Sony Mobile is a wholly owned subsidiary of Tokyo-based Sony Corporation, a leading global innovator of audio, video, game, communications, key device and information technology products for both the consumer and professional markets.
With its music, pictures, computer entertainment and online businesses, Sony is uniquely positioned to be the leading electronics and entertainment company in the world.
Through its Xperia™ smartphone and tablet portfolio, Sony Mobile delivers the best of Sony technology, premium content and services, and easy connectivity to Sony's world of networked entertainment experiences.
About Sourcing Outlook
EBG generally take an end to end approach to business development seen from the perspective of different individuals active in sourcing, procurement and finance functions. Sourcing Outlook take the sourcing and procurement perspective and ask "Do you know what You want as a professional?", "Do You know how to go there?", "Do you have the tools and skillets needed?", "Are You able to measure success?"
At Sourcing Outlook you will meet peers wanting more, with an interest to make a difference and with the capability to make change happen.