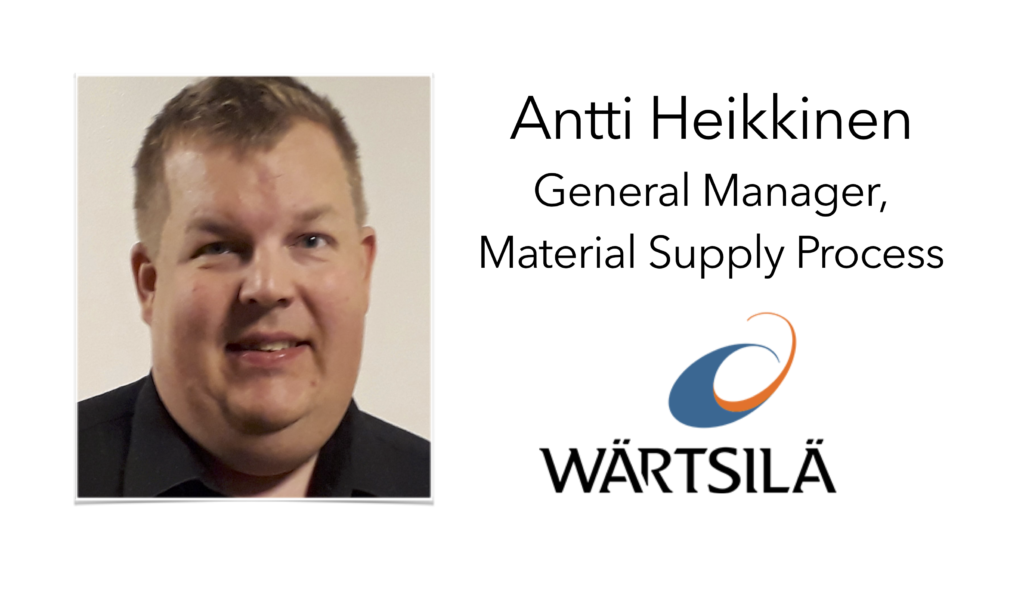 A warm welcome to Antti Heikkinen, General Manager, Supply Process at Wärtsilä who is joining EBG at Sourcing Outlook on October 11th in Stockholm.
We asked Antti what he and they are doing that could be interesting to bring up during round table discussions. "We have been working and are working hard to harmonize our processes and ways of working" said Antti. This is of course something we know many want to achieve and struggle with so the topic felt given!
Antti has been working at Wärtsilä for a long time within logistics, supply chain and process management and have a track record both on the direct and indirect procurement side.
About Wärtsilä
Wärtsilä is a global leader in smart technologies and complete lifecycle solutions for the marine and energy markets. By emphasising sustainable innovation, total efficiency and data analytics, Wärtsilä maximises the environmental and economic performance of the vessels and power plants of its customers. In 2017, Wärtsilä's net sales totalled EUR 4.9 billion with approximately 18,000 employees. The company has operations in over 200 locations in more than 80 countries around the world. Wärtsilä is listed on Nasdaq Helsinki.
Wärtsilä's key figures in 2017
Net sales EUR 4,923 million (4,801)
Operating result EUR 590 million (583)
Order intake EUR 5,644 million (4,927)
Order book 31 Dec 2017 EUR 5,064 million (4,696)
Personnel 18,065 (18,011)
About Theme Discussions
Since the start EBG have enabled hundreds of experts and peers to sit down face to face and share and discuss real challenges and opportunities within sourcing, procurement and finance. Each moderator share a topic they feel are important hence making each topic real and to the point. This year, as you register to join Sourcing Outlook, you will be sent a link and can start choosing from existing round table discussions. Once they are fully booked – they are fully booked. At least 2/3 of all sessions are usually fully booked so register today to not miss out!
You can at any time enter the link and alter your choices until a discussion is fully booked. The program and round table sessions are added to ahead.
About EBG |Network
EBG | Network may be a small company but we are happy to say that we have been part of many large organizations global development journeys! We do not operate as management consultants and are not a conference company – we believe in the power of peer to peer experience exchange which we enable via different type channels.