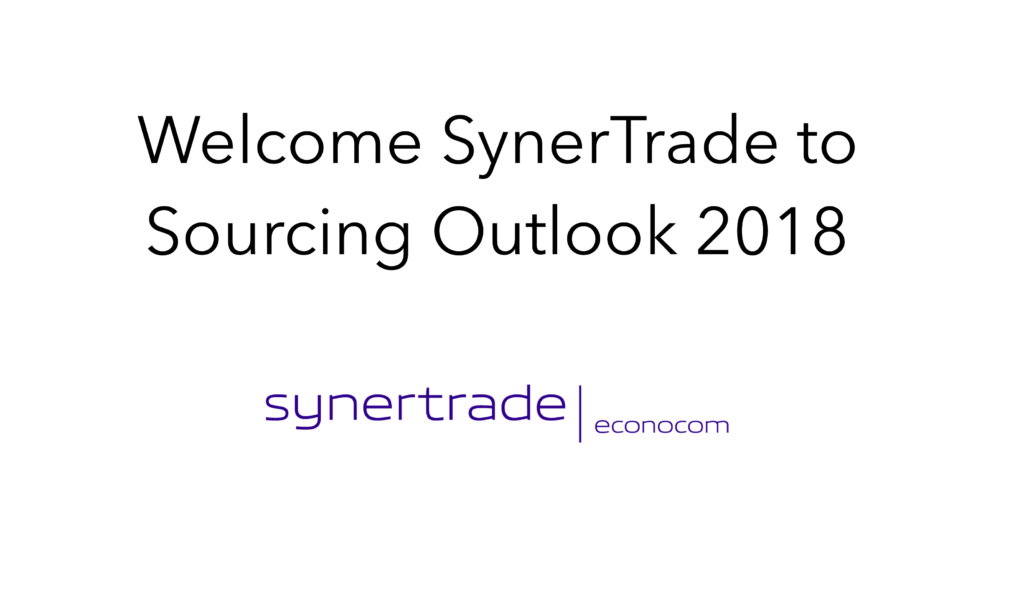 EBG | Network welcome SynerTrade who is joining Sourcing Outlook 2018 as an Expert Organization. EBG have followed SynerTrade since their entry into the Nordic market and look forward to meeting the team come October.
Sourcing Outlook take an in-depth view over the front end of the masses amount of investments and every day purchases all companies do. The complexity in setting a path, negotiating with suppliers, writing contracts, ensuring contracts get used by the business – often spread across countries, that goods and services are received and the agreed conditions followed. In a way that create value.
About SynerTrade
Source2Contract, Procure2Pay, Spend Management, Supplier Relationship Management – the way to procure is in a fast changing mode! Let's team-up and make the world more efficient and safe! Today's CPO agenda, of course, still is to get the most quality and quantity out of every Euro spent. However, rapidly increasing, new goals and consideration come into play that have to be seriously considered: Security, Risk Avoidance, Collaboration, Business Complexity, Cloud Computing and the internet of Things, Big Data, and Mobility. This is to be considered when trying to get the job done. Complex decision processes demand a supportive tooling landscape that is easy to use, but reliable and state of the art.
A system shall ease the procurement department's work and shall not make it more complex. SynerTrade is a leading software company in creating top-notch process support systems for e-procurement and controlling departments in mid to large-scale enterprises since 1999. We are acting global and according to Gartner, we are among the top 5 solution providers for strategic sourcing application suites. More than 260 customers rely on us, such as Sandvik, Kone, Vestas, Coloplast, Tokmanni, United Nordics, Borealis, Metro Group, Lufthansa, EADS, Lafarge, GDF Suez, Bosch, Google, ACGO and many more. Learn more www.synertrade.com
Register today
Sourcing Outlook – as all gatherings EBG do – is not a fair. It is a one day gathering of people from across the Nordics and Europe, coming together to share know how and discuss challenges.
We believe in the power of face to face interactions and the strength in widening perspectives.
You who join us:
May or may not have a centralized procurement organization
May or may not have category management strategies in place
May or may not have a working system environment
May or may not have processes in place
May or may not have the data needed to help the business make better decisions
Welcome! You register here – after registration you can start choosing what round table sessions to join, first come first served