End September great minds met online to discuss digitalization in general and Artificial Intelligence impact on procurement specifically.
Why so?
On April 10th 2018, 25 European countries signed a Declaration of cooperation on Artificial Intelligence. It builds further on the achievements and investments of the European research and business community in AI.
Given this announcement, one would reasonably expect that AI is progressively moving forward in all areas of the global enterprise including the procurement function. However, when it comes to an organization's supply chain, and despite a recent McKinsey report that cited the tremendous impact of digital reinvention regarding the growth of revenues and profits, only 2 percent of companies polled report that the supply chain is part of their "forward-looking digital strategies."
Where is the disconnect?
Watch the re-play
If you were unable to join us live you have the possibility to view the recording. Simply >>follow this link to access the recording. Clicking the link will take you to the registration page – once filling it in and clicking the "Register" button will take you to the recording!

Poll results
What did the crowd logging on to join us live think? Live polls enable all of you attending to benchmark with each other.
All poll questions had a one single answer option.
Artificial Intelligence impact on procurement as a profession
The above question raises several other questions such as if 43% perceive AI will have a significant impact on the procurement profession job – why is digitalization not more present within the supply chain and procurement such as the McKinsey report suggest?
Sally Hughes "The questions is where these technologies can help us – we do not need to know how they work"
Procurement focus needs
The results below partly surprised the panelists,whereas Jack stated that the webinar attendees are perhaps not typical but smarter than the average :-). EBG can of course only agree – we do have the smartest network.
Most would probably agree the below question is complex and not an easy one to answer. What will professionals need to do in order to stay relevant in an AI world? The available choices too are of course limited but it is interesting that predictive analytics and establishing a strong data foundation are sticking out as individual answers. Data being company gold and very hard to manage across businesses, in between businesses and suppliers. Hands up how many still sit with a lot of Excel spread sheets?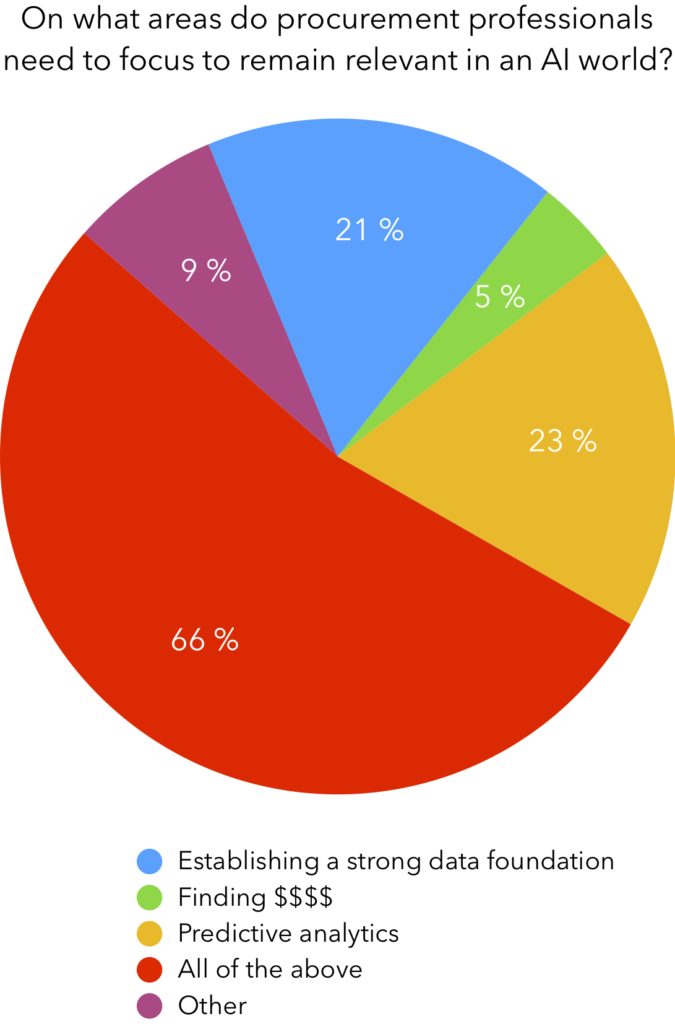 Rob "R&D focused procurement organizations needed to test what is possible"
Essentials for procurement AI success
A couple of years back EBG | Network hosted Change Management workshops. Our workshop leader stated clearly that "you need to use 20% of the time allocated to plan and 80% of the time allocated to follow up". What! you may think – that is simply not possible, and no, that is in several cases what EBG experience – time to follow up is lacking and that can of course be directly tied back to the resource allocation – i.e executive commitment. Over time.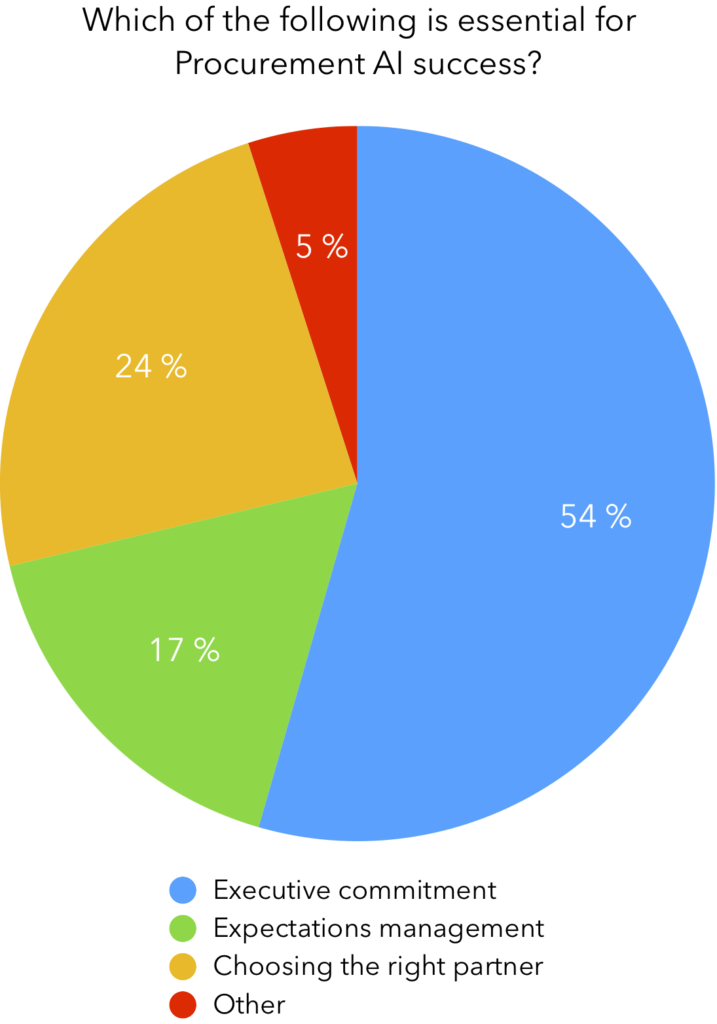 Jack "Prescriptive analytics comes after predictive analytics and this is where AI comes in"
What should you do next?
Consider your organization overall approach to digitalization. Is it part of the overall business development plan? Are you advancing across the organization and is there an executive commitment to develop ahead? Procurement cannot work in a silo and an AI or digitalization focus cannot happen detached from an overall strategy.
Given you have an overall decision to focus on digitalization as part of your overall business development there are a few vital steps:
1. Build a strong data foundation
Continuous data audits to check for and flag incomplete and inconsistent data
Text and Natural Language Processing (NLP) based clustering within fields like items, suppliers etc. to ensure information available for analysis is streamlined
Accurate spend classification ensuring each of the millions of lines of transactions are correctly and granularly tagged to the items they refer to
2. Find the "dollar"
Rate Dispersion
Working Capital Optimization
Contract Compliance
Fraud and Anomaly Detection
3. Leverage predictive analytics
Demand forecasting
Inventory management
Logistics planning
Purchase price analytics
The above should not be seen as a blueprint but as aspects to consider and bring back to your organization to fuel a discussion. EBG hope you want to continue discussing with us – online or in real life.
A big thank you to Zycus for enabling this session, thank you to Jon, Sally, Jack and Rob – see you next time!
Sally Hughes "Success depend on future thinking and not just about today"
About Zycus
Zycus is a leading global provider of complete Source-to-Pay suite of procurement performance solutions. Our comprehensive product portfolio includes applications for both the strategic and the operational aspects of procurement.
Zycus has been Recognized as a Leader in Gartner's Magic Quadrant for Strategic Sourcing Application Suites for four years in a row, making it the only solution provider to achieve this feat.
About Sally Hughes
Sally has been appointed as Chief Executive Officer for the IACCM, supporting the IACCM global team in the pursuit of both the recognition of and excellence in Commercial and Contract Management.
Sally is an experienced and accomplished commercial and contracts management professional, holding senior commercial positions at a range of corporate and multi-national organizations. After gaining an Honors degree in Law, Sally spent her time in house in the corporate sector, where she worked globally in the Telecom's and IT industries, before establishing her own legal and commercial consultancy in 2007. Sally is passionate about enabling business efficiency and growth through contracting and commercial excellence; she understands the need for robust business operations to drive these efficiencies, together with the requirement for effective communication and collaboration at all times.
Whether in contract development, negotiation, training or general communications, Sally has built a reputation for service excellence and responsiveness. Her focus is on the creation of positive and successful business relationships, constantly striving to ensure that businesses realize their true potential and value.
About Jack Shaw
Jack Shaw is a Pragmatic Visionary, a Digital Strategist, an experienced Technology Executive, a Consulting Futurist, and a world renowned Keynote Speaker. He was voted one of the World's Top 5 Technology Futurists by over 12,000 meetings planners, executives and conference attendees.
Jack Shaw has been a Technology Futurist for over 30 years – helping others to understand the strategic implications of emerging technologies. He's a Marketing Strategist, Industry Thought Leader, and Author of three critically acclaimed books on business and technology.
He has advised such leading Technology Providers as Oracle, SAP, IBM, CA Technologies and many more. He has also provided expert guidance and best practices to such Fortune 500 Companies as GE and Coca Cola, among others, as well as to hundreds of small to mid-sized businesses.
A charismatic speaker, he's delivered more than 1000 keynote speeches and executive presentations in more than 20 countries. Jack graduated from Yale with a degree in Business Administration and has an MBA from Kellogg in Finance and Marketing.
He is widely recognized for his expertise in such breakthrough business technologies as:
Artificial Intelligence
Blockchain
Internet of Things
3D Printing
As well as such established technologies as:
Ecommerce/Omnicommerce
Big Data
Predictive Analytics
Cloud Computing
Mobile Commerce
Supply Chain Management
About Rob Handfield
Robert Handfield, Ph.D., is the executive director of the SCRC and the Bank of America University Distinguished Professor of Supply Chain Management in NC State's Poole College of Management. Handfield is a consulting editor of the Journal of Operations Management and has written several books on supply chain management, including "Supply Market Intelligence, Supply Chain Re-Design."
He has co-authored textbooks for MBA and undergraduate programs include "Purchasing and Supply Chain Management" (with Robert Monczka) and "Operations and Supply Chain Management" (with Poole College of Management professor Cecil Bozarth). Indentified as one of a handful of professionals in the 2007 Pros to Know list complied by Supply and Demand Chain Executive journal, Handfield is regularly quoted in such periodicals as the Wall Street Journal, the San Francisco Chronicle and the Supply Chain Management Review.
Over the course of his career, Handfield has consulted with more than 25 Fortune 500 companies across a variety of industries. Such experience has helped inform his ongoing research on the performance of companies with "best in class" supply chain management processes versus those whose supply chain practices are mediocre, which shows that best-in-class companies experience greater stockholder value and enjoy higher savings. Handfield joined the college in 1999 and received his Ph.D. from the University of North Carolina-Chapel Hill in 1990.
About Jon Hansen
As the Editor and lead writer for the Procurement Insights Blog, Jon Hansen has written nearly 3,000 articles and papers; as well as five books on subjects as diverse as supply chain practice, public sector policy, emerging business trends and social media.
In addition to being a much sought-after speaker and moderator internationally, Jon is also the host of the highly acclaimed PI Window on The World Show on Blog Talk Radio, which has aired more than 800 episodes since its initial broadcast in March 2009.
A two-time Ottawa Finalist for the Ernst & Young Entrepreneur of the Year Award, out of a group of 15,000, Blog Talk Radio named Jon Hansen as one of their top 300 hosts.
Don't miss the examination paper written by Jon Hansen called "Digital Transformation in Procurement" that can be found >>here