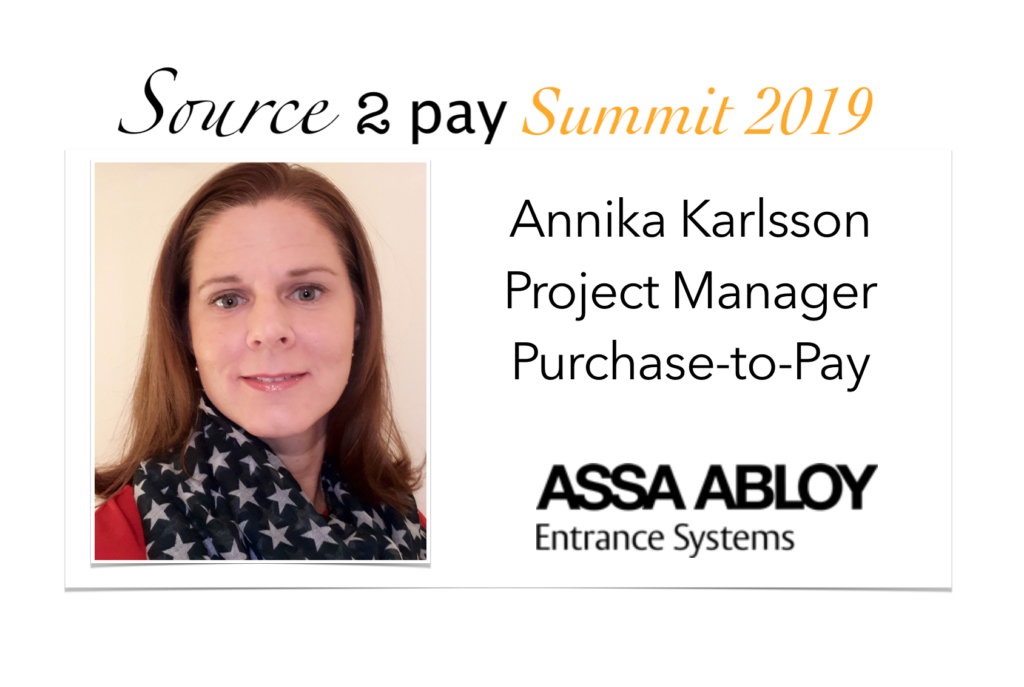 Imagine if you could sit down with peer and discuss challenges and opportunities you are not quite sure how to solve. Or if you could sit down and share a progress and get peer feedback and a discussion comparing how others did the same.
Next year will be the ninth time EBG | Network host Source 2 Pay Summit in Stockholm. We are happy to welcome Annika Karlsson, Project Manager Purchase-to-Pay at ASSA ABLOY Entrance Systems who will be moderating Theme Discussions focusing on how to align company cultures and habits. Or should you even?
Even though the world is shrinking due to globalization and tools make it easy to communicate and share workflows – people are people and we are different. It is an interesting discussion how far you should stretch One common way of working. Easy on paper but so much harder in real life!
EBG have a live poll (found >>here feel free to share your experiences – it is completely anonymous!) and out of those answering, local processes seem to be in favor, tightly followed by global p2p processes.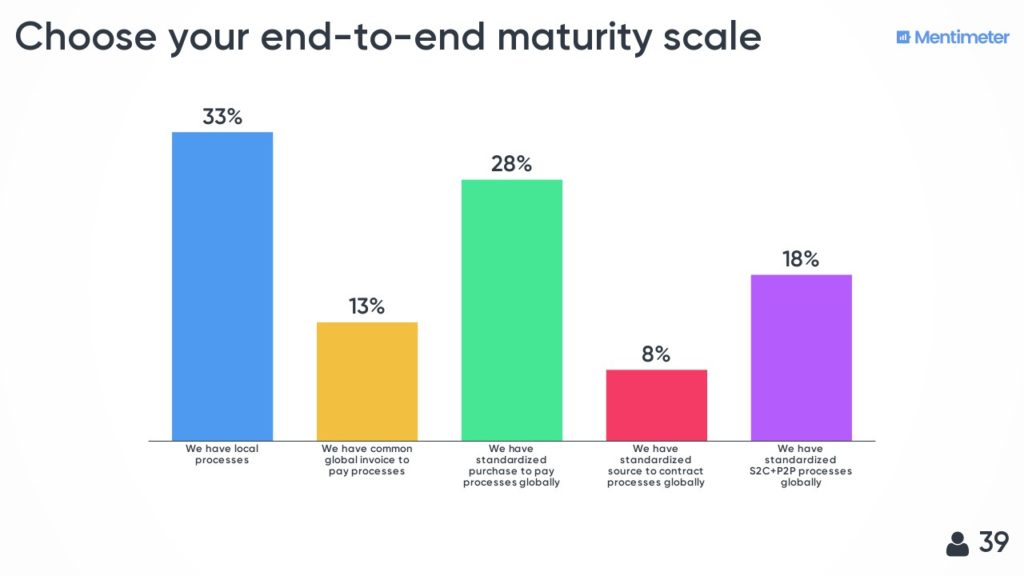 About Annika
Annika is experienced by having managed various position through the supply chain, from material- and logistic planning and ERP expertise to supplier managment and project leadership.

As Project manager for Purchase-to-Pay within the Pulse Program I am responsible to drive the day to day work in the P2P implementation by working closely with colleagues across different parts of the organization to ensure that the decided processes are implemented in a correct way in the different local entities. I am actively supporting the development and improvement of the P2P processes both on Direct Material and Indirect Material in Supply Chain as well as in the sales companies within AAES. Part of my role is also to explain and educate the local organizations in the processes and ensure that they are well understood and implemented.

ASSA ABLOY Entrance Systems is a continuously growing company, both through acquisitions and organic growth. By this the Pulse Program has been establishes to set and implement common and seamless processes throughout the company with respect to existing structures. This reduces complexity both for customers and employees and contributes to a stronger one ASSA ABLOY Entrance Systems.

Part of aligning our processes is to implement a common ERP system. My role is to make sure that decided processes also will be applicable in the system and to hold common work shop to figure out and set what adjustments might be needed. And also to make sure that the P2P processes are in coherence with cross-functional areas for example logistics, manufacturing and finance.
About ASSA ABLOY Entrance Systems
The ASSA ABLOY Group was formed in 1994 through the merger of two leading suppliers of locks and security solutions: ASSA in Sweden and ABLOY in Finland. ASSA ABLOY has since grown and expanded their offerings towards door opening solutions and entrance automation. The Entrance Systems division was formed in 2006.
At the core of ASSA ABLOY Entrance Systems lies a broad and deep experience in entrance automation, with a wealth of expertise and a strong history of proven solutions. Through acquisitions of the well-known global product brands Besam, Crawford, Albany and Megadoor, the ASSA ABLOY family have realized respectable levels of success and market recognition setting industry standards in safety, security and convenience.
For several years, the product brands have been consistently promoted in conjunction with the ASSA ABLOY brand. Since 2017 the collective knowledge and resources from each of these companies are unified under the ASSA ABLOY brand.
ASSA ABLOY Entrance Systems is a division within ASSA ABLOY, the global leader in door opening solutions.
About Source 2 Pay Summit
Extensive now how gathered in one room during one day with the idea to exchange know how with as many as is possible. No high horses – 100% focus on sharing challenges and opportunities and finding ways to utilize or over come.
Registration is open – you will be able to choose what Theme Discussions – round table discussions – to join prior to March. Seats come at a first come first served basis. Welcome!