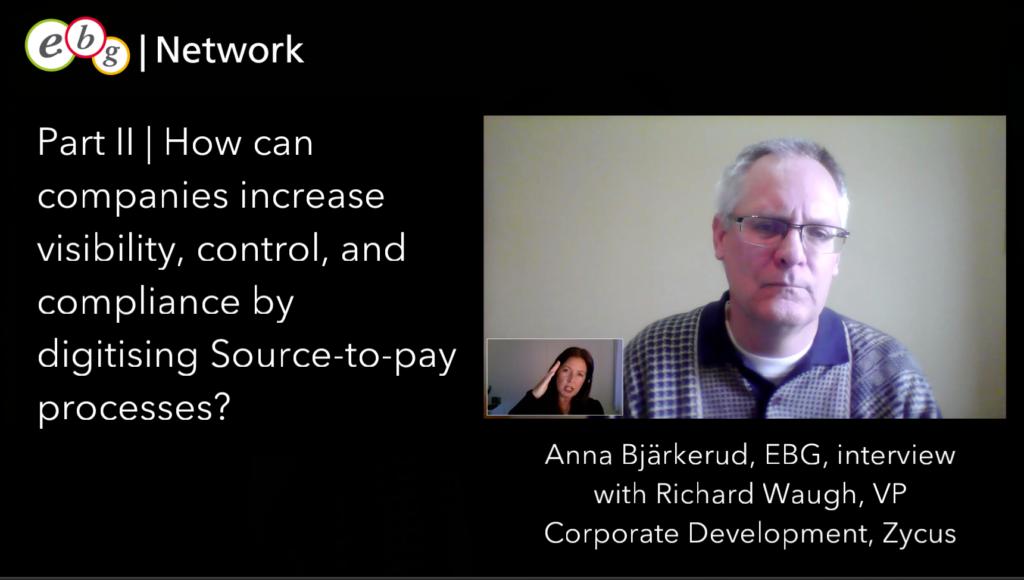 In the second interview part, interviewing Richard Waugh, VP Corporate Development at Zycus, we continue to discuss challenges and opportunities advancing procurement digitization. Or – rather – gathering and sharing those huge amounts of data floating around in any large company and making the best of it.
Richard come from years of working with procurement organizations and have a clear view over what visions procurement can have. We both agree reaching there is tough but that the possibilities today are endless.
Topics covered
In this second interview part we go through;
How can companies increase visibility, control, and compliance by digitising Source-to-pay processes?
What are the main challenges enabling the above?
What skill-sets will be needed to ensure strategy execution for digital transformation?
The interview
About Richard Waugh
As Vice President for Corporate Development, Richard leads strategic initiatives in the areas of new product introduction, market development, thought leadership, analyst relations, and strategic partner development programs.
Richard has an extensive background in B2B eCommerce, going back to his early career at GE, where he helped launch GE's Trading Process Network (TPN), the first on-line marketplace for sourcing and procurement in the mid 1990's. He had been a co-founder of B2eMarkets, one of the first SaaS (Software as a Service) Sourcing Suite providers and later covered the Supply Management market as an industry analyst for the Aberdeen Group. Prior to joining Zycus, he helped bring to market new innovations in P2P (Procure-to-Pay), helping global clients achieve world-class P2P system adoption and performance. Richard has a B.A. from Wake Forest University and is a graduate of GE's Financial Management Program (FMP).
About Zycus
Back in the 1990s, when the commercial Internet was still beginning to revolutionize the way we live, personally and professionally, the founder of Zycus was inspired to develop web-based business applications for procurement professionals. We started our journey in 1998 and like any new company; our first big challenge was to find the very first customer. When we won GE, we knew we were doing things the right way. Ever since, we have continued on the path of innovation to provide sophisticated end-to-end procurement solution suites with one focus – our customers' happiness.