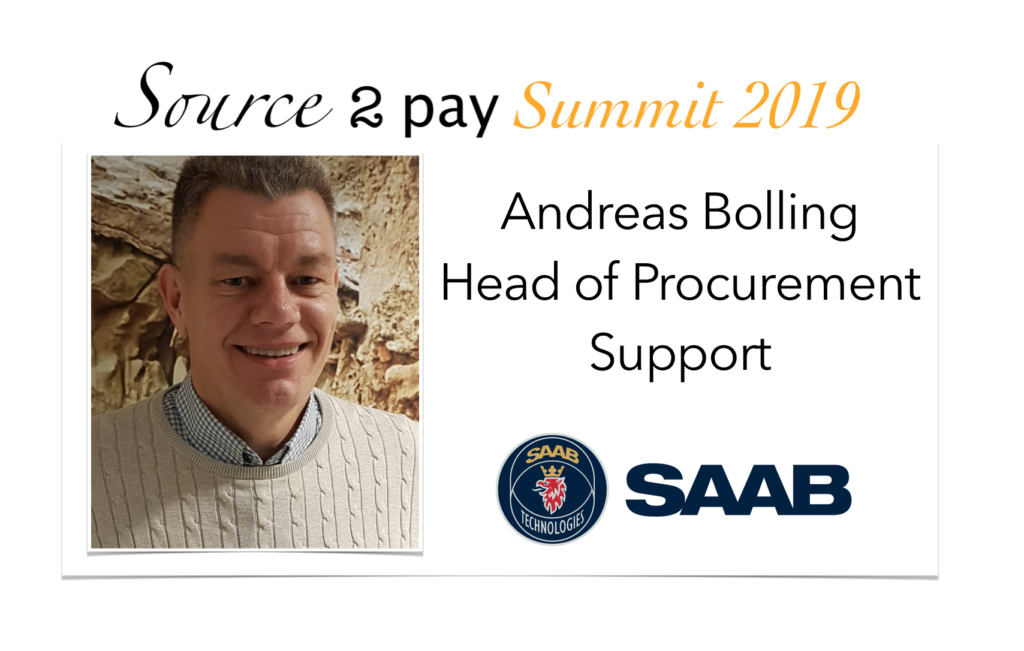 Organizations continue to evolve and use tools and systems to a larger extent and in better ways. The need to develop company skill-sets accordingly increase. EBG | Network are happy to welcome Andreas Bolling, Head of Procurement Support at Saab to Source 2 Pay Summit 2019, taking place March 28th in Stockholm.
Imagine the value being able to discuss how to grow all aspects of your sourcing, procurement and finance organization. If there is something we have learned over the years is that change is easier on paper than in reality! We offer you a chance to be inspired by peers in an informal setting, to discuss challenges and opportunities and get real exchange in return. This will be the 9th Source 2 Pay Summit!
About Andreas
Andreas has a Master of Science in Mechanical Engineering and has worked since 2006 with business development in Saab in Linköping. Prior to that, he worked with JAS 39 Gripen system development, was stationed in the United States as well as line manager for a calculation group. Andreas has been an industrial PhD student at Linköping University and has a great interest in work science, change management and professional skills.
Andreas invites You to join his Theme Discussions focusing on how do you ensure competence change when changing ways of working?
About Saab
Saab serves the global market with world-leading products, services and solutions from military defence to civil security. With operations on every continent, Saab continuously develops, adapts and improves new technology to meet customers' changing needs.
Saab has around 16,000 employees. Annual sales amount to around SEK 31 billion, of which they re-invest about 23 per cent in research and development.
About Source 2 Pay Summit
Join discussions and experience exchange with speakers and moderators from companies such as Nordea, Vestas, ASSA ABLOY Entrance Systems, Volvo Car, Finnair, DeLaval, Saab and more.
Others who have joined our summit give us the feedback;
Great event for learning latest from leading corporations for best-in-class source-to-pay. Good networking opportunities and interesting topics for dicsussion #Vestas


Positive. I liked the fact that there was so many participants in my field of profession #Husqvarna


A great summit, with interesting speakers and sessions. Very well organized #Epiroc

>>Register here – when we get closer to the summit you can start choosing what Theme Disucssions, round table discussions, to join (limited seats)
PS. We are of course not flawless and we take what we do very serious! We always look for ways to improve – resulting – hopefully in conferences that always offer dynamic content.