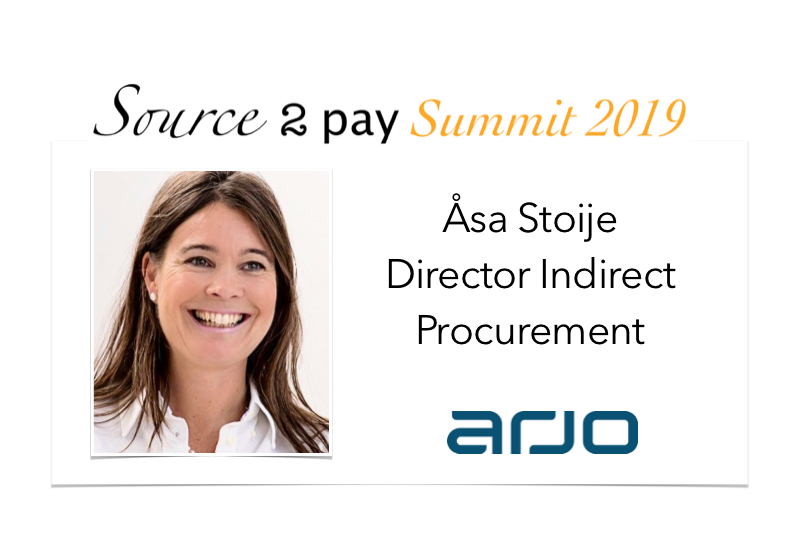 A great added contribution to an already great number of knowledgeable professionals. Source 2 Pay Summit 2019 are happy to welcome Åsa Stoije, Director Indirect Procurement at Arjo joining the summit moderating Theme Discussions together with John Callan from Coupa.
Digital Procurement is not ONLY about the Technology
That is the title of the discussion moderated by Åsa and John. They invite you to discuss topics such as;
Strategies to ensure the board are bought into the need for change in procurement practices – where do you start ?
Understanding the maturity of your organization: People, Process and Technology
Looking outside of procurement : When & how to bring in IT & Finance functions to ensure success
All in all a great way to fast forward you possible upcoming, ongoing or future business development projects including procurement and finance.
About Arjo
Arjo's vision is to be recognised globally as the most trusted partner in enabling care and improving quality of life for people with reduced mobility and age-related health challenges.

Our strategy at arjo.com
Arjo sell products and solutions in more than 100 countries, divided into three geographic areas: North America, Western Europe and Rest of the World. Arjo has nearly 6,000 employees worldwide and their head office is located in Malmö, Sweden.
Arjo the story
Arjo was founded in 1957 by Swedish entrepreneur Arne Johansson and was given the name Arjo using the first two initials of the founder's first and last name. Arjo originally manufactured components and machine parts for other manufacturers, including medical devices. Arne Johansson was one of the first to understand the need for bathing and transfer equipment in healthcare and elderly care as well as for improved ergonomics for healthcare professionals. He developed a series of innovative products that could meet these needs in Sweden. Shortly thereafter, Arjo started selling its products outside Sweden.

Arjo was first listed on the Stockholm and London stock exchanges in 1993. At that time, Arjo had about 1,100 employees and generated sales of approximately SEK 1,300 M. In 1995, Arjo was acquired by Getinge which then expanded its product offering to include medical beds, patient lifts and bathing systems. Arjo thus became the foundation of Getinge's Extended Care business area
In 2016, the Board of Directors of Getinge announced its intention to divide Getinge into two operations, Getinge and Arjo, to give each company the best conditions for developing and realizing their potential.
Today, Arjo is a market-leading supplier of medical devices and solutions that improve quality of life for people with reduced mobility and age-related health challenges.
About Coupa
Coupa Software is the leading provider of BSM solutions. We offer a comprehensive, cloud-based BSM platform that has connected hundreds of organizations with more than four million suppliers globally. Our platform provides greater visibility into and control over how companies spend money. Using our platform, businesses are able to achieve real, measurable value and savings that drive their profitability. Learn more at coupa.com. Read more on the Coupa Blog or follow @Coupa on Twitter.
About Source 2 Pay Summit
The idea behind Source 2 Pay Summit is to gather professionals that rarely meet yet are completely dependent on co-operation to suceed with set targets. The below companies are so far gathered to share know how in an informal setting in Stockholm March 28th.