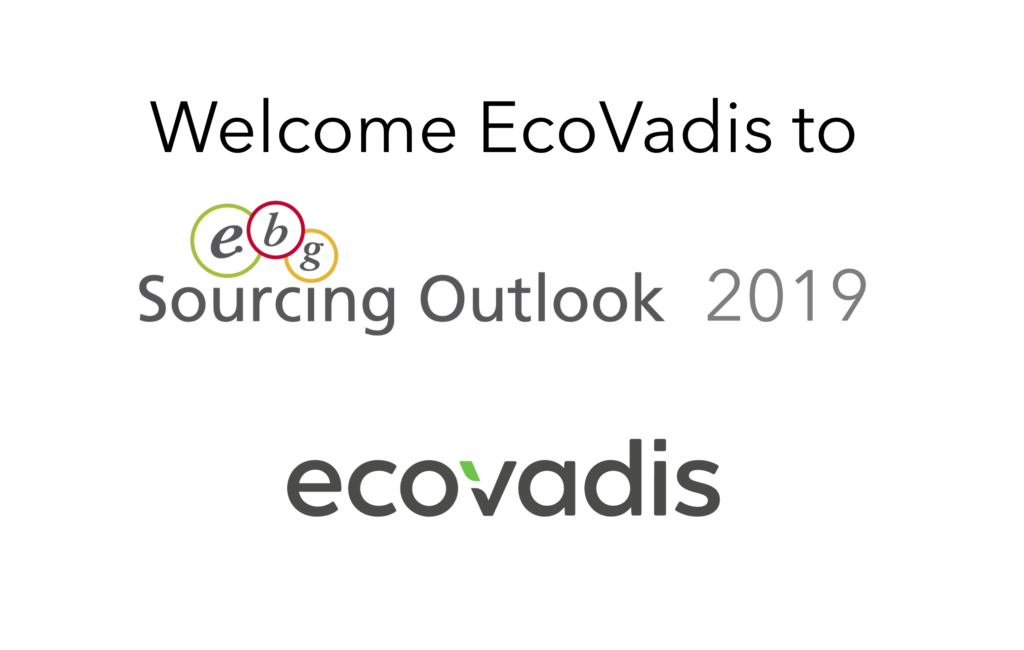 EcoVadis join Sourcing Outlook 2019 and EBG look forward to learning more about how sustainability take an increasingly bigger part on company development.
Because it is not easy. You have multiple layers of people, data and suppliers and gaining insight is not always easy. How often you you do online supplier reviews? How are your code of conduct policies connected to supplier performance? How often do you do on site audits – and what do you do in-between?
Leading up to seeing them at Sourcing Outlook on October 10th in Stockholm you can take a look at recorded webinar sessions EBG have hosted together with EcoVadis.
Beckers Groups sustainability change management journey
Global CSR Risk & Performance: Insights From The 2017 Index
Deploying supplier CSR monitoring across a global purchasing organization
About EcoVadis
EcoVadis is the world's most trusted provider of business sustainability ratings, intelligence and collaborative performance improvement tools for global supply chains. Backed by a powerful technology platform and a global team of domain experts, EcoVadis' easy-to-use and actionable sustainability scorecards provide detailed insight into environmental, social and ethical risks across 198 purchasing categories and 155 countries.

Industry leaders such as Johnson & Johnson, Verizon, L'Oréal, Subway, Nestlé, Salesforce, Michelin and BASF are among the more than 55,000 businesses on the EcoVadis network, all working with a single methodology to assess, collaborate and improve sustainability performance in order to protect their brands, foster transparency and innovation, and accelerate growth. Learn more on ecovadis.com, Twitter or LinkedIn.
About Sourcing Outlook
In the same manner as when hosting Source 2 Pay Summit – EBG | Network is creating an informal and to the point setting for sourcing and procurement managers to meet and exchange ideas and know how. Together with experts like EcoVadis, real business development is enabled due to the many round table discussions, focus sessions and keynotes taking place. We call the day Sourcing Outlook and You are welcome to join!
You are welcome to join us! Registration is not yet open