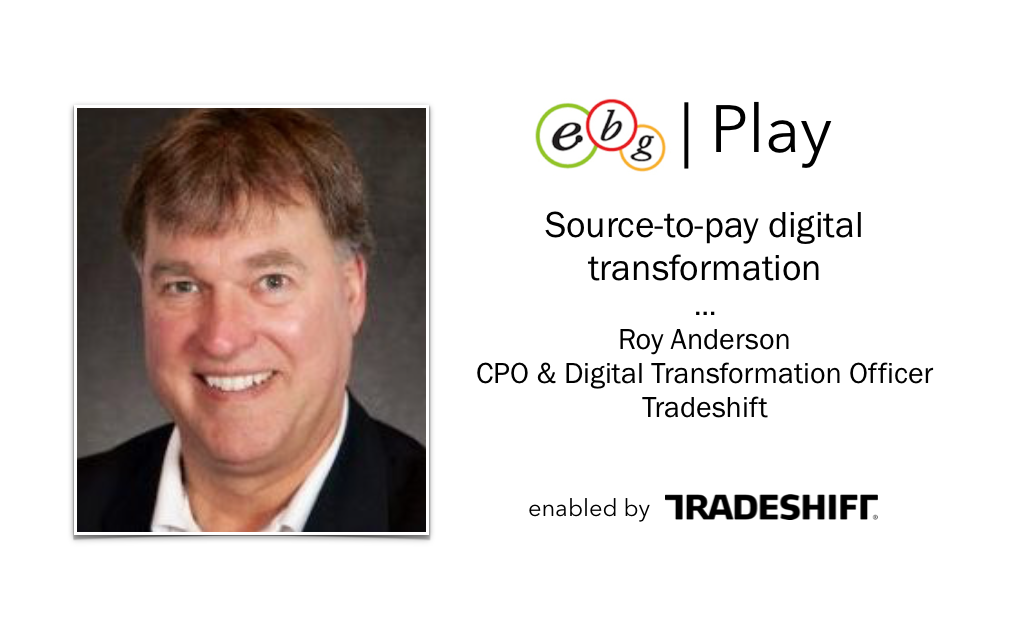 Choosing to rephrase the webinar title based on what came out during the recent session in which Roy Anderson, CPO & Digital Transformation Officer at Tradeshift presented his experiences and visions. It is still so – even though much less than before – that source to pay to some is viewed as transactional efficiency and not much more. Still very important but not even half of what EBG and most working within the field ad to the phrasing.
Roy Anderson manage to give an insightful view over what most of us mean by source to pay. A framework that enable companies to not only create transactional visibility – but also enable companies to widen the scope of doing business across the spider web also known as a companies physical and financial supply chain.
Without visibility and a connection – how can you collaborate with suppliers (and Roy has excellent examples of why this is key)?
Without getting away from administrative work – how can you grow as a professional into that strategic role most desire?
Without increasing your understanding over the possible discrepancy between what you want to spend time on and what you actually spend time on – how can you change?
View the recording
Below you can access the on demand recording and hear the reasoning about each poll result. Register to view the on demand session here. The slides were administrated to those registered to the live session – make sure to sign up for the next live session!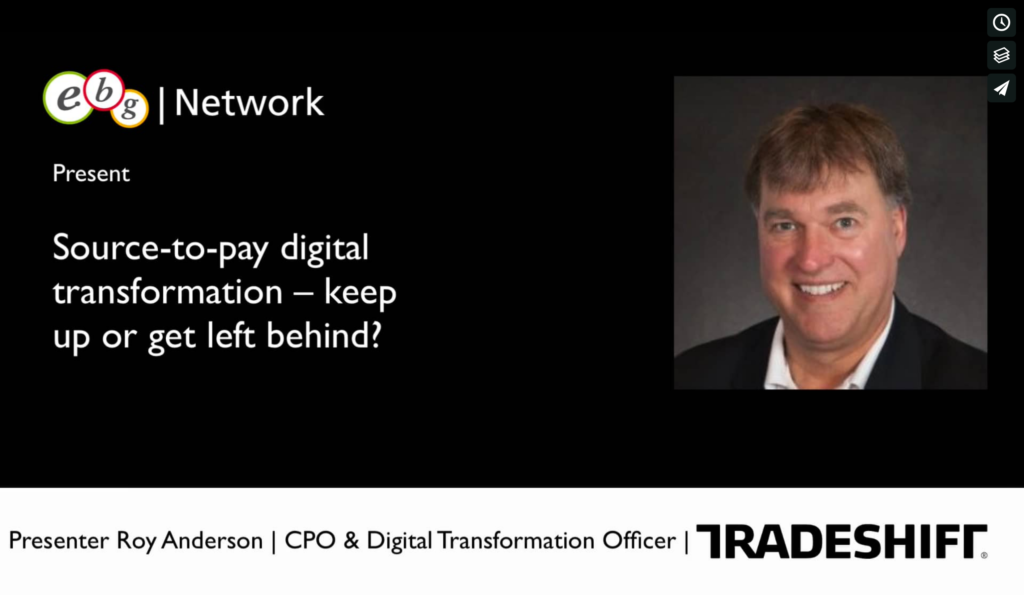 Poll results
Live polls are a great way to give something back to you who join EBGs live sessions. You get instant feedback on how You and Your organization compare with those others having joined. And all we can say is that it is always a presentable amount and spread of companies joining. Still, the results cannot of course be seen as statistically relevant in any way.
The size of corporate spend
To set the scenery and allow the attendees to get a feeling or the size of each business, a question about spend volume was posted.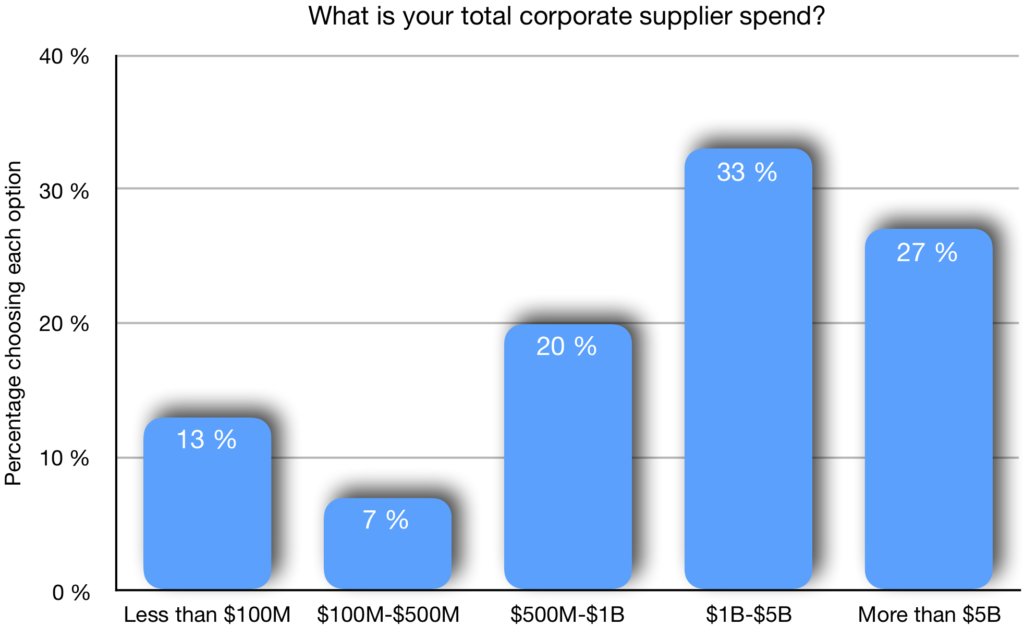 The question was explained to be about both direct and indirect spend. As most often during EBG gatherings, the majority came from organizations with a large spend volume.
How digital is your procure to pay spend?
A perhaps not easy to understand question when first seeing it. Roy clarified;
"We mean digital data to and from the supplier without manual touch"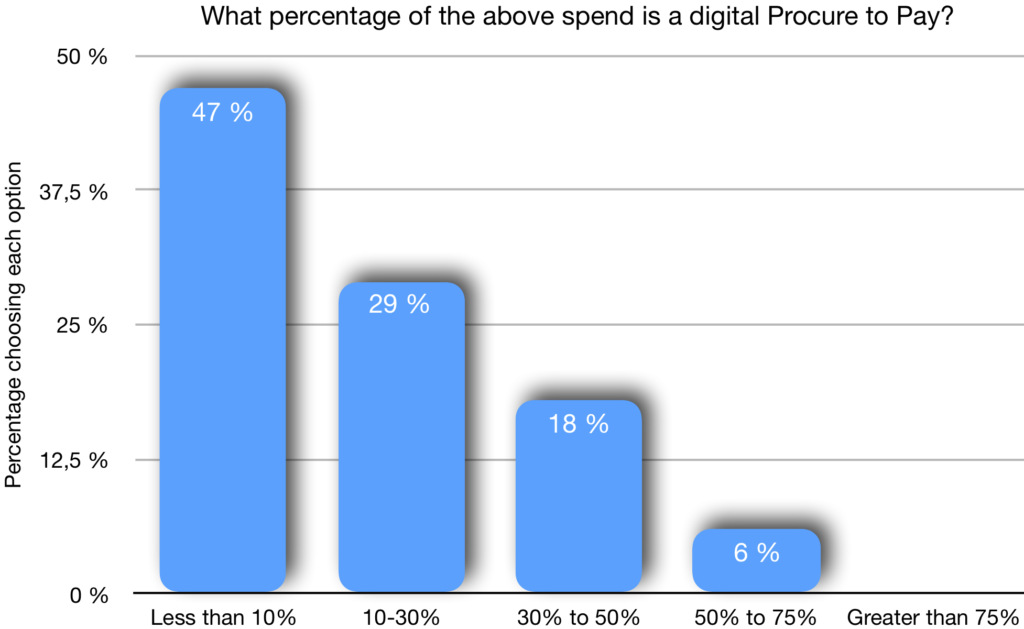 The absolute majority of companies joining rate that their digital end to end spend consist of 30% or much less. Even, 47% stated that less than 10% of spend is truly digital today.
How to become more strategic?
This is a great question that can reassure many seeing the results. And hopefully fuel some management teams into releasing enough resources to be able to achieve what is evidently a huge possibility today and what will be an absolute necessity tomorrow.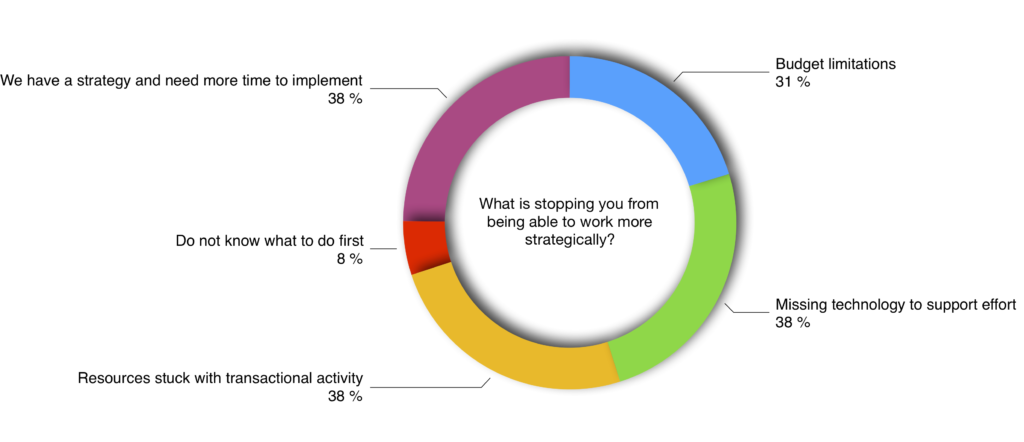 This is a question we for sure need to dig deeper into. One recurring issue EBG meet is the gap between what professionals perceive they should, want and need to do – and what they actually do! Why is it constantly so? EBG ask since the strategies are there – reduce cost/increase value/innovate/centralize/decentralize/automate/digitize – now.
But if you don't get the time allocated, the mandate to use enough resources over time and the technology to support it – how will you ever succeed?
EBG hope you will continue the discussions – view Roys experiences and advice to fuel the conversation!