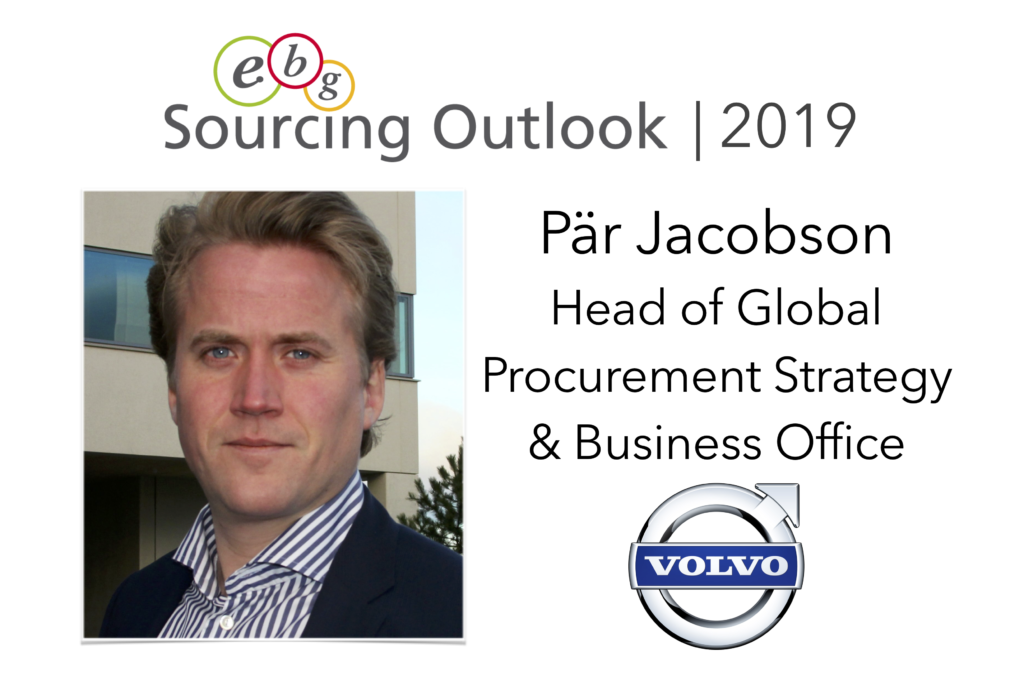 How many of you face markets in change? The need to adapt to new ways of working, to customer desires you need to adapt to, to technology development you cannot ignore and to a world where it is not a "nice thing" to be sustainable in every aspect but a must. EBG | Network are thrilled to welcome Pär Jacobson, Head of Global Procurement Strategy & Business Office at Volvo Cars to Sourcing Outlook 2019.
On October 10th in Stockholm, the day begin like Source 2 Pay Summit 2019 ended – with Volvo Cars sharing how their business development affect how they choose to make strategies in a changing world come true.
It is one thing saying you need to change – a completely different thing making it come true – over time. That is why Sourcing Outlook have the framing Strategy | Operations | Governance – to highlight the need for an end to end perspective, including the people and processes affected by strategies.
At Sourcing Outlook the number 1 questions is – "How do you make strategies a reality?".
Keynote introduction
Pär will kick off the day with a keynote, content below. There is a lot to share – but in particular how the changes Volvo Cars face affect sourcing and procurement as a structure, strategy, function and profession.
Keynote: How do you manage and develop procurement under constant change?
With a market in transition and a business in change – Volvo Car has been, are and will be re-considering how to become increasingly agile. Agile in terms of how to collaborate and innovate together with suppliers, how to increasingly digitise and become more data driven and agile in terms of how to develop needed competences accordingly. All of which done with sustainable mobility in the core of every decision. To mention one aspect – in 2025, 50% of sales shall consist of electronic vehicles. During this session you will get a 360 view over how Volvo Cars are structuring sourcing and procurement for the future.
How has Volvo Cars procurement structures and strategies changed?
What does the shift in company focus mean for ways to organise and competences needed?
How is digitalisation and data driven decisions incorporated into procurement development?
In what ways are sustainability targets and market demands affecting business operations?
Followed by the much appreciated round table discussions – Theme Discussions – where You can sit down and learn from both the moderator – Pär – and peer joining the discussion. Those two sessions (you can choose all in all four Theme Discussions during the day) focus on:
How do you structure procurement in an agile way?
Understanding procurement need to become more agile – as in allocating and focusing resources where best needed – is easier said than done. Strategic sourcing and category management have been around a long time – how does analytics capabilities, the ability to manage large sets of data, rapid decision making skills and an outcome based and sustainable way of collaborating with suppliers fit into older ways of working? In this session you can discuss and compare ways of organizing sourcing strategies and procurement operations.
What roles do category managers need to take in a more agile and data driven organization?
In what ways do procurement need to become more value driven?
How can you ensure all actions taken follow a sustainability strategy?
How can you estimate if the actions you take will have the desired effect?
About Pär Jacobson
Pär is a passionate leader who just recently gave an appreciated presentation about the sustainability work Volvo Cars are doing that is quite unique. Today his responsibilities include leading a global team responsible for:
– Strategy and Business Development
– Competence Development
– Digitalization and Application Management
– Process and Quality Management
– Sustainability and Risk Management
– Legal and Contract Management
Prior to working at Volvo Cars, Pär has a background from McKinsey & Company, Haldex, Applied Value and SAAB Automotive to mention some experiences.
About Volvo Cars
Do you know be basics about Volvo Cars? Probably. If not, take a look at the bottom. But did you know the below? Picked from the Volvo Cars corporate website.
Our 2025 business ambitions
We're ambitious and we continually challenge ourselves. The global automotive industry is changing, and Volvo wants to lead that change – in safety, connectivity, electrification and autonomous drive technology. Rather than just building and selling premium cars, we will provide our customers with the freedom to move in a personal, sustainable and safe way.
By the middle of the next decade, we expect to generate half of all sales annually from fully electric cars, one third of all cars sold to be autonomous driving cars, and half of all car sales to come through our subscription service.
50%
of all sales annualy from fully electric cars
1/3
of all cars to be autonomous driving cars
50%
of all cars to come from our subscription service
Volvo Cars aims to become a global and diversified mobility service provider. This means new models of car ownership and access, and new attractive services whenever and wherever customers want it. We want to come closer to our customers, so we're aiming for more than five million direct consumer relationships by the middle of the next decade, creating new sources of recurring revenue.
And we're aiming to do all this while generating premium-level profitability, driven by increased revenue across all three global sales regions and a broader range of cars, services and customers.
Volvo Cars in figures
642K Cars sold in 2018
43K Average number of employees
2.3K Dealers globally
14.2bn 2018 operating profit (bnSEK)
Reserve you ticket today!
Sourcing Outlook is not a fair and only open for a limited number of persons. Why? EBG want as many of you as is possible to be able to meet and learn from each other! Make sure to reserve your seat today, lowest possible investment until August 15th.