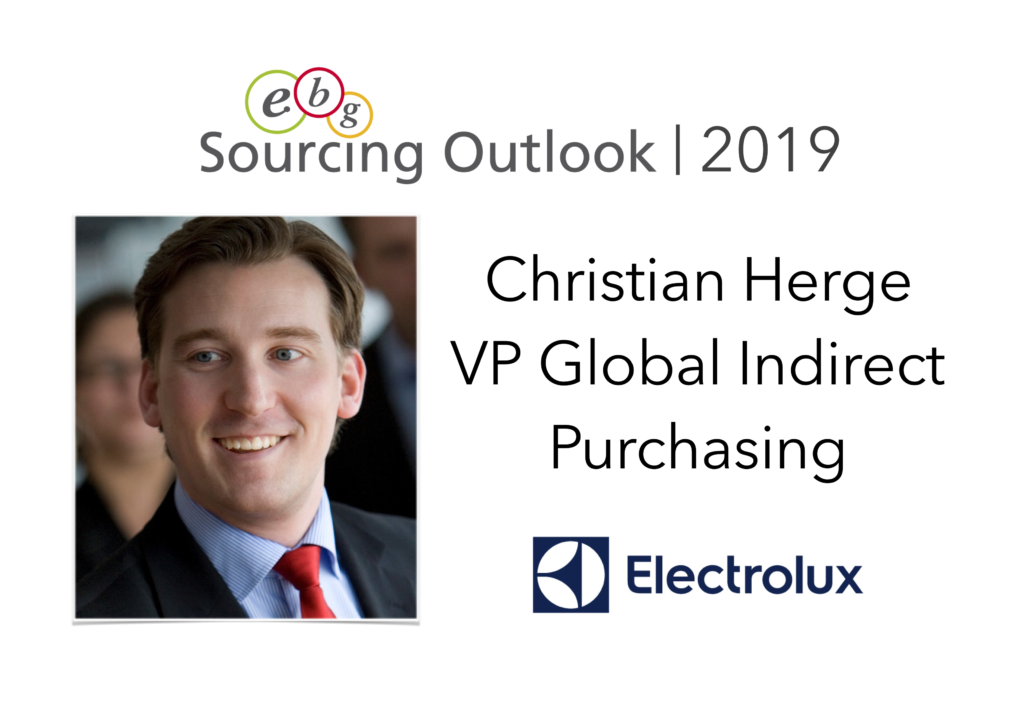 What would you do if you knew your organization need to speed up from idea to execution? From R&D to market readiness to delivery to and communication with the end customer? What would it mean for your sourcing and procurement strategies and operations if you knew you had to re-think your end to end strategies, operations and ways to govern them?
EBG | Network give a warm welcome to Christian Herge, VP Global Indirect Purchasing at Electrolux joining Sourcing Outlook 2019 on October 10th in Stockholm.
Christian is joining us sharing how Electrolux is changing globally and what implications that have and will have on sourcing and procurement as a strategy, structure, function, process and profession. He will share how they are changing not only indirect procurement but also direct and in what ways the strategies differ.
You do not want to miss this opportunity! Christian will do closed door presentations followed by an open discussion – what EBG call a mixed Focus Session and Theme Discussion.
Closed door Focused Theme Discussion
Below is the topic Christian will share and discuss. The beauty lies in the full circle strategy – operation – governance aspect. Even though we will be able to follow up on the progress in a few years, a lot is already under way.
How can procurement act to adapt and align with a changing external world?
Your organization too probably need to face a changing market and external world, adapt to what is and what will be and to align with both internal and external stakeholders. Electrolux is in the midst of rearranging several aspects of how to organize to meet those changes and it is affecting both direct and indirect purchasing. What was handled as several business units will now be one, what used to be managed regionally may now be managed globally, what may have been an analogue interface towards stakeholders will now be digital. Purchasing will be globalized and the teams that are created ahead will have direct collaboration with R&D, Engineering and other internal stakeholders. Learn from the journey Electrolux is on and compare with your plans for the future.
How is Electrolux re-organizing its local, regional and global sourcing and procurement strategies?
What will the re-organization mean for previous category teams and strategies?
How has direct and indirect purchasing changed towards value based sourcing the past years?
Is what ways are the skill-sets ahead different from before?
About Christian Herge
Christian has an extensive background from within Electrolux. Change management responsibility, portfolio director, product planning, program office director to name some areas he has been heading. Before Electrolux, Christian worked for several years at McKinsey & Company.
About Electrolux
Through the Electrolux brands, including Electrolux, AEG, Anova, Frigidaire, Westinghouse and Zanussi, the company sell more than 60 million household and professional products in more than 150 markets every year.
Electrolux has been doing business since 1919. The headquarters are located in Stockholm, Sweden, and the Electrolux share ELUXb is listed on Nasdaq OMX Stockholm.
As per February 1st 2019, Electrolux is structured into five business areas. There are four regional consumer-focused business areas and one global business area:
Europe
North America
Latin America
Asia-Pacific, Middle East and Africa
Professional Products
Group functions include Finance, Legal Affairs, Consumer Experiences (product and ownership experience innovation, design and marketing), Global Operations (manufacturing, purchasing, supply chain, product architecture and quality), IT, Human Resources and Communications.
The business model
To achieve our purpose and drive profitable growth, Electrolux uses a business model which focuses on creating Best-in-Class Consumer Experiences. This is supported by a strong foundation of Operational Excellence and Talent & Teamship, as well as three important transformational drivers.

electroluxgroup.com
Register today
Sourcing Outlook is held for the third time in October. The aim to ensure as many as is possible to meet face to face. To have informal conversations that make an impact. That give You who join us insights from different industries. EBG focus on the What and How to – turning visions into concrete action plans. Registration is open and you will be offered to choose Theme Discussions in advance ensuring you a seat where you most want it.