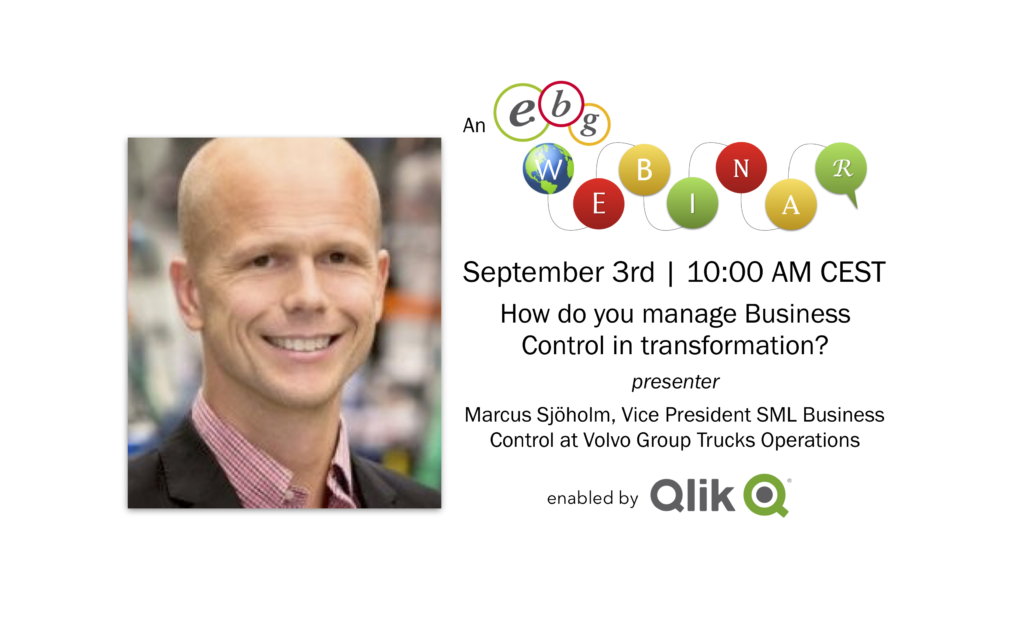 Welcome to a session enabled by Qlik where Marcus Sjöholm, VP SML Business Control at Volvo Group will share his vision how companies and individuals can – and will need – to free up time in order to gain greater business control, enable true end to end business collaboration and create value.
Date: September 3rd 2019
Time: 10:00-11:00 AM CEST
Place: Your computer/tablet/phone
Language: English
Cost: Free of charge but requires registration
Organizer: EBG | Network & Qlik
During this session Marcus will share how Volvo Group Trucks Operations (GTO) has developed since the past until now and what the visions are ahead for the finance function. Volvo GTO have initiated Business Control 2.0 with the aim to free up time and collaborate across the business using trustworthy data doing so.
Why?
Then: Finance were calculators working with excel and PC trying to stay ahead and wanting to free up time and become a business partner
Now: Finance still wanting to free up time and strengthen the end to end perspective in the controller role
Ahead: Finance being data literate persons with the ability to adapt to changing environments, gain insights, communicate and engage across the organization
How do you do it? How do you transform in an environment that may still operate in silos and is constantly changing?
Let's discuss:
In what ways are data based insights becoming easier to access, analyse and communicate and what value does it bring?
How is and will robotic process automation, advanced analytics and artificial intelligence impact business control?
What will happen to the business controller roles and activities when activities are being changed or removed?
How are you able to take an end to end perspective and help support a multitude of functions in need of more holistic insights?
What role can and should finance and controllers take ahead?
We will involve You who join us live and all who register will receive the slides and recording. The webinar is free of charge to join but require registration,

Register here
Welcome!
EBG | Network & Qlik
About Volvo Group Trucks Operations (GTO)
Our various operations are organized to deliver the greatest possible focus on customers and their needs, and to exploit and harness the Group's far-reaching and shared resources in the best possible way.

The Volvo Group comprise nine business areas: Volvo Trucks, UD Trucks & JVs, Renault Trucks, Mack Trucks, Volvo Construction Equipment, Volvo Buses, Volvo Penta, Arquus and Volvo Financial Services.

We also combine the best of two worlds: synergies by having global organizations for product development, manufacturing, and purchasing but still clear leadership and responsibility for each brand to make sure that customer needs are understood throughout the entire organization.

In this way the Group harnesses the full potential of its various brands while creating a clearer profile in its various customer segments.

Facts
• The Volvo Group's products are sold and distributed through wholly-owned and independent dealerships.
• More than 800,000 Volvo Group vehicles are connected via different telematics solutions.
• During 2018, our service business represented approximately 20% (21) of the Volvo Group's net sales.
• Financial Services provided financing solutions for 24% of Group products in the markets where financing is offered.
• 90% of all distribution centers are certified with ISO 14001.
• Environmental product information, based on life­cycle assessment, are available for our products.
• Through our Responsible Sales Process we have performed 105 assessments for sales to high risk countries.
About Qlik
Qlik helps enterprises around the world move faster, work smarter, and lead the way forward with an end-to-end solution for getting value out of data. Our platform is the only one on the market that allows for open-ended, curiosity-driven exploration, giving everyone – at any skill level – the ability to make real discoveries that lead to real outcomes and transformative changes.