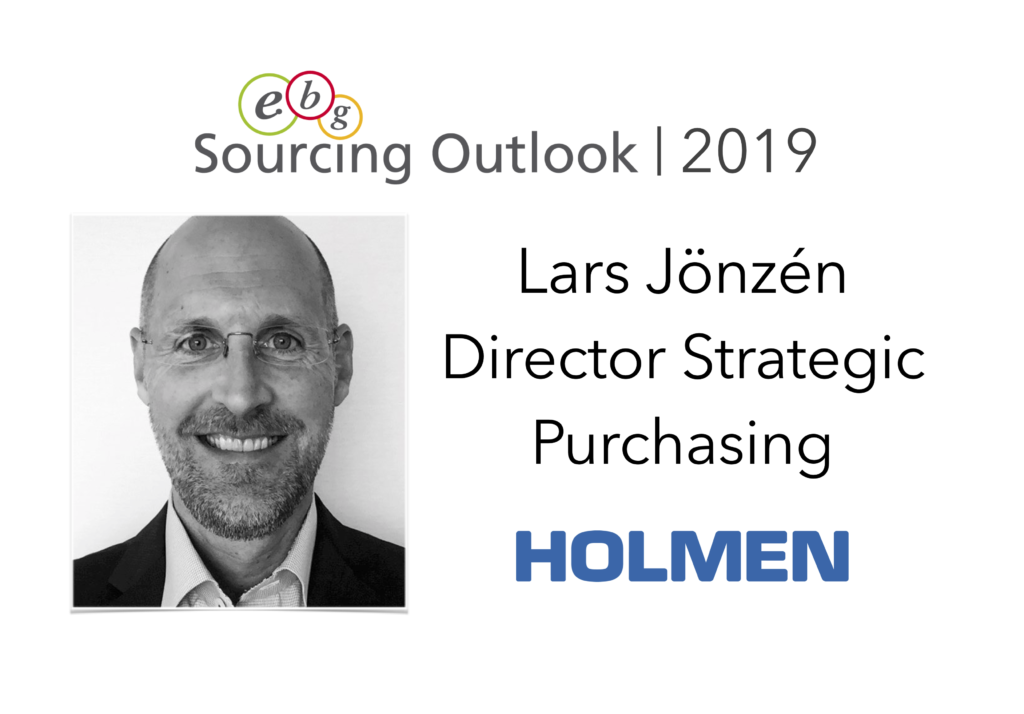 At Sourcing Outlook – sustainability has always had a a place in the spotlight. This year even more so as many of the companies sharing their stories and experiences just as well could have shared how they incorporate sustainability into their strategies and operations.
EBG | Network are really happy to welcome Lars Jönzén, Director Strategic Purchasing at Holmen joining Sourcing Outlook together with EcoVadis to share hands on experiences making sustainability an integrated part of doing business.
How do you create a living sustainability eco-system?
During Sourcing Outlook you can learn from Lars on stage presentation and join his following Theme Discussions, aka round table discussions. Below you can see what he will be sharing:
The sustainability eco-system- Building a resilient and sustainable supply chain together
Growing, healthy forests, efficient management of raw materials and circular ecosystems are not only vital to Holmen's profitability but also are the cornerstones of a genuinely sustainable business. In this session, Lars Jönzén, Director Strategic Purchasing at Holmen, will share how they started their Sustainability journey from a 'simple' supplier code of conduct to embracing technology to engage with all stakeholders, clients and suppliers, within their supply chain. Lars will cover:
How to start the journey and measure progress & success
How to engage and onboard suppliers successfully
The role of technology within this journey
Lessons learnt and next steps
Session is enabled by EcoVadis.
Ask all your questions
Since the start, EBG have enabled peers and experts to have informal round table discussions. They focus on to the point aspects of business development from a sourcing and procurement perspective. Following his on stage presentation you can also join Lars and Nico Sagel at EcoVadis during their Theme Discussions.
How to create a sustainable supply chain beyond the 'box-ticking' approach
With increased regulation, public scrutiny and stakeholder expectations, the way businesses manage supply chain risk is changing. Collecting data is no longer enough and procurement teams need more reliable indicators of suppliers' sustainability performance. In this session, join Lars Jönzén, Holmen and Nico Sagel, account executive Nordics, EcoVadis to discuss why now is the time to go beyond a 'tick-the-box' exercise to drive a sustainable, innovative and resilient supply chain.
How can you accelerate improvements of Sustainability Practices? What is your sustainable procurement strategy? What are you trying to achieve ultimately?
How do you scale up and maximise supplier participation/response rates? What has and has not worked for you?
How do you drive continuous improvement on supplier sustainability performance? What tools have and have not worked for you?
Seats are limited and you get to reserve your round table seats before the conference (voluntary). If a table is full it is full so don't wait too long to register!
About Lars
Lars Jönzén joined Holmen in 2006 and has worked in different roles focusing on developing purchase organization. Prior to joining Holmen heworked as Area Sales Manager for a manufacturing company and as Senior Business Consultant for a large ERP provider.
About Holmen
Holmen is a forest industry group that manufactures printing paper, paperboard and sawn timber and runs forestry and energy production operations. The company's extensive forest holdings and its high proportion of energy production are strategically important resources for its future growth. The manufacturing operations in the product-oriented areas are based on renewable raw materials from sustainably managed forests.
Key figures 2018
Net sales: 16 055 SEKm
Operating profit: 2 476 SEKm*
Return on capital employed: 9,7%
Cash flow before investments and changes in
working capital: 2 500 SEKm
Debt/equity ratio: 0,12
Average number of full-time employees: 2 955
*Excluding an item affecting comparability
Business areas
Iggesund Paperboard produces paperboard for consumer packaging and graphics printing at one Swedish and one English mill.
Holmen Paper manufactures printing paper for magazines, directories, advertising material, books and daily newspapers at two Swedish mills.
Holmen Timber produces wood products at three Swedish sawmills. –
Holmen Skog manages the Group's forests covering just over one million hectares. The annual volume harvested in company forests is some 3.2 million cubic metres.
Holmen Energi is responsible for the Group's hydro and wind power assets and for developing the Group's business within the energy sector.
Sustainability and CSR: holmen.com/sustainability
About EcoVadis
EcoVadis is the world's most trusted provider of business sustainability ratings, intelligence and collaborative performance improvement tools for global supply chains. Backed by a powerful technology platform and a global team of domain experts, EcoVadis' easy-to-use and actionable sustainability scorecards provide detailed insight into environmental, social and ethical risks across 198 purchasing categories and 155 countries. Industry leaders such as Johnson & Johnson, Verizon, L'Oréal, Subway, Nestlé, Salesforce, Michelin and BASF are among the more than 55,000 businesses on the EcoVadis network, all working with a single methodology to assess, collaborate and improve sustainability performance in order to protect their brands, foster transparency and innovation, and accelerate growth. Learn more on ecovadis.com, Twitter or LinkedIn.