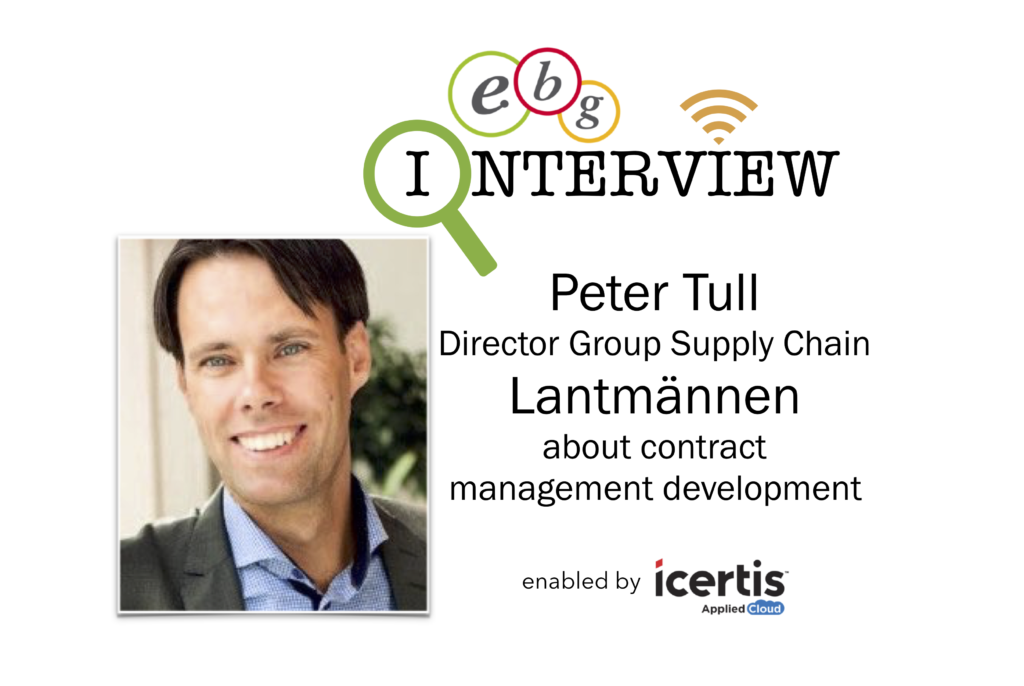 EBG | Network continuously ask "the market" questions to try to learn more about what are prioritized areas and what the challenges are. Managing contract life cycles is such an area. Consider the amount of time spent and the trust built with numerous suppliers and still it has been really challenging enabling contract usage and following up on contract compliance.
Interview with Lantmännen
EBG was able to interview Peter Tull, Director Group Supply Chain at Lantmännen and ask him about how they choose to develop procurement in general and contract management in particular.
The interview can be viewed below.
Lantmännen are using Icertis to develop their contract management further. Icertis themselves highlight the below challenges faced by sourcing organizations as:
Fragmented sourcing and contracting processes
A low level of collaboration between internal and external stakeholders
A lack of compliance and visibility
Lengthy cycle times and increased costs
Poor contract creation from sourcing events and suboptimal post-contract execution
Weak supplier collaboration and communication
How are You managing the above challenges?
At Lantmännen the below three aspects has been important to consider when developing contract management further. EBG label them A single source of truth – Ease of use and End to end perspective.
A single source of truth
Increasing "business control" / compliance to contract policy both in terms of using Lantmännen templates and storing of contracts in one place  – creating a single source of truth
Ease of use
Having an easy and user-friendly system that is fast and enable a good workflow and e-signing
End-to-end perspective
Building a good foundation for working more with contract life cycle management and digitalization of Contract to Pay process (using cognitive tools to extract metadata from pdf files, using RPA to transfer contract information to ERP systems and checking invoices and compare with contractual terms and conditions)
About Lantmännen
Lantmännen is an agricultural cooperative and Northern Europe's leader in agriculture, machinery, bioenergy and food products. Owned by 25,000 Swedish farmers, we have 10,000 employees, operations in over 20 countries and an annual turnover of approximately EUR 4.3 billion (SEK 45 billion). With grain at the heart of our operations, we refine arable land resources to make farming thrive.

https://lantmannen.com/en/about-lantmannen/
About Icertis
Icertis is the leading provider of contract lifecycle management in the cloud. Icertis Contract Management (ICM) is an innovative, easy-to-use platform that is highly configurable and continually adapts to complex business needs.

Today, ICM is used to manage 5.7 million contracts in 40+ languages across 90+ countries. With its intelligent workflow and built-in analytics, ICM provides ongoing contractual insights and best-of-breed contract management. ICM enables customers to increase compliance, improve governance, mitigate risk and enhance user productivity, thereby maximizing ROI and accelerating time to value across the global enterprise.

https://www.icertis.com/company/
Interested in learning more? Join Sourcing Outlook, October 10th in Stockholm where you can meet up with Icertis face to face!