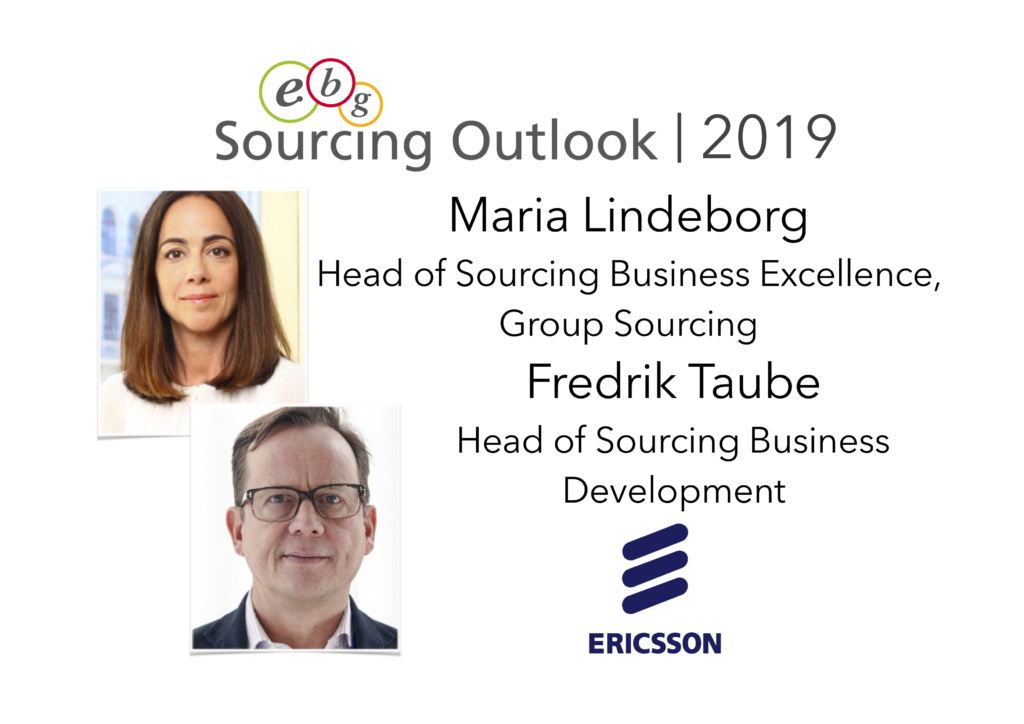 EBG | Network have followed the past years massive work Ericsson has put into shaping and re-shaping sourcing and procurement operations and strategies. From 2016 when we learned about their P2P transformation as the company results were on a downfall. Early 2018 when the results of the P2P transformation was being evident and results were great. Now – towards the end of 2019 EBG can share the higher level aspects of the sourcing and procurement transformation Ericsson has embarked on.
On October 10th Maria Lindeborg, Head of Sourcing Business Excellence, Group Sourcing and Fredrik Taube, Head of Sourcing Business Development at Ericsson will share their insights.
Join us on October 10th in Stockholm to get the insights behind the sourcing and procurement strategies Ericsson sourcing and procurement are executing. As always you will also be able to join their round table discussions. Learn and ask questions and learn from other peers joining the session too. A great way to get the most out of a conference.
Making strategies come alive
Below you can view the keynote shared by Maria and Fredrik.
How do you lift sourcing excellence and execute faster in simplified processes while ensuring enforced compliance?
With 96 000 employees worldwide, presence in 180+ countries and net sales of about 200 BSEK, Ericsson group sourcing have a lot on their plate. Acting in a global constantly changing market mean making the most of company spend on one hand and supplier enabled innovation on the other. During this session we will learn what steps Ericsson are taking on a strategic and operational level to achieve just that. Ericsson is like many other companies sourcing an amount comparable to 60% of the total top line. In such a big company matrix close to customer engagements combined with a technology portfolio under change with tight dependency on R&D, you need to know where are transformation activities best suited and what do they consist of?
EBG | Network have had the pleasure of sharing the P2P journey Ericsson embarked on in 2015. Continuing with a call-off landscape program starting in 2017 and continuing into 2019 with a worldwide procurement center implementation. Here we will learn about their continued transformation journey within direct and indirect sourcing.
What has been the cornerstones of the transformation programs so far?
How has the organizational and functional call-off silos been affected to date?
In what way is sourcing and procurement being organized to ensure worldwide efficiency and effect?
How are necessary skill-sets changing as digitization and automation is increasing?
What are the lessons learned from the past 4 years of heavy change programs within the organization?
About Maria
Maria is Responsible for the Sourcing Business Excellence function within Group Sourcing. Strategy and Execution as well as Process Management, IT Systems & Tools. Performance Mgmt/Analytics, Governance and Compliance of the end to end Sourcing process.
Maria has experience from various senior management positions in Supply, Services and Sourcing for 15 years. Leading leaders and diverse teams globally within Logistics, Supply Chain and Sourcing. Strong Change Management and Strategy development skills.
About Fredrik
Fredriks' background is two-fold, Sales and Sourcing, always with a total business focus. Fredrik has a long experience as a transformational leader in sourcing. Running operational efficiency initiatives, developing organizations by establishing a long-term vision with clear goals.

Prior to this, Fredrik won reputation and awards as a top sales professional within Services and Outsourcing business for Ericsson.
About Ericsson
Ericsson is one of the leading providers of Information and Communication Technology (ICT) to service providers, with about 40% of the world's mobile traffic carried through our networks. We enable the full value of connectivity by creating game-changing technology and services that are easy to use, adopt, and scale, making our customers successful in a fully connected world. For more than 140 years, our ideas, technology, and people have changed the world: real turning points that have transformed lives, industries, and society as a whole.

https://www.ericsson.com/en/about-us
Ericsson facts
Founded: 1876
Global headquarters: Stockholm, Sweden
Net sales, Q1 2019: SEK 48.9 billion
Operating income Q1 2019: SEK 4.9 billion
Net sales full year 2018: SEK 210.8 billion
Operation income full year 2018: SEK 1.2 billion
Listed: Nasdaq Stockholm and on NASDAQ in New York
About Sourcing Outlook
What difference can a day make? A lot! How often are you able to meet with peers and experts in an informal setting where you can discuss your challenges and the opportunities you want to enhance? EBG take pride in being a part of enabling companies to continue to meet outside of the gatherings created by us.