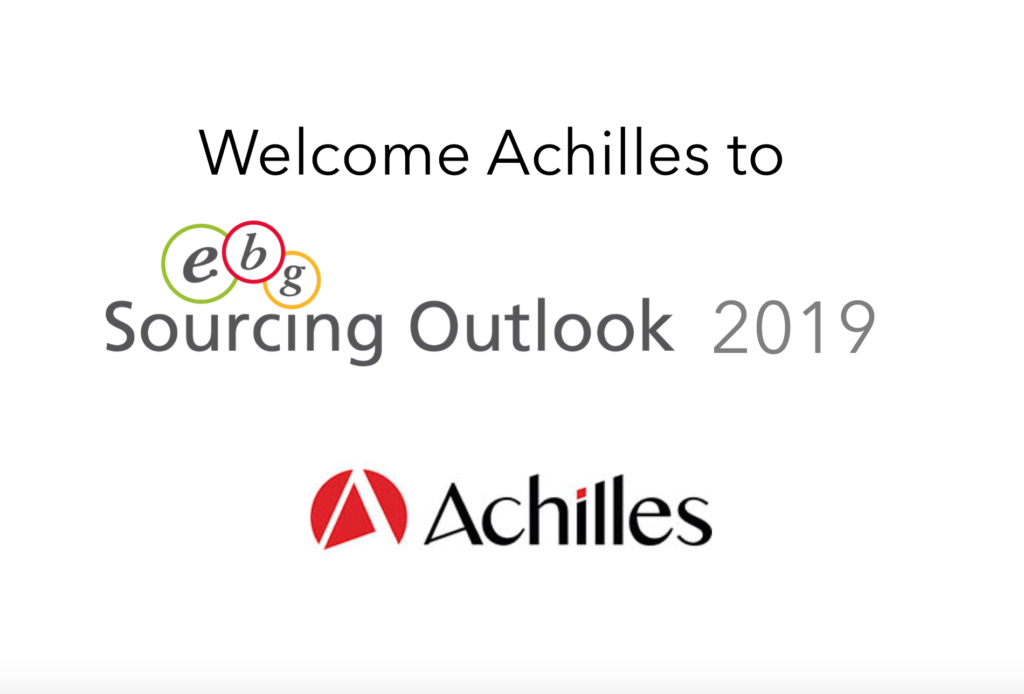 EBG | Network welcome Achilles to Sourcing Outlook 2019. On October 10th (with a voluntary dinner on October 9th) sourcing and procurement professionals will meet and exchange challenges and opportunities among themselves and with experts. Informal yet to-the-point conversations!
About Achilles
Achilles Information is the global leader and partner of choice for supply chain risk and performance management.
Through supplier pre-qualification programs, industry audits and risk management, Achilles has been a pivotal link between buyers and suppliers for nearly 30 years, providing the data and perspective to give customers unparalleled levels of insight into the businesses they work with.
Working in partnership with customers, Achilles supports supply chains that perform flawlessly and meet critical humanitarian and environmental standards.
Achilles has offices across the world, with a network of over 800 buyers and 500,000 suppliers across industrial, infrastructure and natural resources sector. Learn more via achilles.com
Achilles Theme Discussions
Hosting the Achilles Theme Discussions – round table discussions – is Kevin Alexander. Kevin is Director of Procurement Solutions at Achilles. He has over 20+ years of commercial experience which include Head of Procurement roles in the Shipping industry (Shell Shipping, P&O Ferries), Category Management roles in FMCG and Upstream Oil and Gas; and strategic project leadership at the BBC. His experience includes implementation of Achilles and other procurement solutions in large, international organizations and he is delighted to share his experience and learn from others attending the event.  
About Sourcing Outlook
Stakes are higher as we enter a world where competition is global, the need to act with insight is crucial, the demand to do business continuously and durable is not nice to but has to.
What has made Sourcing Outlook a day to notice is the openness and informality where peers and experts really can learn from each other.
Until August 15th, EBG offer a really low investment level to join us. Enabling You to take part in numerous keynote sessions, focused theme sessions and four round table discussions.