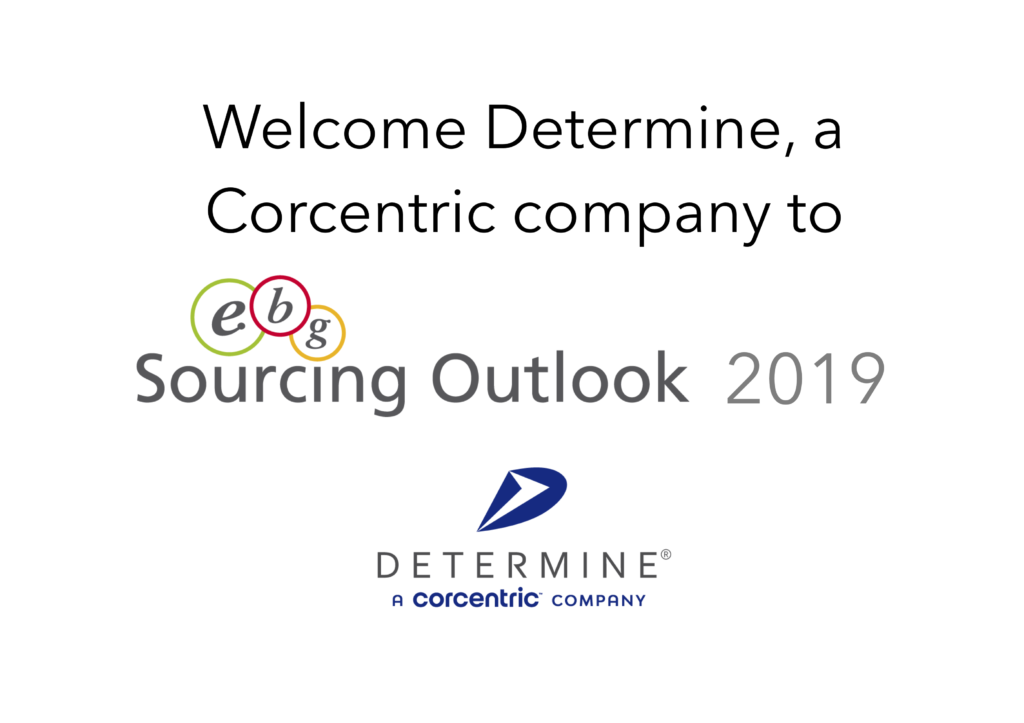 EBG have followed them from a distance for years and are happy to now welcome Determine, a Corcentric company to Sourcing Outlook 2019. On October 10th sourcing and procurement professionals and experts meet to exchange know how and experiences. This is done in an informal yet to the point environment. You who join us can sit down with Determine, a Corcentric company and learn from their extensive experiences from numerous markets.
About Determine, a Corcentric company
Determine, a Corcentric company is a leading global provider of SaaS Source-to-Pay and Enterprise Contract Lifecycle Management (ECLM) solutions. The Determine Cloud Platform provides procurement, legal and finance professionals analytics of their supplier, contract and financial performance. Our technologies empower customers to drive new revenue, identify savings, improve compliance and mitigate risk.
The Determine Cloud Platform seamlessly integrates with major ERP or third-party systems such as SAP, Oracle, Sage, QAD and Microsoft. Modular solutions can be configured to add more as needed to provide additional value beyond spend management. Our unified master database and business process approach empower users at every level to make more informed and smarter decisions.
About Sourcing Outlook
EBG believe in the value of informal experience exchange. It is quite rare to be able to draw from experiences both peers and experts have in the way Sourcing Outlook (and other meetings EBG create) enable.
If one thing is for sure – what we knew to be true yesterday may not be the most effective way tomorrow. What is expected of procurement professionals today differ from yesterday and will most likely not be the same tomorrow. Welcome to draw from the massive amount of open minded peers and experts joining Sourcing Outlook October 10th. Low investment level until September 7th.