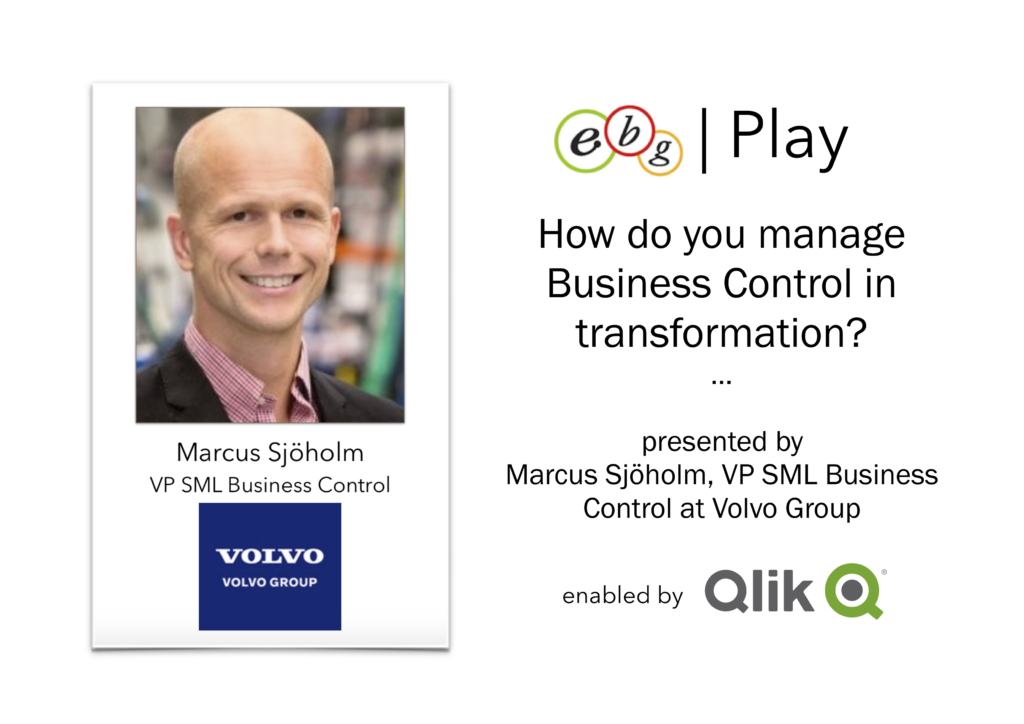 How are you handling the gray zones in between functions? Are you able to free up time in order to capture opportunities in the gray zones between functions? Doing just that is the focus for Volvo Group and Volvo Group Trucks Operations and below You can learn how. Marcus Sjöholm, VP SML Business Control at Volvo Group generously shared his and their view and experiences. This session was enabled by Qlik, to learn more view the recording and scroll down to the bottom of this post.
Internal, external or in between opportunities?
Each webinar, EBG invite You who join our sessions to compare live with other peers joining. A great way to compare notes! Results shared as a percentage. Not statistic truths but interesting insights!
Many organizations are complex and a lot of focus is usually spent enabling internal efficiency and internal synergies. Using KPIs that are controllable, triggering a certain behavior within the organization.
But is the customer really interested in single aspects of for instance material cost level evolution? Possibly missing a big point. Are they more interested in the efficiency throughout the value chain? What it take to set up the logistics flow, the risk of long distance flow, or lead times for a sales representative to sell a certain option to a customer and so on.
Making many organizations missing out in the gray zones.
The above the poll results during the live session asking about what opportunities are in focus in their organizations.
On demand session
Below you can re-view the session first hand, Marcus is giving solid advice and concrete examples that may trigger your business control development ahead. You find the on demand session >>here or by clicking the image below.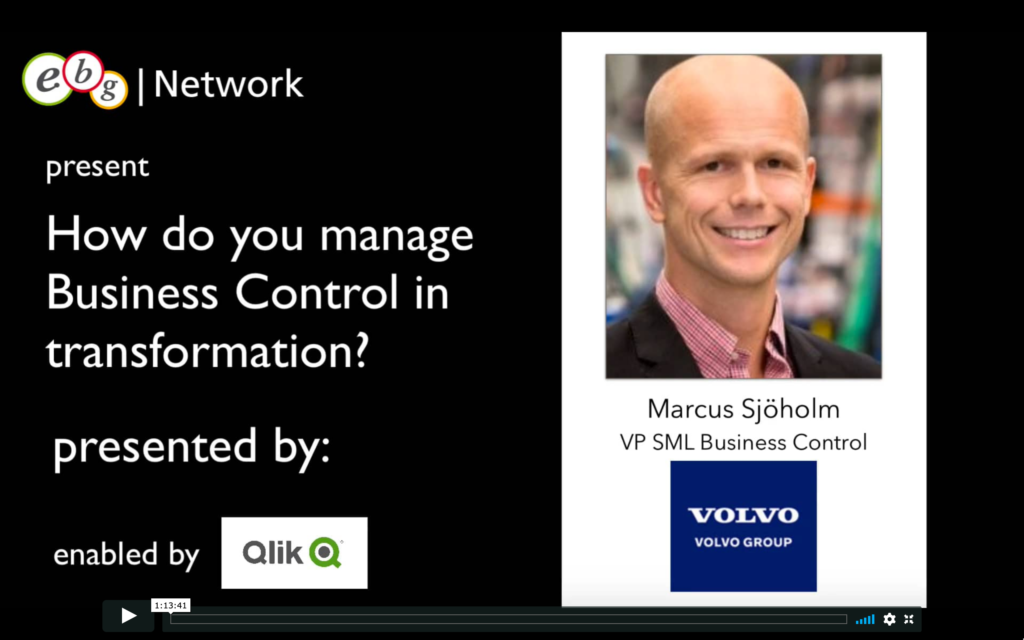 Are you and your organization data literate
Developing businesses based on insights is increasingly important. But what does that take from You, your colleagues and company management? How does your organization balance the need for new ways of interpreting and communicating data insights?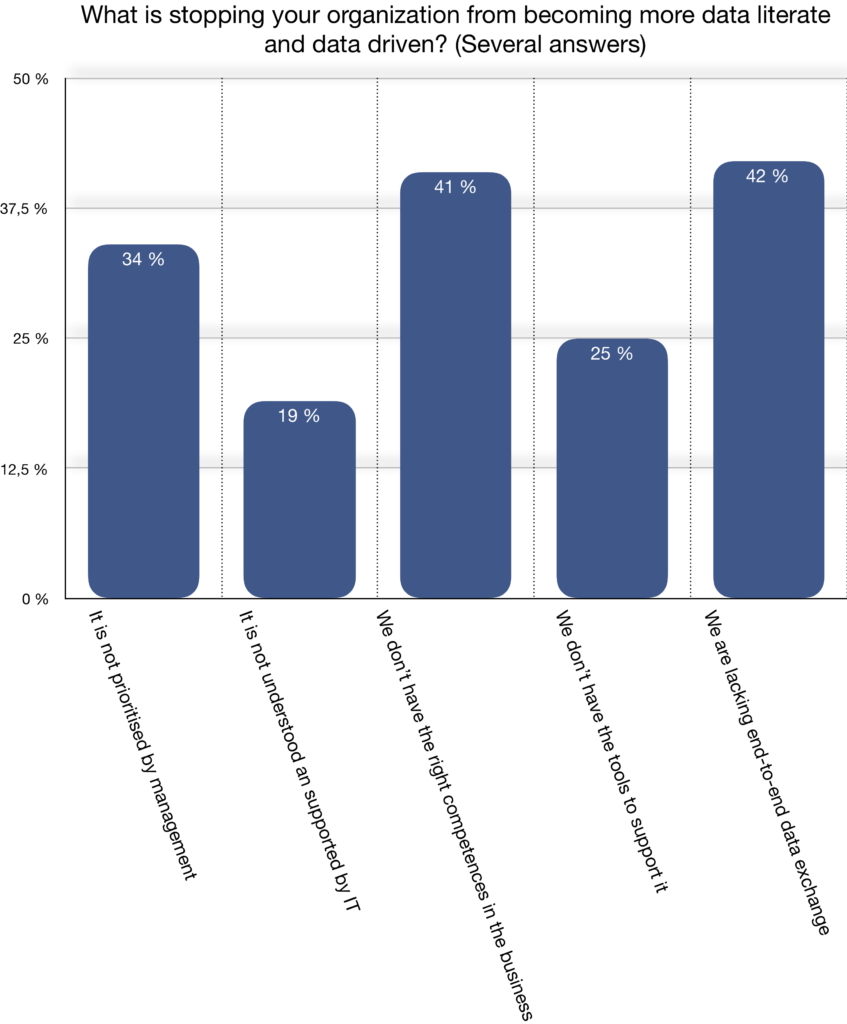 Not having the right competences and the lack of end-to-end data exchange being the biggest obstacles becoming more data literate and data driven.
Competence gap
Financial skills still of course being the back bone for controllers! Where else do people joining the live session consider controllers in their organization have a competence gap?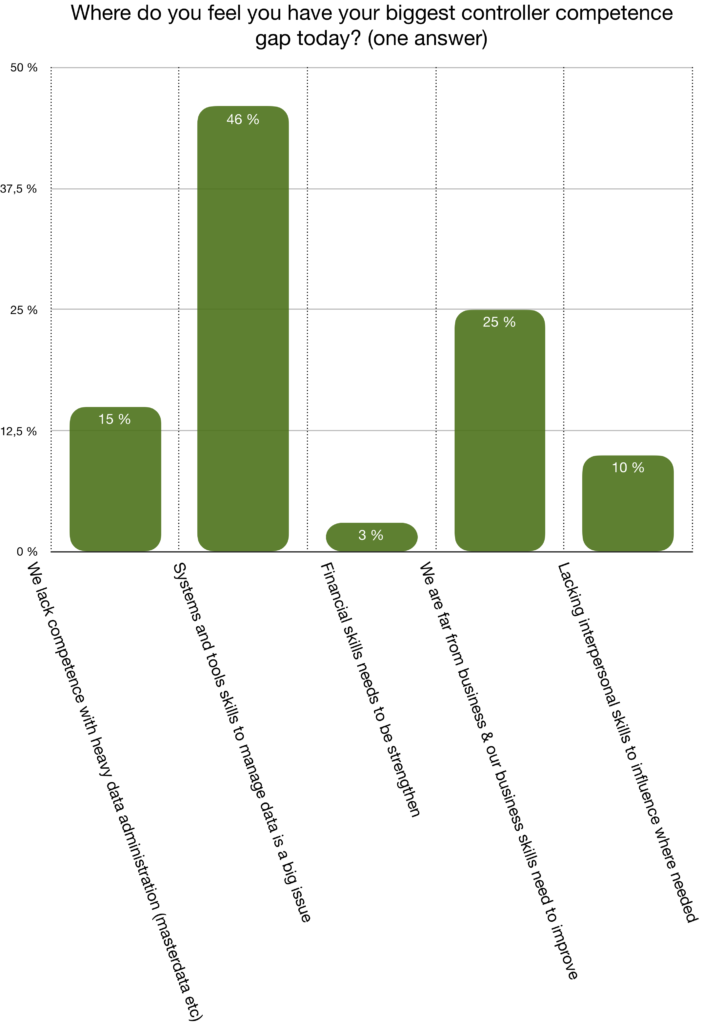 The major competence gap is perceived to be the need for system and tools skills to manage data. That result go hand in hand with the above result.
People and competence challenges
Changing the way companies do business, or develop ways to increase business control – take people wanting to change and develop. As seen below, one of the challenges are behavior staying the same!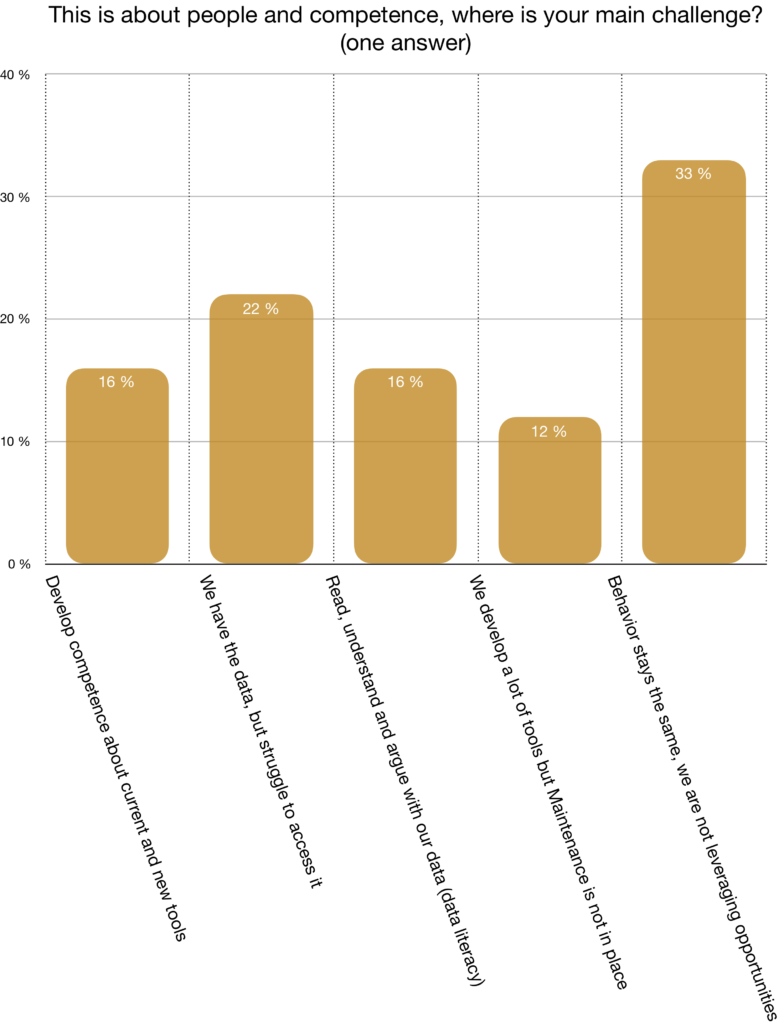 Summary
In conclusion, how are you managing the gray zones between functions in Your organization? Are you too focused on KPIs that are not leveraging end-to-end insights? You probably have the data – but are you lacking the skillets and behavior that will enable you and your organization to use it at its best? Do you have the tools and systems to support you in taking that step?
It was highly skilled people joining this live session and a treat hosting it – thank you Qlik for enabling us to do so!
Want to learn more?
Smarter data analytics for finance
For business to thrive, finance departments must deliver accurate and actionable insights in real time. Qlik synthesizes disparate financial and accounting data into powerful analytics that help you reduce costs and risks, improve profitability and transparency, and guide more informed decisions. Find out more at Qlik Finance Solutions
Data Literacy
Learn more about Data Literacy, do assessments and much more at the Data Literacy Project
Qlik webinars
Get inspired with a range of different topics on how to become a smarter organization. Both real time and on Demand webinars can be found here.
AI-powered conversational analytics
Qlik Insight Bot – Product Tour