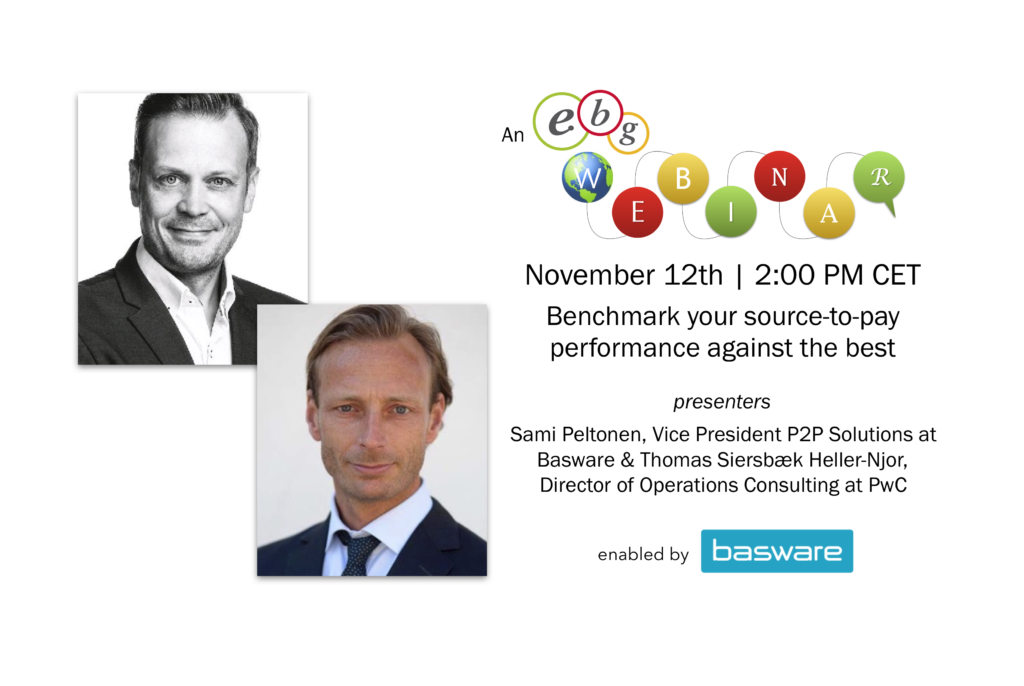 Welcome to a webinar session where data from hundreds of survey respondents experiences will be shared. Allowing You to benchmark your source to pay maturity and next steps.
The rapid changes in innovative technology help to drive unforeseen cost efficiencies through process optimization. By implementing new technologies such as Robotics Process Automation (RPA) and Artificial Intelligence (AI) the opportunities for further advancements are within reach. But how do you know what to focus on next in Your organization?
Date: November 12th 2019
Time: 2:00-3:00 PM CET
Place: Your computer/tablet/phone
Language: English
Cost: Free of charge but requires registration
Organizer: EBG | Network & Basware
Welcome to a webinar where Thomas Siersbæk Heller-Njor, Director of Operations Consulting at PwC and Sami Peltonen, Vice President P2P Solutions at Basware will share key findings from recent survey studies and concrete Basware experiences from across the globe.  
Participants will be able to benchmark against researched organisations and leave the session with concrete actions to take ahead.
We will discuss:
How source-to-pay is defined in the study?
What sets best in class companies apart from average performers?
Who are using RPA and AI today and how is it used?
How is advanced analytics used by the top 10-25% of performing companies?
What KPIs should you benchmark against to ensure your source-to-pay operations are at its best?
How can companies evaluate how to most efficiently develop sourcing, procurement and finance ahead?
About the study
PwC have surveyed the market and looked at how over 600 companies in more than 100 different countries are working to optimise their source-to-pay processes, how they benefit from new technology, and what future developments they deem as important going forward. Companies in the Nordic countries are at the forefront of the development, but many are still just scratching the surface of what is possible.
What is source-to-pay?
Source-to-pay is a term that captures the holistic set of activities and functions defining the end-to-end process. As such it provides a framework to cut costs, increase efficiency, and reduce risk across your global operations. This is done digitising as much of spend data as is possible, enabling companies to capture 100% of financial data gaining full transparency of spend activities. If streamlining your financial processes, gaining visibility into your overall spend and releasing working capital from your supply chain is a priority, this session is for you. Sourcing meets procurement who meets finance.
About Basware
Basware offers the largest open business network in the world and is the global leader in providing networked source-to-pay solutions, e-invoicing and innovative financing services. Our technology empowers organizations with 100% spend visibility by enabling the capture of all financial data across procurement, finance, accounts payable and accounts receivable functions. Basware is a global company doing business in more than 100 countries and is traded on the Helsinki exchange (BAS1V: HE). Find out more at basware.com.