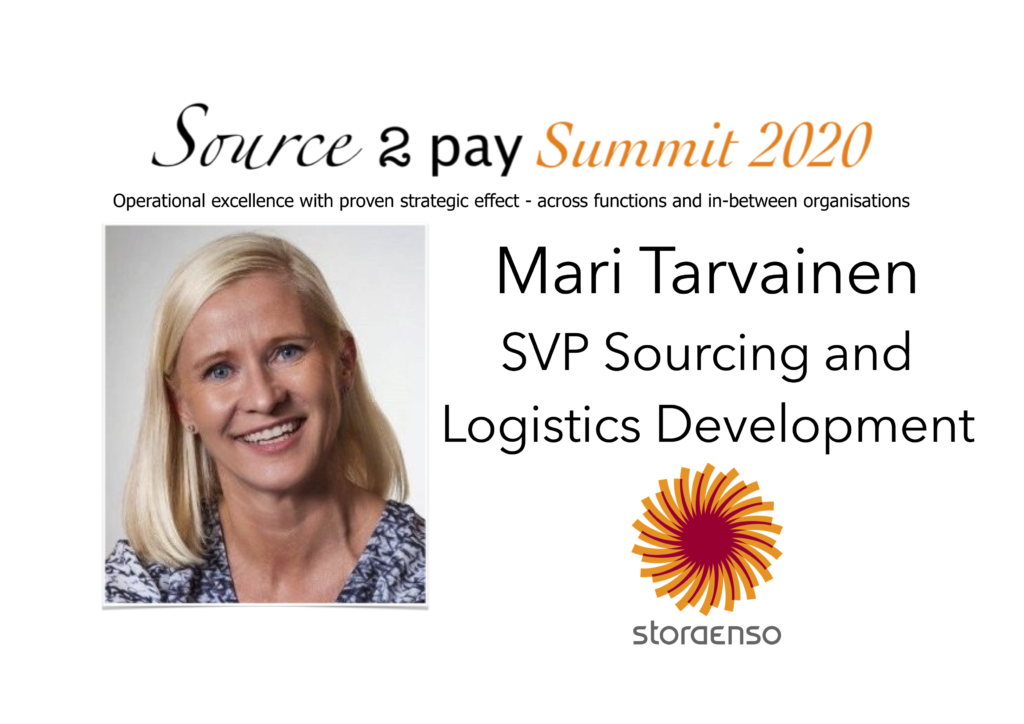 Let's start welcoming Source 2 Pay Summit 2020 speakers and moderators! We will focus on operational excellence with proven strategic effect. How to tie together sourcing – procurement and finance in a seamless way. Finding out what do to in-house and what to outsource. How to measure desired outcome across functions. How to master data and enable better decision making processes. We will meet on March 19th in Stockholm.
Stora Enso joining Source 2 Pay Summit 2020
Welcome Mari Tarvainen, SVP Sourcing and Logistics Development at Stora Enso to Source 2 Pay Summit 2020! A great example of a company deciding to grow step by step, maturing their end-to-end procurement strategies and operations. At Source 2 Pay Summit 2020 you can discuss and learn more about the below:
Theme Discussion | How do you climb the procurement maturity ladder through purchase to pay optimisation?
Stora Enso is monitoring their procurement maturity scale and act in order to climb the maturity ladder. In the past years Stora Enso, with a de-centralized organisation, has developed the category management structure, sourcing practices, data harmonisation and a service center plan. They also work to improve their purchase to pay processes through process mapping, data harmonisation, robotic process automation (RPA) projects and ways to overcome a scattered system landscape. Discuss lessons learned and compare with your organisation.
How are you taking control over your purchase to pay processes (PO coverage/3 way matching/data mining etc) and what the main drivers for KPIs improvements in P2P process ?
If you don't have an end-to-end system – are you using RPA or other ways to overcome system gaps?
What are you choosing to do in-house versus outsourcing to a service center? And if you select outsourcing service center , why ?
How are you closing possible knowledge gaps in your organisation?
About Mari
Mari Tarvainen have a broad background from Stora Enso and know both sales, supply chain, logistics and sourcing.
About Stora Enso
Stora Enso develops and produces solutions based on wood and biomass for a range of industries and applications worldwide, leading in the bioeconomy and supporting our customers in meeting demand for renewable eco-friendly products.

Building on our heritage and know-how in forestry and trees, Stora Enso is committed to the development of products and technologies based on renewable materials. Our products, in many cases, provide a low-carbon alternative to products made from fossil-based or other non-renewable materials.

Today our solutions are found in such segments as building, retail, food and beverages, manufacturing, publishing, pharmaceutical, cosmetics, confectionary, hygiene and textiles. Tomorrow, we believe there is the potential to produce anything that's made with fossil-based materials from a tree.

About Stora Enso
Stora Enso has about a EUR 10.5 billion in sales, employ 26 000 persons in 30 countries. Europe stands for 73% of the number of employees.
About Source 2 Pay Summit
For the 10th (!) time – we meet in Stockholm across functions and industries to share knowledge and experiences in creating operational efficiency with an effect.
Businesses need to become leaner and more agile, adapting to constant change which affect both how data is managed and what the people in the organization can expect business wise. The need too be data literate and continuously improve processes is no longer ahead – we see it here and now. What does that mean to you?
Source 2 Pay Summit reflect on how to become faster but also how to become wiser. We know businesses might need to automate just to find time to be more strategic – let's share ideas on how! We know businesses still operate in silos – let's break those walls, discuss how to measure, act and communicate across an organization. We know costs have to be cut and administrative work taken away or outsourced – let's discuss the best possible ways in order to not loose valuable information and competences.
Welcome!