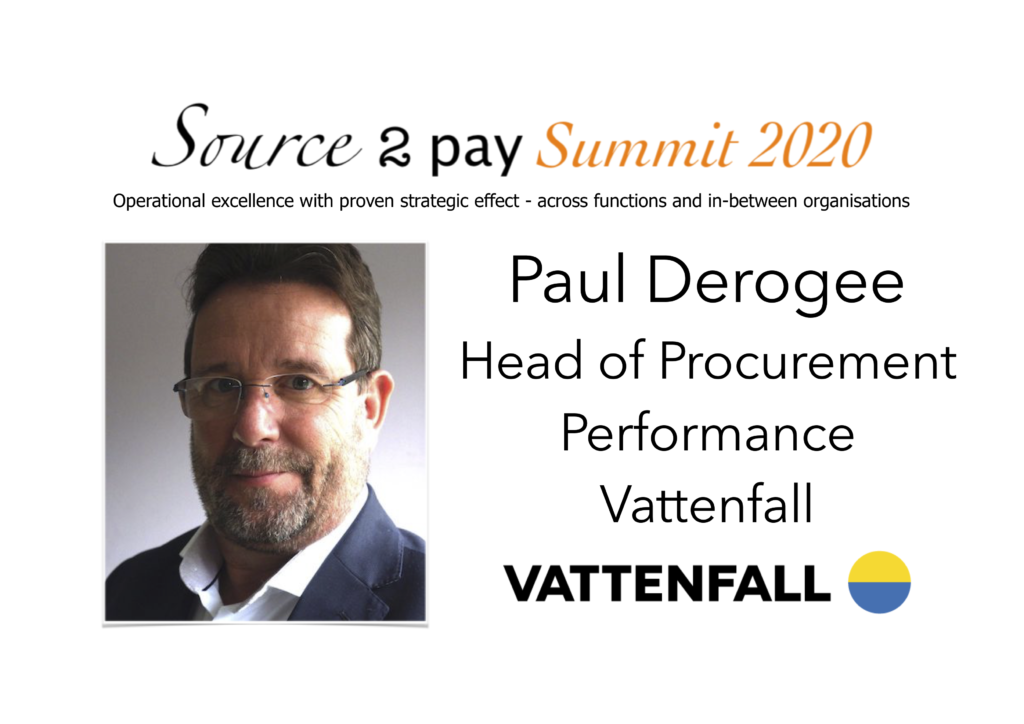 A recurring theme at EBG summits is to re-invite past speakers and moderators to learn – what happened then? The possibility to learn from experiences about what was, what is and what became of it (and most likely repeat) is great. Vattenfall is one such organization EBG have been able to follow. Vattenfall was first part of a Source 2 Pay Summit program back in 2016 and a lot has happened since. And a lot more will happen within the end to end scope we call source to pay.
On March 19th 2020, Paul Derogee, Head of Procurement Performance at Vattenfall, based in the Netherlands, will share what has happened since 2016.
Vattenfall decided to outsource source to contract, purchase to pay, order to cash, record to report and accounts payable operations in 2017. A system implementation was also part of the plan.
But things don't always go according to the plan – what do you do then? That and much more you can learn from Paul in March!
Below you can view the sessions he will host.
A Focus Session is an on scene presentation narrowing down on a certain topic – in this case what to outsource and not and how to ensure what you outsource deliver as desired. Theme Discussions are round table discussions where the moderator have decided what he or she want to share and discuss, making each topic highly relevant and up to date with the reality.

What are Focus Session and Theme Discussions?
Focus Session | An outsourcing story from pre-study, through business case calculation, go live until now
Vattenfall decided to outsource source to contract, purchase to pay, order to cash, record to report and accounts payable operations in 2017. A thorough plan was created with implementation steps and phases. Processes have been mapped and responsibilities split in order to maintain control and to focus on core capabilities.

Go live was planned for beginning of 2019 combined with a system implementation but due to a delay in that implementation, Vattenfall has initiated as-is transition of activities based on current systems and processes.

Draw from the pre-study made – when should you outsource, what should you outsource and how do you calculate the business case? Draw from the go live-phase – how do you ensure strategies develop as planned – how do you communicate with stakeholders and how do you adapt to changes? Learn from the governance experiences to date and how well the original strategies are still intact.
Why did Vattenfall decide to outsource and how has the strategy and scope changed?
How do you decide what to outsource and what to see as business critical?
How do you adapt when system implementation don't go as planned and technologies evolve?
What has happened with tasks and responsibilities in Vattenfall due to outsourcing?
How do you set up KPI's and measure performance (both by the BPO provider and internal stakeholder compliance)?
Theme Discussion | How do you create an outsourcing relationship that can adapt to changes?
Since Vattenfall decided to outsource source to contract, purchase to pay, order to cash, record to report and accounts payable operations they have learned a lot. Experience you can here draw from and compare with yours. In times of rapid change both in markets, companies and technology wise what was a reality at the time of a strategy created may not be he truth at go live or beyond. Discuss challenges and opportunities in creating a broad outsourcing scope, what to consider and how to ensure you get what you need and not only what you ask for.
How can you create outsourcing strategies that can adapt to changes?
What are the change management challenges and how can you overcome them?
In what ways can you measure and communicate desired and actual outcome?
About Paul
Paul has worked in the utilities sector since 1996 and has long experience from different procurement responsibilities. To date, Paul is Head of Procurement Performance at Vattenfall.
About Vattenfall
Vattenfall's main markets are Sweden, Germany, the Netherlands, Denmark, and the UK. The Vattenfall Group has approximately 20,000 employees.
The parent company, Vattenfall AB, is 100% owned by the Swedish state, and its headquarters are in Solna, Sweden.
Vattenfall in numbers
6,550k electricity customers
2,140k heat customers
3,310k electricity network customers 2,350k gas customers
156,824 million SEK net sales
12,007 million SEK profit of the year
About Source 2 Pay Summit
How much of sourcing, procurement and finance function every day work is still quite tactic? How much value is still not fed back to the organization due to either lack of process transparency or lack of data quality and data visualization? Source 2 Pay Summit take an overview over how sourcing, procurement and finance – together – can improve operational efficiency with proven strategic effect. Across functions and in-between organizations. You can register already and be among the first who get to choose Theme Discussions (limited space). Welcome!