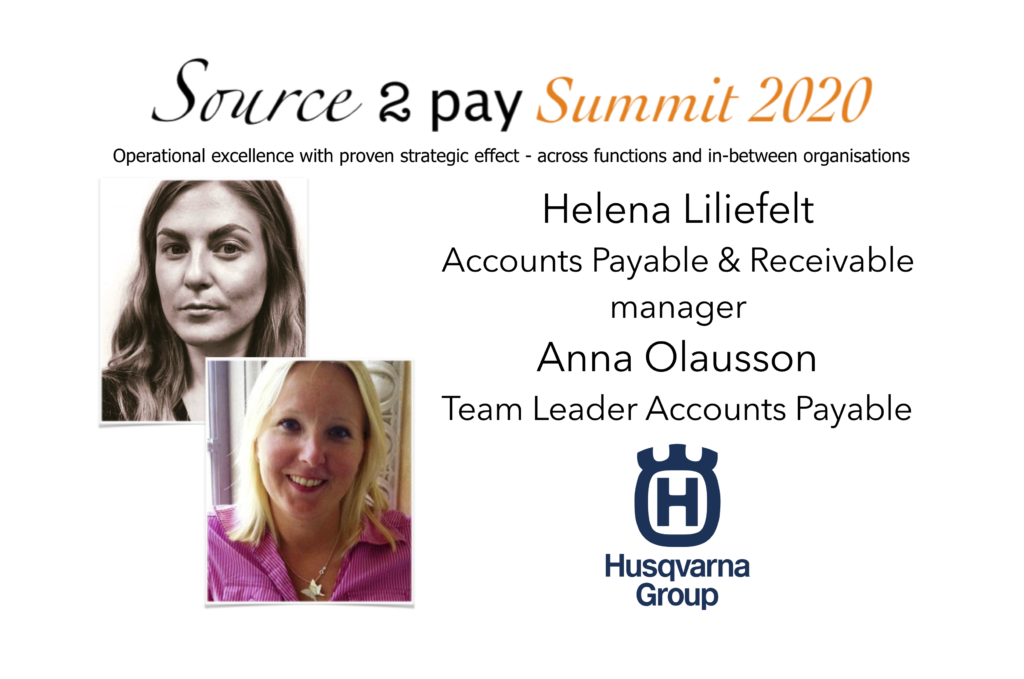 It take more than one person or one function to change strategies and operations. Husqvarna Group is collaborating across functions and in-between organizations to ensure maximum reduction of waste and non-value adding activities.
Like most organizations want to but might not know how to achieve. At Source 2 Pay Summit 2020 you will get one step closer to getting the toolbox needed.
EBG are happy to welcome Husqvarna and Helena Liliefelt, Accounts Payable & Receivable Manager and Anna Olausson, Team Leader Accounts Payable at Husqvarna Group to Source 2 Pay Summit 2020. They bring extensive know how into how to collaborate across functions and ensure strategies become true.
Below you can view what will be discussed with You who join Source 2 Pay Summit 2020 on March 19th in Stockholm.
Theme Discussion | How can you enable a lean end-to-end perspective and strategy?
Husqvarna have had a digitisation strategy (using robotics process automation and machine learning for instance) for years and it is showing results. Procurement and finance are working closely to increase automation and insights in order to value outcome, reduce administrative tasks and build thresholds instead of silos. With a lean perspective, Husqvarna are focusing on reducing waste and non-value adding activities. Learn form their experiences and discuss:
How can task outsourcing help enable a lean end-to-end perspective?
What KPIs can be used ensuring desired results?
How do you enable business continuity even in a multiple and scattered system landscape?
About Husqvarna Group
Husqvarna Group is a global leading producer of outdoor power products and innovative solutions for forest, park and garden care. Products include chainsaws, trimmers, robotic lawn mowers and ride-on lawn mowers.
The Group is also the European leader in garden watering products and a global leader in cutting equipment and diamond tools for the construction and stone industries. The Group's products and solutions are sold under brands including Husqvarna, Gardena, McCulloch, Flymo, Zenoah and Diamant Boart via dealers and retailers to consumers and professionals in more than 100 countries. Net sales in 2018 amounted to SEK 41bn and the Group has around 13,000 employees in 40 countries.
About Source 2 Pay Summit
If it takes a village to raise a child – it fr sure take more than a single function or individual to create lasting change that affect thousands of people in global organizations. Or regional. Or local.
Source 2 Pay Summit reason to be is bringing sourcing, procurement and finance together to discuss how to best ensure businesses are as efficient as possible – without loosing touch with the proven effect necessary. Success without being able to measure it and ensure it over time is no longer good enough.
Source 2 Pay Summit consist of on scene sharing of experiences and round table discussions where each moderator are sharing what he or she want to share and want to discuss with you who join. After >>registering you can start choosing what Theme Discussions (round table discussions) to join! First come first served with limited seats available.