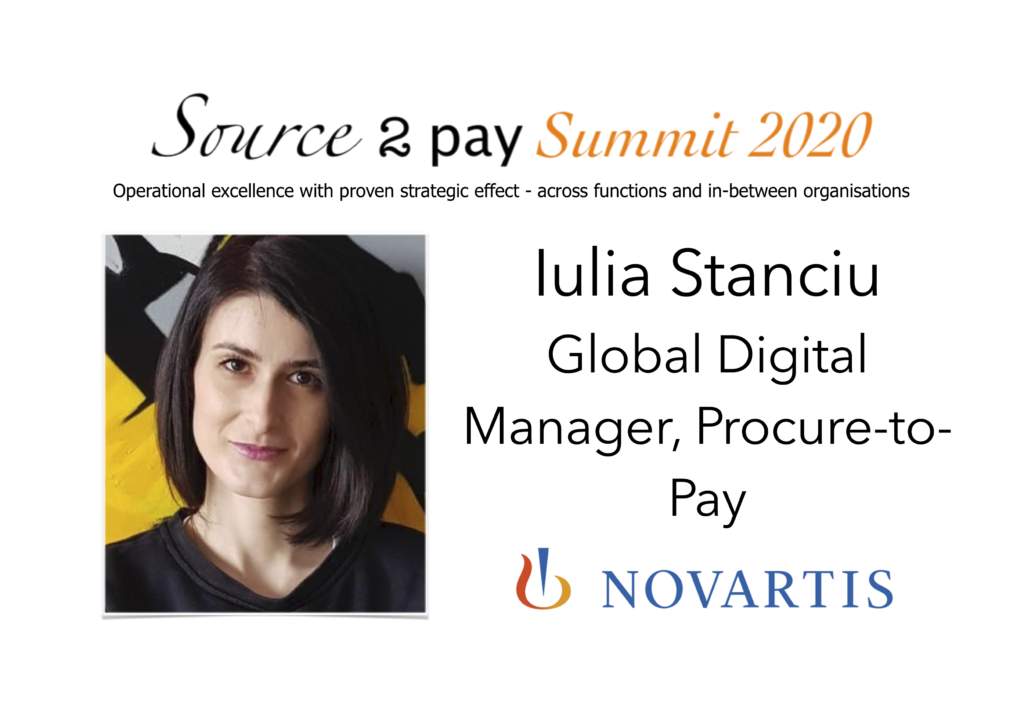 How do you do it? How do you go from deciding on One way of working or at least aiming for a single overview over how a global organization (and it's 3rd party collaborators) should handle certain processes? Is it even possible? EBG | Network welcome Iulia Stanciu, Global Digital Manager, Procure-to-Pay at Novartis to Source 2 Pay Summit 2020! She may not be able to help you gain global overview and control, but she can for sure inspire you to create a single source of truth for different layer stakeholders along this end to end process.
Below you see the Theme Discussions she invite You to join. As soon as you register you can start choosing what sessions to join and they come at a first come first served basis.
Theme Discussion | How do you enable a global single source of truth?
Novartis is on a path to go from numerous ERP systems to one and to continue to implement systems supporting Source to Pay. Aligning goals and change behavior is  key and the transformation will be global. They are not unprepared, a One Stop Shop has already been created. An active portal for all documentation with different document layers depending on the audience. This is giving Novartis central control over guidelines, global standard operating procedures & local step outs, training materials, local supplemental information and applicable financial controls, ensuring all (including 3rd party) follow the processes set up. How have they enabled that? Here you will learn!

Learn about and discuss:
What is the One Stop Shop and who uses it?
How was the on boarding plan for all users planned and executed?
What is the level of adherence to core processes?
What effect has the central portal had on compliance and control?
What role will the portal play in the upcoming transformation?
About Iulia
Iulia is Global Digital Manager, Procure-to-Pay at Novartis meaning she is leveraging the acceleration of digital transformation to achieve best-in-class processes. She has worked with different procure to pay processes at Novartis. Prior to Novartis, Iulia worked as a consultant at Genpact working with different finance transformation projects.
About Novartis
Novartis AG is a holding company, which provides healthcare solutions. The Company is engaged in the research, development, manufacturing and marketing of a range of healthcare products led by pharmaceuticals. The Company's segments include Innovative Medicines, Sandoz, Alcon and Corporate activities.

Reuters
As a leading global medicines company, we use innovative science and digital technologies to create transformative treatments in areas of great medical need. In our quest to find new medicines, we consistently rank among the world's top companies investing in research and development. Novartis products reach more than 750 million people globally and we are finding innovative ways to expand access to our latest treatments. Our purpose is to reimagine medicine to improve and extend people's lives. Our vision is to be a trusted leader in changing the practice of medicine. Our strategy is to focus Novartis as a leading medicines company powered by advanced therapy platforms and data science. Global Operating Divisions Cross-Divisional Organizational Units
Cross Divisional Organizational Units
Our continuing operations are supported by the following cross-divisional organizational units: the Novartis Institutes for BioMedical Research, Global Drug Development, Novartis Technical Operations and Novartis Business Services. The financial results of these organizational units are included in the results of the divisions for which their work is performed.
Novartis Business Services (NBS), our shared services organization, delivers integrated solutions to all Novartis divisions and units worldwide. NBS seeks to drive efficiency and effectiveness across Novartis by simplifying and standardizing services across six service domains: people and organization, real estate and facility services, procurement, information technology, commercial and medical support activities, and financial reporting and accounting operations. NBS has approximately 10,000 full-time equivalent associates in more than 30 countries. NBS works to leverage the full scale of Novartis to create value across the Company and to free up resources to invest in innovation and our product pipeline. NBS continues to transfer the delivery of selected services to its five Global Service Centers in Dublin, Ireland; Hyderabad, India; Kuala Lumpur, Malaysia; Mexico City, Mexico; and Prague, Czech Republic.
Financial Figures
In the first half of 2019, Novartis achieved net sales of USD 22.9 billion, while net income amounted to USD 4 billion. We are headquartered in Basel, Switzerland, About 108,000 people of more than 140 nationalities work at Novartis around the world.
About Source 2 Pay Summit
For EBG, Iulia represent competences of the future. Visionary, cross function insights, digitally experienced and seamless movement between different areas of the business.
Source 2 Pay Summit is not a Global Business Services summit – yet all companies joining the summit will have or have a GBS, a SSC and/or have outsourced all or part of their source to pay processes.
Source 2 Pay Summit is not a procurement summit – yet gladly many joining the summit work within sourcing and procurement and understand that much of company revenue start with them. Their ability to fulfill set targets start with gaining end to end visibility and control over sourcing, procurement and finance. They increasingly know they need to collaborate across functions and in-between organizations.
Source 2 Pay Summit is not an e-invoice or accounts payable summit – yet all upstream actions end up in accounts payable or – if fully automated – with an invoice of sorts being paid. Refining upstream sourcing and procurement processes mean better data and more time to feed insights back to the organization.
Source 2 Pay Summit is not a treasury summit – yet the possibilities to work with cash management and working capital in more efficient ways IF you include procurement and supply chain in the mix – are huge. To do so companies will need to communicate and collaborate across functions and in-between organizations.
Source 2 Pay Summit is one of few summits where the people with the joint power to change business outcome meet. Informal yet to the point experience exchange with people bringing different perspectives to the table. Quite simply a unique opportunity to gain insights you may otherwise rarely get. Does it work? EBG believe so since 2020 will be the 10th annual summit!