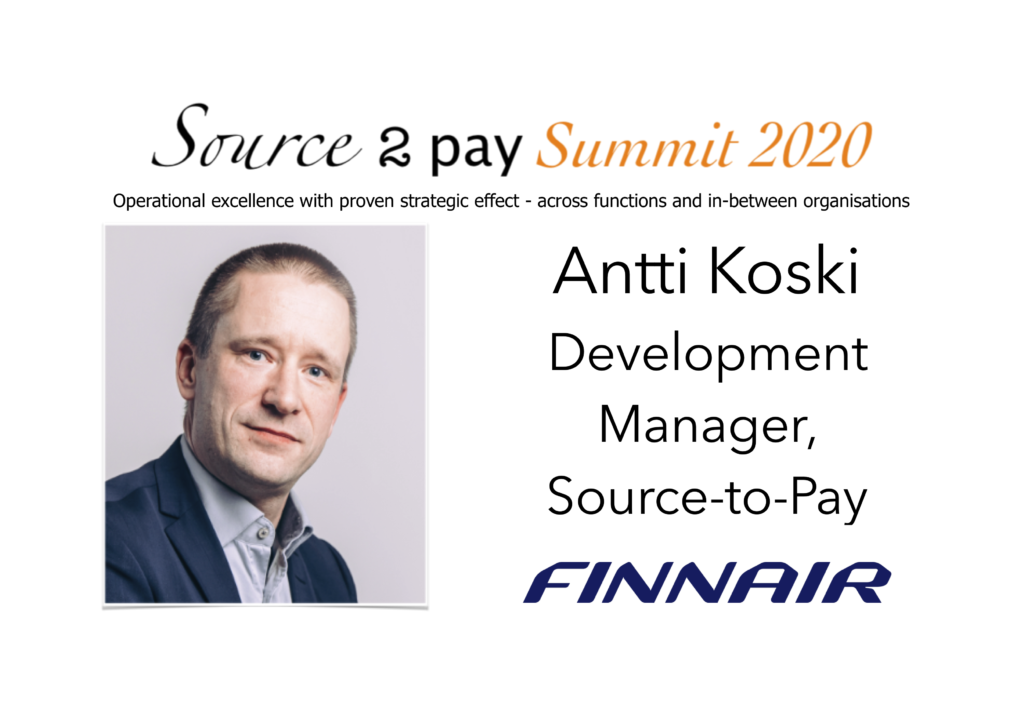 EBG | Network follow both companies and individuals as they grow. EBG have follow Antti Koski since he worked at Microsoft and are now happy to share his experiences from Finnair. A warm welcome to Antti joining Source 2 Pay Summit 2020!
Antti Koski, Development Manager, Source-to-Pay at Finnair will be sharing his experiences together with Helena Liliefelt, Accounts Payable & Receivable manager at Husqvarna on stage. They will share their views on end to end sourcing, procurement and finance control and share why they collaborate.
Because they do. Collaborate. They met at one of the summits hosted by EBG | Network and have continued sharing experiences. This is like music to us at EBG | Network and one of the reasons we do what we do! But how is it that two companies within completely different industries – and individuals working in different areas – have so much to share with each other?
Let's find out.
See what they will share below – the idea to also involve You who join Source 2 Pay Summit 2020. Who knows – maybe You will find the resources You need to help you and your company grow?
Cross Function & Cross Organisation Process Development Collaboration
Themed Focus Session | What could increased collaboration mean for Your end-to-end development?
A key aspect for EBG | Network is enabling people and companies to come together and truly share experiences. Two companies that are working closely together are Husqvarna and Finnair and here we will discuss what collaboration between sourcing, procurement and finance in different companies can be like. Here we will learn what end to end mean to them, what their development goals are, achievements they have accomplished and what lessons learned you can draw from them. Take the opportunity to consider the challenges You have and what you wish you could learn from others – and let us discuss just that.
Husqvarna and Finnair will share the journeys they are on and why a finance and a sourcing professional have such great exchange.
What has Husqvarna and Finnair been able to learn from collaborating within their source-to-pay development?
How can businesses draw from each others experiences in the best possible way?
Which pitfalls can you avoid by drawing from others experiences?
About Antti
This is what he says himself "I have +10 years of Business Development experience in various roles: operations, process improvement, IT implementation programs, business transformation and team leadership. I have comprehensive understanding of Source-to-Pay, Finance and Supply Chain in multinational organizations.

I'm a passionate continuous improvement and LEAN practitioner, capable of managing large & complex projects successfully. Always ready and motivated for improving business results and customer satisfaction." (LinkedIn)
His experiences come from various roles within supply chain, procurement and process development from Finnair, Microsoft and Nokia.
About Finnair
Finnair is a network airline specialized in flying passengers and cargo between Asia and Europe. They fly to 19 destinations in Asia, seven in the Americas and over 100 destinations in Europe.
In 2017, Finnair's revenue amounted to €2,568 million and they had 5,900 employees at the end of the year. Finnair's head office is located at Helsinki Airport and its shares are listed on the Nasdaq Helsinki. The Finnish government is a major shareholder with a 55.8 per cent holding. Other shareholders include public bodies, financial institutions, private companies and households.
About Source 2 Pay Summit
EBG believe in bringing different experiences together in an informal yet to the point way. People who rarely meet (since they some time don't even work in the same country yet are responsible for different areas of the same process) – when they come together – magic can happen. Sourcing meet procurement who meet finance and when speaking about the same topic – different perspectives are met.
What may happen when you allow yourself to take different perspectives on what you do? Something great as far as our experience tell us. Welcome to join us today – as soon as you have registered you can start choosing what Theme Discussions – round table discussions – to join.