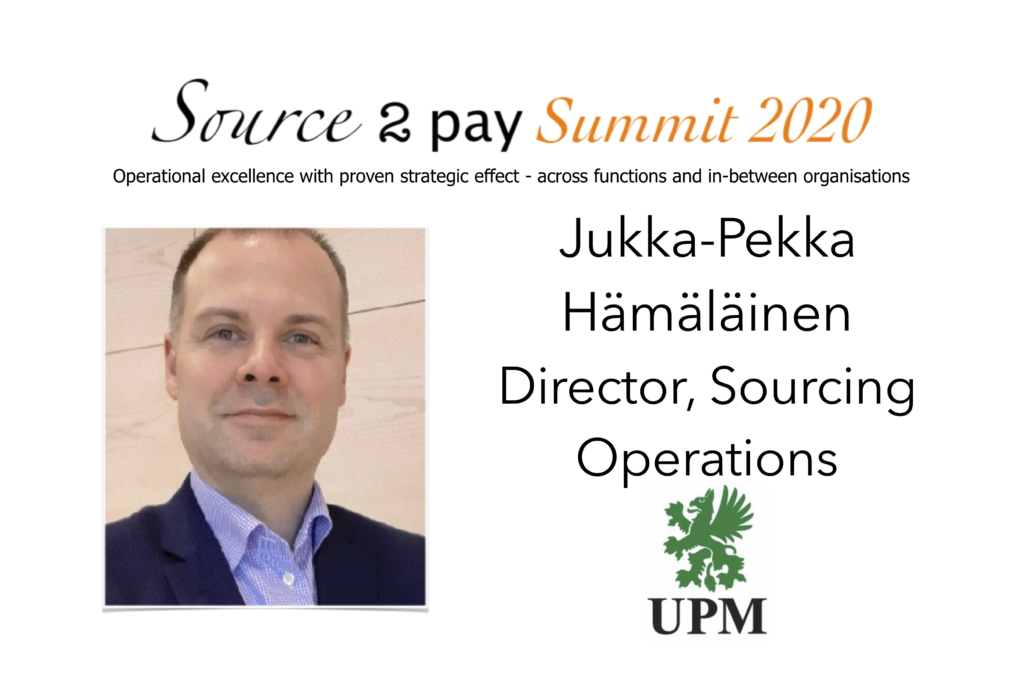 A warm welcome to Jukka-Pekka Hämäläinen, Director, Sourcing Operations at UPM joining Source 2 Pay Summit 2020. Jukka-Pekka is responsible for leading and developing Group-wide source to pay operations and the teams in Europe, China and India. At Source 2 Pay Summit You can sit down and learn from his and their experiences during round table discussions – by EBG called Theme Discussions.
UPM are transforming their sourcing, procurement and finance operations and we know You may be doing the same.
Below you can see what Jukka-Pekka invite You to discuss.
Theme Discussion | How do you implement and follow up a source to pay roadmap?
UPM Sourcing is implementing a development roadmap for Source-to-Pay end-to-end process UPM wide. The roadmap is considering how to improve data quality, increase process efficiency and find core process metrics in order to incorporate the business. In addition, the digital sourcing capabilities will be enhanced. Here you can learn about the work they are doing and share your experiences.
What are data quality, process efficiency and core metrics to strive for?
How are sourcing and procurement operations being transformed and how is that aligned with finance?
What will be future competences needed to drive the desired outcome?
Seats are limited – EBG want You to have great discussions and experience exchange in an informal yet to the point way. As soon as you register you can start choosing what sessions to join!
About Jukka-Pekka
Jukka-Pekka is an experienced sourcing & finance professional with more than 15 years of experience in the process industry. He has a proven track record in developing Group-wide operating models, organizational capabilities and operational excellence & leading end-to-end transformations in Source to Pay domain.
Prior to working at UPM, Jukka-Pekka worked worked with sourcing and supply chain developent (as well as being a business controller) at SOK, Metsä and Stora Enso.
About UPM
Through the renewing of the bio and forest industries, UPM is building a sustainable future across six business areas: UPM Biorefining, UPM Energy, UPM Raflatac, UPM Specialty Papers, UPM Communication Papers and UPM Plywood.
UPM products are made of renewable raw materials and are recyclable. They serve their customers worldwide. The group employs around 19,100 people and its annual sales are approximately € 10 billion.
UPM shares are listed on NASDAQ OMX Helsinki. UPM – The Biofore Company – upm.com
UPM in figures
Sales EUR 10.5 billion
Employees 19,000
Production in 12 countries
Sales network 6 continents