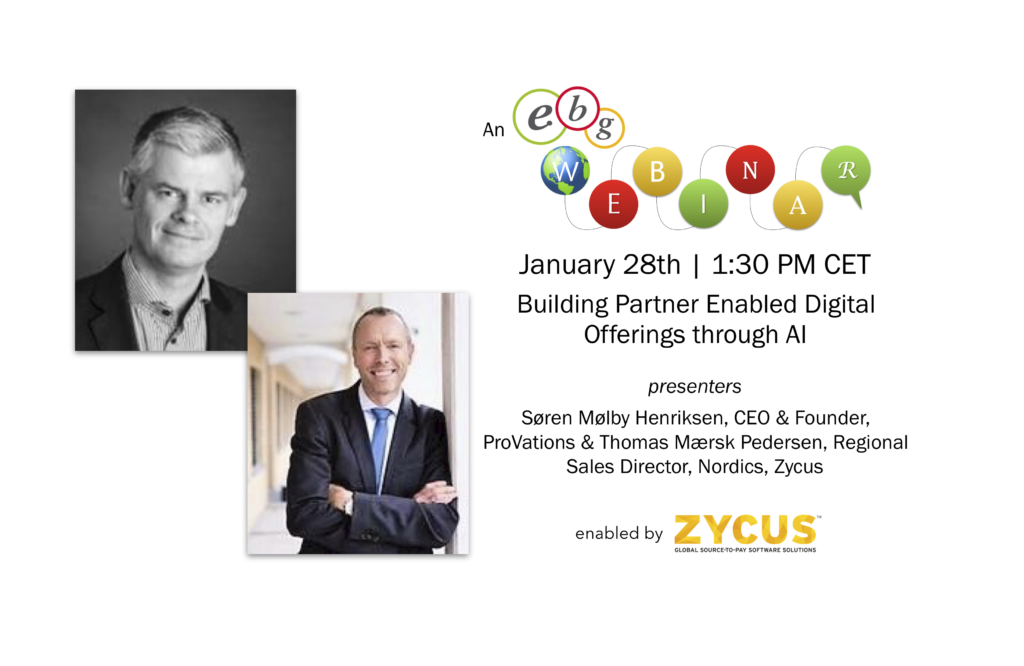 Welcome to a session created for professionals working in the procurement and purchasing function. A session for you who are keen on adopting and leveraging digital offerings to improve process efficiencies, primarily through digital offerings like AI. This session will go through digitalization of procurement and how to build compelling digital offerings like AI through Partner Enabled Innovation (PIE).
Date: January 28th 2020
Time: 1:30-2:15 PM CET
Place: Your computer/tablet/phone
Language: English
Cost: Free of charge but requires registration
Organizer: EBG | Network & Zycus
Søren Mølby Henriksen, CEO & Founder, ProVations and Thomas Mærsk Pedersen, Regional Sales Director, Nordics, Zycus will share their extensive experiences.
We live in the age of digital today and world-class procurement teams are making the best use of digital offerings like AI, RPA and Machine Learning, As a matter of fact, every procurement team today wants to digitize their process and leverage automated technologies like AI, RPA and Machine Learning. But many lack clarity on the fundamentals, for example where to begin, how to increase the organization wide adoption of digitalization and how to measure and ensure ROI out of these automated solutions. This webinar address these topics and use scenarios/use cases specific to spend analysis, eInvoicing and contracting to further elaborate.
We will go through:
How does AI help in Accuracy, Accounting and Spend Analysis?
How can AI and Bots help in the extraction of metadata clauses from contracts and contract lifecycle management in general?
What's the role of a Partner in setting up Machine Learning training for customer systems?
How can AI be used in Partner Enabled Innovation (PIE) workshops to cater for new solutions, to resolve customer pain points and to create value?
How can AI and PIE be used to reduce the lead time for procurement processes?
What are the collaborative ways to reduce the lead time when there are several suppliers?
How to foster potential new alliances between suppliers for the benefit of the customer in question?
All who register will receive the slides and recording, joining us online will give you the opportunity to compare live with peers. Your online and registration details will only be shared with the co-organizer. We promise to take care of your time spent with us.
About the presenters
ProVations is offering strategic IT procurement & innovation advice, learning opportunities and hands-on implementation to procurement professionals of Nordic countries. Prior to founding Provations, Søren served Danske Bank for 6 years juggling multiple roles including Head of Procurement Innovation, Head of IT & Banking Procurement, Head of Category Management IT and Interim CPO. During his tenure at Danske Bank, he helped Danske bank realize savings of EUR 25-100 million every year. Thomas has a background from engineering and business administration, with 10+ years' experience within Sales Execution and Business Development.
About Zycus
Zycus is a leading global provider of complete Source-to-Pay suite of procurement performance solutions. Our comprehensive product portfolio includes applications for both the strategic and the operational aspects of procurement.
Zycus has been Recognized as a LEADER in Gartner's Magic Quadrant for Strategic Sourcing Application Suites for four years in a row, making it the only solution provider to achieve this feat.