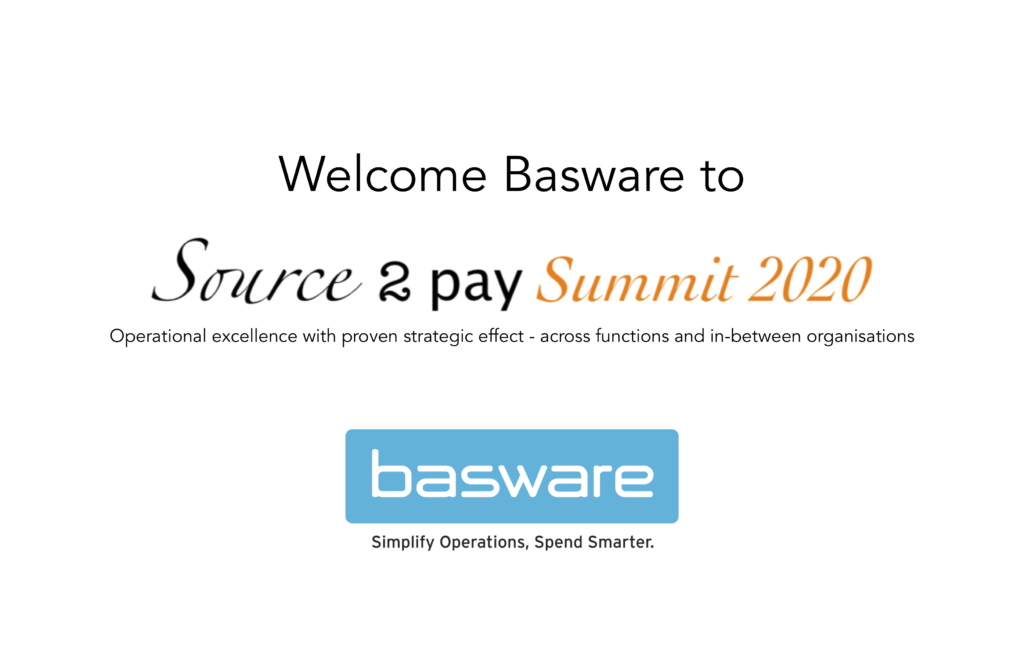 A lot has happened the past years in the sourcing, procurement and finance area EBG | Network call source to pay. New solution providers have appeared, new collaborations and acquisitions have taken place. New technologies have emerged and companies are today truly realizing the value in end to end visibility and control. Basware have taken part and partnered with EBG since the start and for that we say – Thank You!
During the day you who join will be able to attend their round table discussions – Theme Discussions – and draw from their experiences and the experiences other peers joining have. Informal but to the point.
Throughout the years, Basware have enabled discussions about No PO no Pay – how is this applied in different organizations?, How do you manage technology expectations? , Solving the e-procurement user adoption challenge, Aligning procurement and working capital strategies – what's the buzz about? and much more. In short open minded topics that relate to the challenges faced by companies and professionals. People wanting to gain increased physical and financial supply chain and procurement insights and control.
About Basware
Basware offers the largest open business network in the world and is the global leader in providing networked source-to-pay solutions, e-invoicing and innovative financing services. Our technology empowers organizations with 100% spend visibility by enabling the capture of all financial data across procurement, finance, accounts payable and accounts receivable functions. Basware is a global company doing business in more than 100 countries and is traded on the Helsinki exchange (BAS1V: HE). Find out more at basware.com.
About Source 2 Pay Summit
Do you have strategies planned ahead you simply cannot comprehend how to fulfill? Do they consist of You ensuring that a large portion of people change their behavior? Do they consist of You communicating real time facts and figures? Doing so in order for the business to act upon realities You know exist? Is Your company built from mergers? With a regional or global footprint and business units hardly communicating nor seeing each other?
Then you should join Source 2 Pay Summit 2020. Most if not all share the same challenges and opportunities. Opportunities that come from utilizing existing and new technology for sure. But also understanding how to measure, visualize and communicate data.
Said about Source 2 Pay Summit
It was very good, I have enjoyed it and had possibility to fulfill the main goal of my participation – networking and sharing experience. All was well organized, a lot of freedom and taking care about participants

Lantmannen
Great platform. Well organized and good ideas were shared.

Volvo Car Group
This is the 4th Summit we attend. WQe have always been satisfied with the lay-out of the conference. The mix of Keynotes, Round table discussions and breaks for mingling. The fact that the conference/Summit is quite intimate adds to the value

Statkraft ASA
This was the best summit I have attended in a very long time!! Highly relevant, good speakers and good discussions around the tables.

DFØ