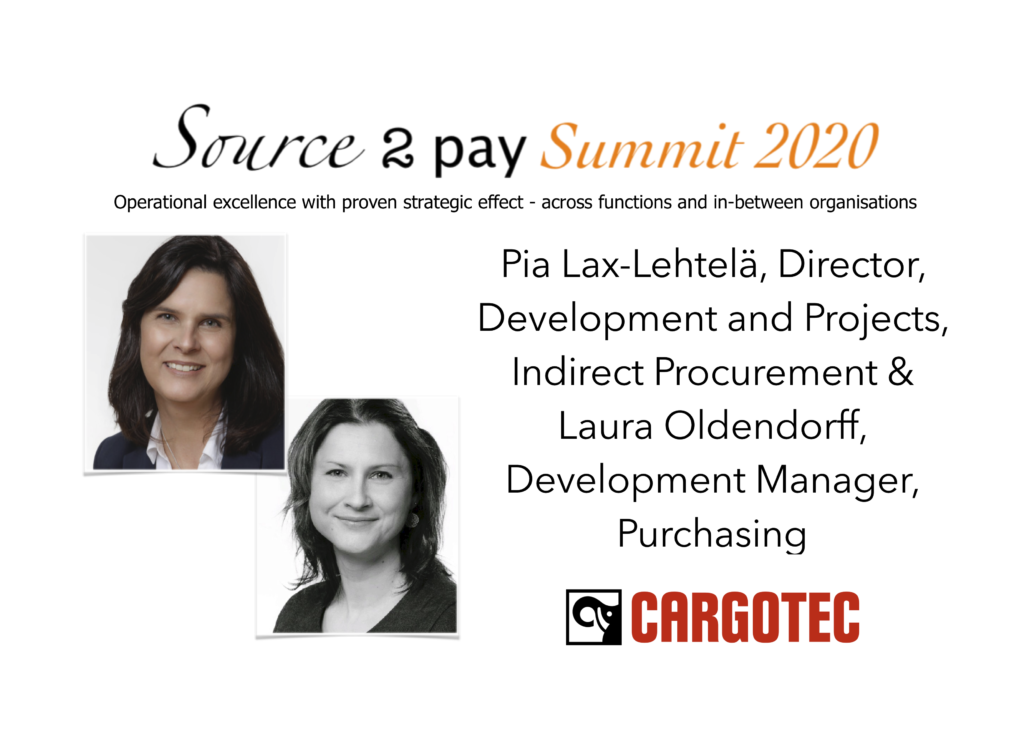 Will a company ever be finished improving efficiency? Will the effect given strategies enable ever be enough? What do you do when you have realized important milestones and are looking ahead? EBG | Network are happy to welcome Pia Lax-Lehtelä, Director, Development and Projects, Indirect Procurement and Laura Oldendorff, Development Manager, Purchasing at Cargotec to Source 2 Pay Summit 2020.
They invite You who join the summit to discuss just that: With procurement basics in place, what focus areas do you develop next?
Below you can view their Theme Discussion (round table discussion) topic, you can start choosing their session straight after registration and the seats are limited. EBG take great care of you who join us and hope to see you, you create your own day!
Theme Discussion | With procurement basics in place, what focus areas do you develop next?
Cargotec has established and developed their indirect procurement organization and related processes in the past five years. A category management structure has been implemented, a Shared Service Center has been established, PO process and tool implemented with PO coverage targets met and savings been delivered. Now it is time to develop further, digitize, increase automation, add new technologies and ensure full adoption of set processes, globally. Third party risk management, Sustainability and data analytics are rising as new focus areas. Recognize the development steps and possible challenges? During this session you can learn from the journey Cargotec is on and compare with Your challenges and development areas.
What are you doing in the area of procurement digitalization in addition to what standard procurement tools enable?
When the procurement basics have been achieved, what are the top three areas your development focuses on?
How do you ensure procurement development activities are aligned with stakeholder and business needs?
About Pia and Laura
Pia Lax-Lehtelä, Director, Development and Projects, Indirect Procurement at Cargotec have worked with sourcing and procurement since 2005. Then at Nokia, later at Oy Roberts, MacGregor and now at Cargotec. Pia has been responsible for establishing, deploying and managing the Cargotec Indirect Procurement shared service center. She is also responsible for development activities within and related to Cargotec Indirect Procurement.
Laura Oldendorff, Development Manager, Purchasing at Cargotec have previously worked with accounts payable at Cargotec as well as being responsible for the support internal and external customers the SSC have relating financial transactional accounting. Today Laura is transition lead for Indirect Procurement Services global roll-out, developing and establishing harmonized processes, implementing the procurement tool, processes and shared services supported by Cargotec Business Services.
About Cargotec
Cargotec is a leading provider of cargo and load handling solutions with the goal of becoming the leader in intelligent cargo handling. Cargotec's business areas Kalmar, Hiab and MacGregor offer products and services that ensure our customers a continuous, reliable and sustainable performance.

cargotec.com This is Cargotec
Facts
Cargotec is a leading provider of cargo handling solutions
We operate in more than 100 countries
In 2018, our sales totalled approximately EUR 3.3 billion
At the end of 2018, around 12,000 people worked at Cargotec
Global operations
Cargotec is determined to grow its business through strong customer focus. We do not simply offer products, but provide integrated solutions and services designed to meet customers' specific needs. Our customers include leading global and local players within their industries.
Our headquarters is located in Helsinki, Finland, while assembly facilities are located in China, Finland, Germany, India, Ireland, Italy, Malaysia, Norway, Poland, South Korea, Spain, Sweden, the United Kingdom and the United States. A big part of our manufacturing has been outsourced to partner plants located mainly in Asia.
At the end of 2018, we had around 12,000 employees. With operations in more than 100 countries, of which we have our own employees in 43, we have a unique sales and service network and we can serve our customers locally ensuring the continuous operation of their equipment.
About Source 2 Pay Summit
Enabling end to end visibility and control is not easy. It take more than one function to succeed. Technology will play a big part. Change management skills and strategies will take you further. Enduring and realizing it take time to create change will make you go all the way. Register today and take part in the below sessions and discussions!