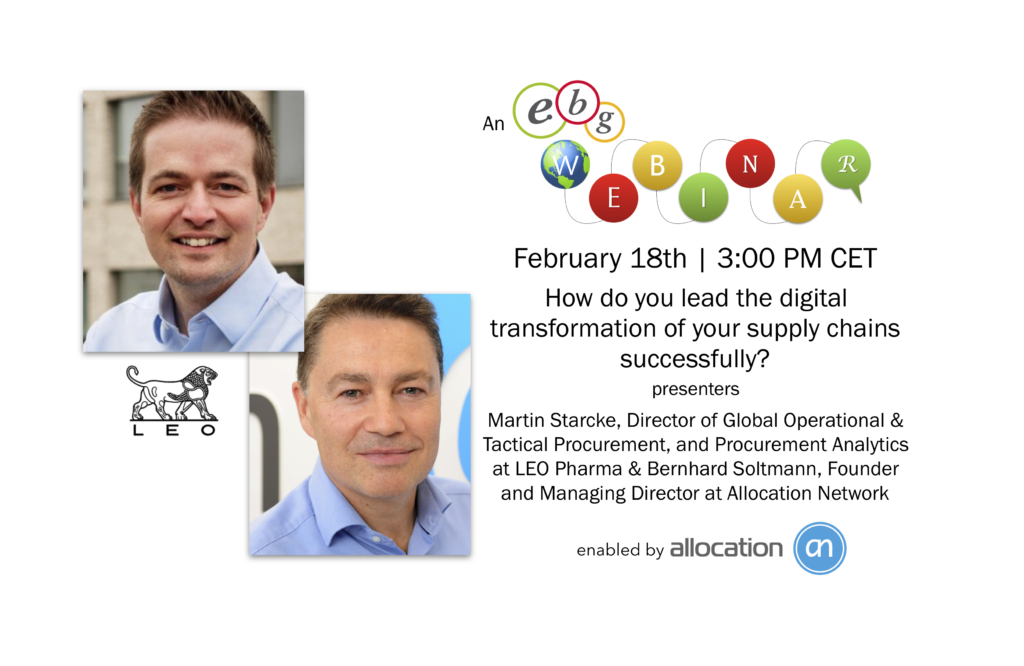 A hint – it is not all about technology! All of you are surrounded by data and are increasingly in need of using that data across the organization. Most of you are seeking to digitize supply chain and procurement but are most likely not "there" just yet. Many of you have been responsible for or have experienced the implementation of new software and different type technology with various results.
Date: February 18th 2020
Time: 3:00-3:50 PM CET
Place: Your computer/tablet/phone
Language: English
Cost: Free of charge but requires registration
Organizer: EBG | Network & Allocation
Welcome to a webinar where Martin Starcke, Director of Global Operational & Tactical Procurement, and Procurement Analytics at LEO Pharma shares his view on how to lead the digital transformation of company supply chains successfully. And why companies constantly fail to unlearn old habits.
Here you will also draw from the experience of Bernhard Soltmann, Founder and Managing Director at Allocation Network – an over 20 years old Germany-based, award-winning – however in the Nordics still fairly unknown – best-of-breed solution provider for Strategic Purchasing and Supplier Quality Management. Bernhard shows how Allocation's software "ASTRAS" helped LEO Pharma digitise their supply chains and how technology helps achieve transparency along the complete lifecycle.
Procurement needs to do more with less, reduce cost, mitigate increasingly diversified and global risks, become sustainable, bring efficiency and gain trust with internal and external partners. And digitise. Companies increasingly need technology to add knowledge-based activities that deliver desired value. Yet research indicates some 2% of supply chain organisations have a digital strategy. Why?
Let's start with a fact – the success of digital transformation depends on the people driving it. Those people are usually at the end – like in this case – category managers, procurement professionals and possibly other people in the organization. Martin will share his experience in transforming procurement using data and technology to support that transformation. He uses a top-down and bottom-up philosophy, what that is will be shared.
Let's also discuss:
What role does technology have in successfully transforming supply chains?
How can companies overcome the gap between digitalisation visions and the here and now?
What are your main supply chain development drivers now and ahead and why does that matter?
How do you set up technology implementation strategies and goals?
How do you "unlearn old habits" in the organization?
In what ways are a provider like Allocation taking into account possible user reluctance to change?
Why digitization mustn't stop with awarding of a contract.
All who register will receive the slides and recording.
Welcome!
EBG | Network & Allocation
About Allocation Network GmbH
With over 20 years of experience, Allocation is a privately-owned best-of-breed solution provider within strategic purchasing and supplier quality management.
Integrated Sourcing, Auctions, Collaboration and Supplier Management capabilities ensure the entire procurement process is managed throughout the life cycle, from requisition to end- of-life.
The software is developed, distributed and supported in Munich and delivered to our customers, e.g. BMW, Siemens, Stadtwerke München, MAGNA and VOITH, in either SaaS or on-premise models. An additional office is located in Atlanta, USA.
e-Sourcing since 1998
Allocation Network GmbH was founded in 1998 by today's managing partners Andreas Prohaska, Bernhard Soltmann and Andreas Vollmann.
Already in the first year, the first version of the software was used to picture purchasing and negotiating processes of companies.
E-Auctions since 2000
In the year 2000, we carried out the first auctions in the automotive supply industry with ASTRAS and thus extended the functionality of our software with dynamic negotiating aspects.
Supplier Management since 2003
2003, we have rolled out integrated supplier management systems for the first 2 customers. During this time, the foundation stone for today's portal was laid, an integrated supplier management and sourcing system, which is now available to our customers on the basis of the most modern web technologies in Release 6. x.
Collaboration since 2013
The year 2013 stood in the sign of standardized communication work-flows. Through the introduction of the modules collaboration, our customers are able to model communication processes in the area of supplier development, quality management and internal release processes.