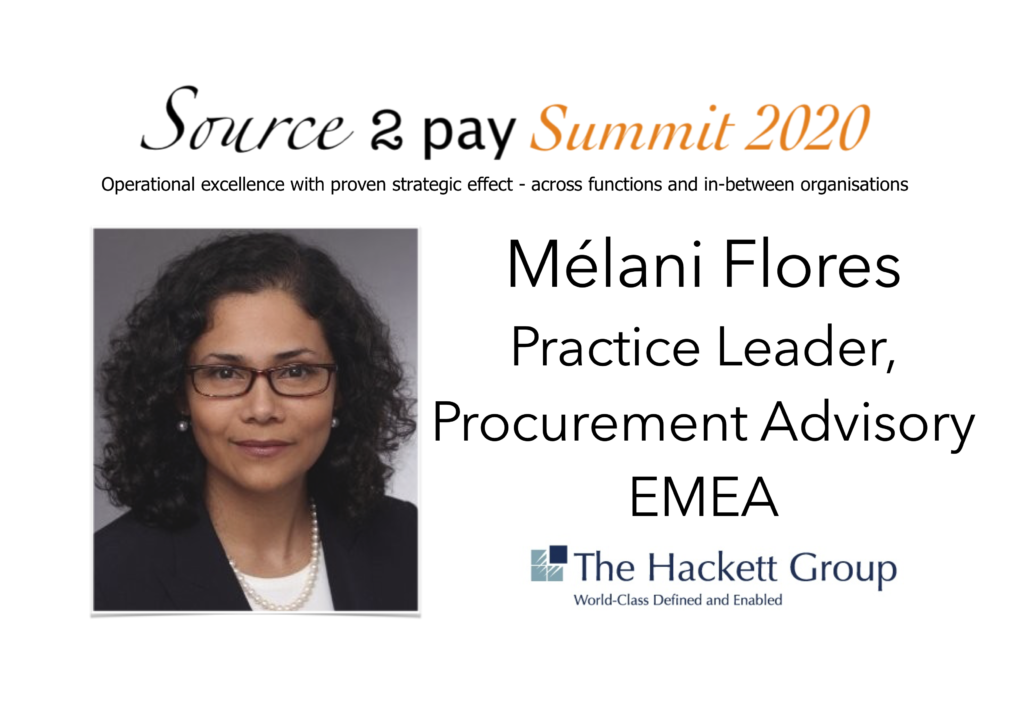 How can we enable the attendees at Source 2 Pay Summit 2020 to gain insight into the latest research results in source to pay? How companies across the globe are working to increase efficiency and effect? A single practitioner company cannot. EBG cannot.
The Hackett Group can!
EBG | Network are glad to welcome Mélani Flores, Practice Leader, Procurement Advisory EMEA at The Hackett Group to Source 2 Pay Summit 2020. The Summit is held March 19th in Stockholm with a voluntary, no cost dinner on March 18th. Welcome!
You who join us will be able to learn from Mélani on stage. You can also sit down with her face to face during round table discussions (Theme Discussions).
She will among many things cover: digitalization (of course), how operating models are affected by digitalization and the other way around, agility, stakeholder management and much more.
You do not want to miss this session! And what will you learn when you compare notes with your peers? Are you leading the way or lagging behind and does it matter?
About Mélani
Mélani is a diversified professional with more than 20 years of experience in business consulting and benchmarking. She has worked in several industries supporting companies across Europe and the Americas in their Procurement transformation efforts, with main focus on Procurement strategy development, Operating Model and Organizational Design, Process Optimization and Operational Strategies Design and Implementation.

Mélani leads Hackett Source to Settle Advisory Programmes in EMEA, and works together with executives giving advice on proven and emerging organizational and process best practices, and supports Hackett Benchmarking services in the development of recommendations for achieving World-Class Performance.

Prior to joining Hackett, Mélani served as Senior Manager at Accenture in the Supply Chain Management Line of Business in Europe, North and Latin America.
About The Hackett Group
The Hackett Group (NASDAQ: HCKT) is an intellectual property-based strategic consultancy and leading benchmarking and best practices firm to global companies, with offerings that include smart automation and enterprise cloud application implementation. Services include business transformation, enterprise analytics, global business services, and working capital management. The Hackett Group also provides dedicated expertise in business strategy, operations, finance, human capital management, strategic sourcing, procurement and information technology, including its award-winning Oracle and SAP practices.

The Hackett Group has completed more than 16,500 benchmarking studies with major corporations and government agencies, including 93% of the Dow Jones Industrials, 89% of the Fortune 100, 83% of the DAX 30 and 57% of the FTSE 100. These studies drive its Best Practice Intelligence Center™ which includes the firm's benchmarking metrics, best practices repository and best practice configuration guides and process flows, which enable The Hackett Group's clients and partners to achieve world-class performance.

LinkedIn Company Profile
About Source 2 Pay Summit
Let's say you are part of creating a company strategy affecting sourcing, procurement and finance. You are filled with energy – how great will it not be to see all plans fulfilled?! Time goes by and for some reason it take much longer than expected. Those stakeholders that first seemed so eager are suddenly not does as agreed..and you – you need to continue with all the other 100 activities you're supposed to do!
EBG hear about strategies – great strategies – not being realized all the time. At Source 2 Pay Summit you can discuss the strategies you have planned. How you are planning operationalize them. How you are following up on them. Real experience exchange! Welcome to register today! The number of seats are limited both to the summit as well as to each Theme Discussion.