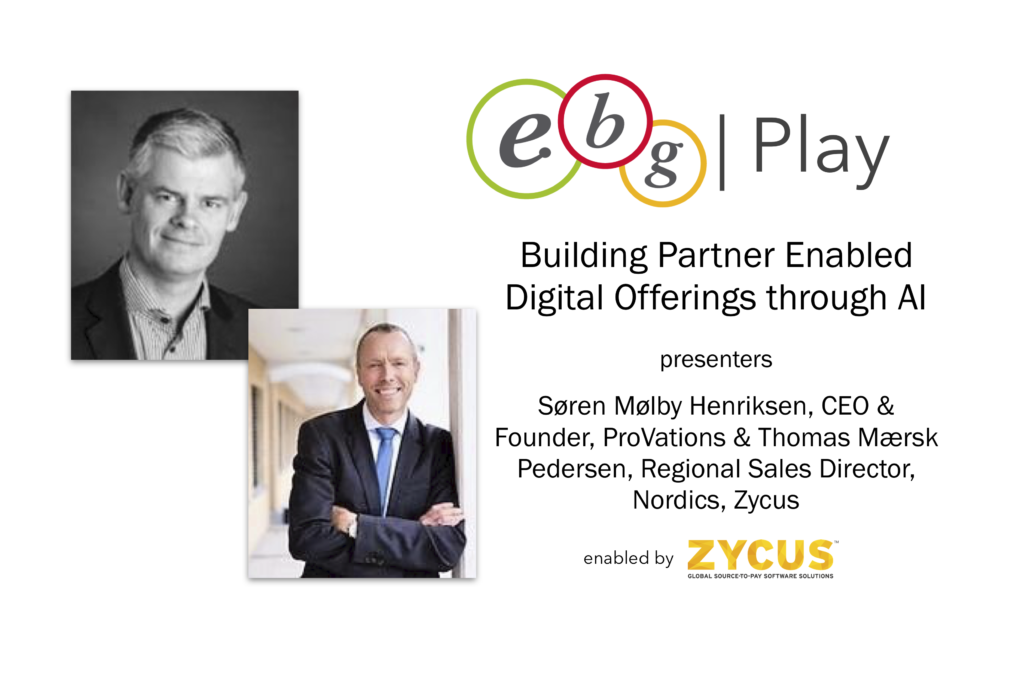 Facts and fiction. It is evident – through numerous research reports – that procurement and supply chain are not using for instance Artificial Intelligence in any major way. Yet.

McKinsey state that a mere 2% of respondents have a supply chain oriented digital strategy. Deloitte state "The level and speed of digitalisation across procurement functions is lower than expected and needed. Only four per cent of procurement leaders believe that procurement has a big influence in delivering their organisation's overall digital strategy and only 6% of the procurement leaders in the survey believe that their digital procurement strategy will help them to fully deliver on their objectives and improve enterprise value. Only 18% of procurement leaders have a digital procurement strategy supported by a complete business case."
We know companies need to free up time in order to have time to become more strategic. Not the least within procurement. The Deloitte survey further state that "Only three per cent of procurement leaders believe their staff possess all the skills required to maximize use of digital capabilities."
How much of digitalization is about technology and how much is about changing peoples mindsets and behavior?
Søren Mølby Henriksen, CEO & Founder, ProVations and Thomas Mærsk Pedersen, Regional Sales Director, Nordics, Zycus shared their extensive experiences during a recent webinar.
They share their view on technology advances, procurement challenges and opportunities in the digital age and what companies can do to collaborate with external resources to move ahead.
Use of Robotic Process Automation or AI in any procurement functions
Yet during the Zycus enabled webinar a full 79% of respondent stated "We don't use RPA yet" within any procurement function.
We know the data is there. We know RPA is fairly easily applicable today. We know resources are few and the need for more time is essential.
View the On Demand session >>here.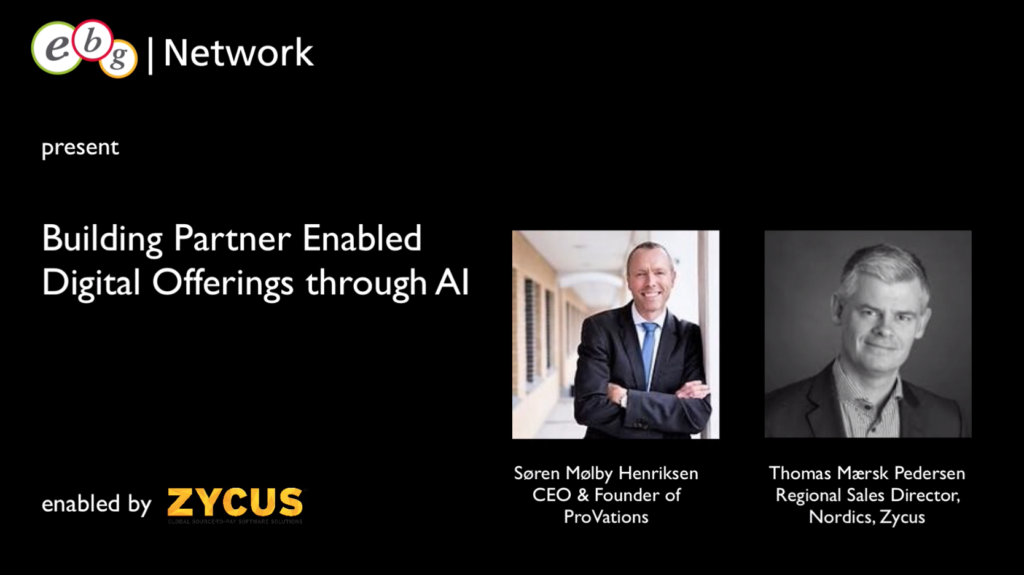 During the now On Demand available session Thomas Mærsk Pedersen at Zycus and Søren Mølby Henriksen at ProVations take us through what drives supply chain and procurement organizations today. What the implications of Digital is and will be. Søren also take us through how companies increasingly can collaborate further with partners and suppliers to become more innovative.
Use of Artificial Intelligence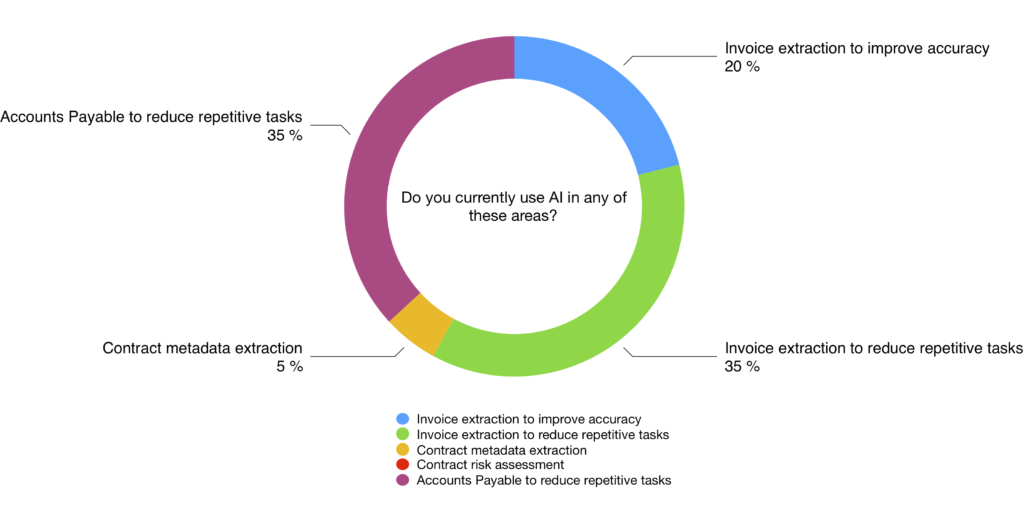 Bare in mind that only 21% stated they use RPA or AI to any extent today. The above result is thus based on that 21%. Contract risk assessment wasn't even on the chart – not too surprising though given the low amount actually using even RPA today.
As the session move on Partner Enabled Innovation is discussed. How to consider involving partners and suppliers to advance beyond company four walls.
People are people. The foundation of EBG is that understanding. Technology advances at the speed of light yet us people base our beliefs through both head and heart. As stated at the end of the session – make sure to meet with real people and exchange your experiences advancing in your profession! It is great to be able to separate facts from fiction, who does actually do what and who doesn't.
Digital advances are here to stay and the areas in which companies can advance using digitalization in several layers are many. But it is daunting, EBG know.
About the presenters
ProVations is offering strategic IT procurement & innovation advice, learning opportunities and hands-on implementation to procurement professionals of Nordic countries. Prior to founding Provations, Søren served Danske Bank for 6 years juggling multiple roles including Head of Procurement Innovation, Head of IT & Banking Procurement, Head of Category Management IT and Interim CPO. During his tenure at Danske Bank, he helped Danske bank realize savings of EUR 25-100 million every year. Thomas has a background from engineering and business administration, with 10+ years' experience within Sales Execution and Business Development.
About Zycus
Zycus is a leading global provider of complete Source-to-Pay suite of procurement performance solutions. Our comprehensive product portfolio includes applications for both the strategic and the operational aspects of procurement.
Zycus has been Recognized as a LEADER in Gartner's Magic Quadrant for Strategic Sourcing Application Suites for four years in a row, making it the only solution provider to achieve this feat.