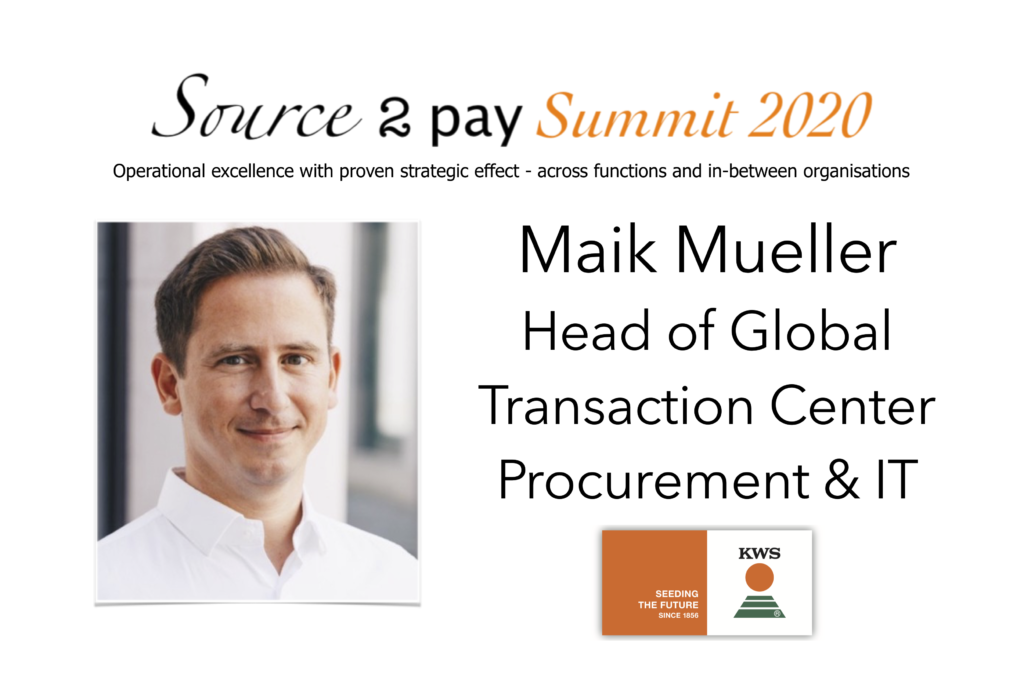 It is with great pleasure EBG welcome Maik Mueller, Head of Global Transaction Center Procurement & IT at KWS Group to Source 2 Pay Summit 2020. On March 19th you who join us in Stockholm can sit down with Maik. Discuss de-centralization challenges and what to do if you decide to centralize.
Browse through the Source 2 Pay Summit 2020 program. You can tell that most are aiming at central visualization and control. You can also see that most know that is a challenge. EBG quite often speak to companies who are still very de-centralized and this will be an interesting discussion for all of you!
Independent of which operating model you have – can you afford to not be on top of your spend data – end to end? How much can you achieve though data management alone and how much do you need to change behavior? There are no one size fit all answers to offer you. Sorry, but great experiences you rarely come so close to as on March 19th in Stockholm.
Theme Discussion | How do you – quickly – move from a de-centralized to centralised source to pay organization?
KWS Group is smaller than some of the competition and want to be agile, act fast and avoid pitfalls. The company decided to centralise and create an internal procurement Shared Service Center which for the past two years have grown with highly competent staff with digital skills. Country by country is picked up and automation is used to manage the workload. Guided buying principles are used, processes analysed and standardised. Learn from and discuss how KWS Group are leveraging skills and digitalisation to reach set targets.
How do you lead the implementation, development and leadership of a central procurement operations organization?
What role does guided buying, RPA, AI, data analytics, process mining etc have in the creation of a high performing organisation?
How do you deploy a lean perspective on source to pay development?
About Maik Mueller
He is an experienced manager with extensive expertise in strategic sourcing and purchase-to-pay process management for direct and indirect spend. Proficient in leveraging digitalization, automation, and data analytics to drive source-to-pay (S2P) efficiency and effectiveness. Skilled in setting up, developing, and leading international cross-functional teams.

Executive MBA graduate from Kellogg (USA) and WHU (GER), MBE from Chemnitz University of Technology (GER).
Maik is Global head of procurement operations with full responsibility for implementation, development and leadership of a central procurement operations organization. Key responsibilities include the definition and deployment of the strategy and guiding principles, lean and automated source-to-pay processes, state-of-the-art systems and tools (guided buying, RPA, AI, data analytics), and the creation of a high-performing organization.
About KWS Group
KWS is one of the world's leading plant breeding companies. In the fiscal year 2017/18 more than 5,000 employees in 70 countries generated net sales of EUR 1,068 million and earnings before interest and taxes (EBIT) of EUR 133 million.

A company with a tradition of family ownership, KWS has operated independently for more than 160 years. It focuses on plant breeding and the production and sale of seed for corn, sugarbeet, cereals, rapeseed, sunflowers and vegetables.

KWS uses leading-edge plant breeding methods to increase farmers' yields and to improve resistance to diseases, pests and abiotic stress. To that end, the company invested approximately EUR 200 million last fiscal year in research and development.
Figures
Founded: 1856 in Klein Wanzleben
Headquarters: Einbeck, Lower Saxony, Germany
Revenue: € 1,113 million (2018/2019 )
EBIT: €150 million (2018/2019 )
Employees: 5,543 , including approx.2,100 in research and development
Research & Development: €206 million (2018/2019 )
Breeding and sales operations in more than 70 countries
Approximately 70 subsidiaries and associated companies
About Source 2 Pay Summit
Usually when you create a conference you do it by function, by industry or by title. EBG have found that doing business is not always that straight forward and decided to do a cross function, cross industry conference ten years ago. In 2020 it will be the 10th time we meet in Stockholm across functions and organizations. All eager to share, all eager to learn.