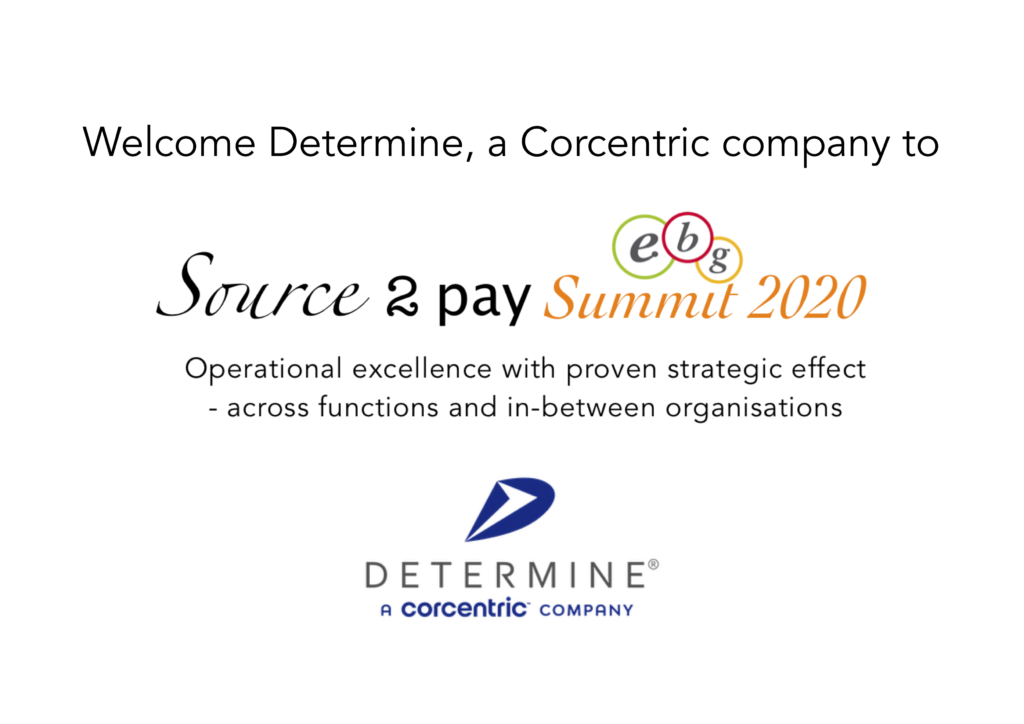 A warm welcome to Determine, a Corcentric company joining Source 2 Pay Summit 2020. "You really manage to gather all in one room" is feedback EBG | Network have received previously. And it is for sure not a one person nor one company job to improve efficiency and effect from an end to end perspective!
Source 2 Pay Summit consist of nearly 40 Theme Discussions – round table discussions – moderated and led by extremely experiences peers and experts. Limited seats at each to ensure great experience exchange. EBG | Network have hosted Source 2 Pay Summit ten years in a row and have seen first hand what can come out of such informal yet to the point interactions!
All according to Your challenges and opportunities since You create you own day. Register today and start choosing what sessions to join!
On March 19th in Stockholm you will be able to sit down with Philippe de Grossouvre is EMEA Northern Europe Business Development Director and discuss the below:
How do you market the Procurement Function?
Today more and more is asked to the Procurement Organizations.
There is a deep transformation happening across industries from the old  Cost Killing (price -lead time- quality) model to a value creation model. 
In a nutshell, Chief Procurement Officers are becoming Chief Value Officers.
How do we innovate to market internally and toward suppliers the Purchasing Performance to accompany the transformation of the function?
How to communicate/market procurement performance internally / externally beyond savings and costs-cuttings? 
How to connect Procurement Performance and corporate performance KPIs? 
What are/should the KPIs associated with the new Procurement value model? 
How to measure Procurement performance and what are & should be the related KPI's?
How to leverage Source-to-Pay technologies to measure, improve and communicate Procurement performance ? 
About Determine, a Corcentric company
Determine, a Corcentric company is a leading global provider of SaaS Source-to-Pay and Enterprise Contract Lifecycle Management (ECLM) solutions. The Determine Cloud Platform provides procurement, legal and finance professionals analytics of their supplier, contract and financial performance. Our technologies empower customers to drive new revenue, identify savings, improve compliance and mitigate risk.
The Determine Cloud Platform seamlessly integrates with major ERP or third-party systems such as SAP, Oracle, Sage, QAD and Microsoft. Modular solutions can be configured to add more as needed to provide additional value beyond spend management. Our unified master database and business process approach empower users at every level to make more informed and smarter decisions.
Source 2 Pay Summit
The idea behind Source 2 Pay Summit is not to serve you flashy power point slides about how easy it is to digitize or how fast you could be able to gain complete control over your end to end spend and purchasing transactions. We all know there are no such easy ways. But there are lots and lots of experiences joining where bits and pieces together can help You reach the results desired and help grow your company further.