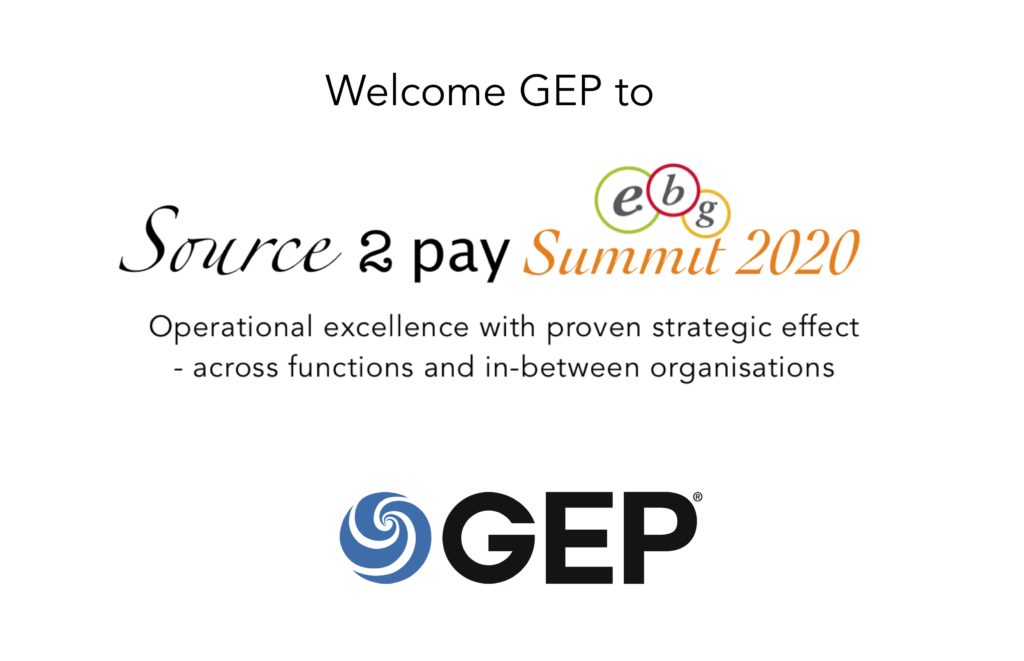 EBG | Network look forward to sharing great competences in Stockholm on October 7th. The current crisis we are in together highlight several aspects: people are social beings, insights can be shared in multiple ways and companies physical and financial supply chains need to become even more transparent and agile. In October you can learn from global experiences shared by GEP in the matter.
Who are GEP?
As said by themselves: "We're often asked, what is GEP? A global procurement and supply chain consulting powerhouse? Leader in direct and indirect procurement software? Best-of-breed provider of managed procurement services?
Fact is, we are all of these and more.
GEP offers the perfect blend of strategic and advisory services, pace-setting technology and managed services, with a laser focus on procurement and supply chain transformation to help clients achieve their business goals."
For ten years (this will be the 10th annual Source 2 Pay Summit held!) EBG have enabled peer and expert experience exchange. We believe the enabling of virtual meetings will put emphasis on differentiating physical and virtual meetings. If you meet face to face you should experience something you cannot experience virtually.
Theme Discussions have been the backbone of all EBG summits since the start – peers and experts meeting and discussing challenges and opportunities in an informal yet to the point setting. Feeling the energy in the group, being able to ask all questions – and continue to follow it up after the summit – virtually.
Achievable Transformation: The Procurement Technology Model that Works
Joining Source 2 Pay Summit on October 7th will enable you to discuss the below with GEP and your peers. The current crisis putting possible emphasis on how insightful, agile and transparent your procurement and finance strategies and operations are.
To get procurement working effectively, you need to find ways to overcome previously systemic problems by identifying the gaps, then bridging them. How can the best-of-breed model — a divergent set of different software tools — possibly bridge those gaps, when the disconnections between software tools imposed on the organization are some of the key reasons the gaps exist in the first place?
How are we as an organization going to deliver more business value?
Will my choice of technology divert any resources away from my transformation initiative?
Does it make sense to cobble together a portfolio of different pieces of software to build some kind of connected workplace?
Sten-Eiven Tinjar | Regional Sales Manager Nordics, Technology & Christina Jørgensen | Director, Business Development | GEP
About GEP
GEP helps global enterprises operate more efficiently and effectively, gain competitive advantage, boost profitability, and maximize business and shareholder value. Every day, all over the world, GEP helps performance-driven enterprises realize their strategic, operational and financial objectives.
About Source 2 Pay Summit
If up to 70% of company revenue is invested externally – how well should you know that network of suppliers? Is it good enough to state an outcome in the P&L? To communicate what could be in terms of contracted savings or number of transactions managed? EBG think not.
The current crisis puts an even greater spotlight on company insights or the lack of it. Collaboration, transparency and agility are key aspects EBG have discussed for 10 years. Even more importantly now too.
A warm welcome to join the 10th annual Source 2 Pay Summit in Stockholm on October 7th!