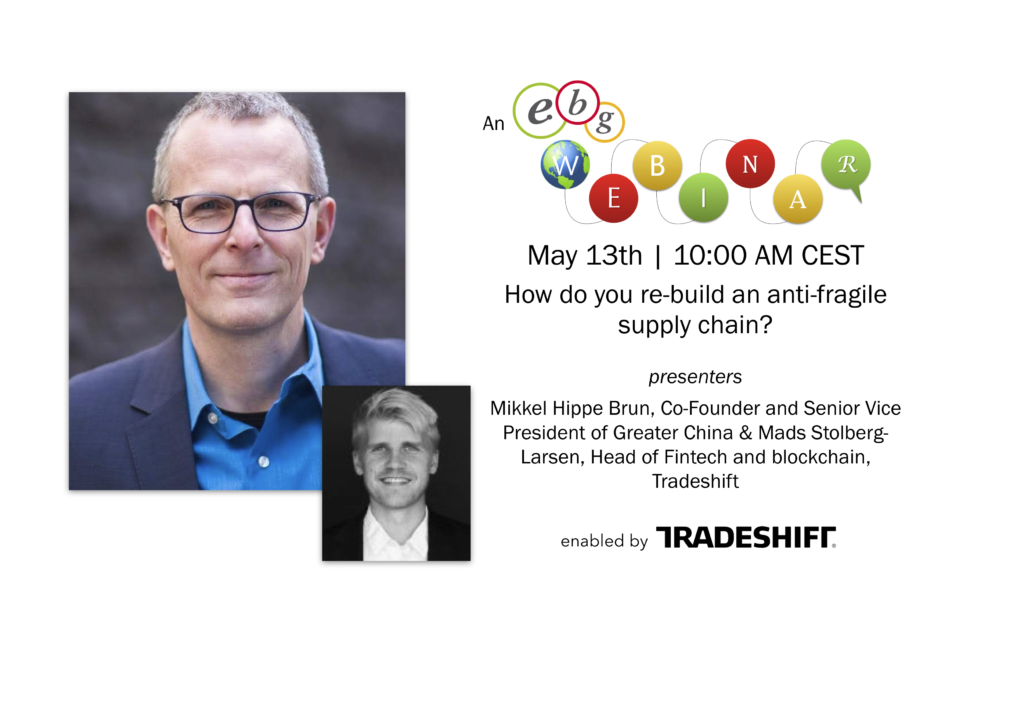 Looking back at the current global crisis people and companies will ask "what else could we have done – what do we need to do now". Solving acute corporate and human challenges will be key but there will be a time to reflect on how transparent and insightful the physical and financial supply chain was, and is.
The COVID-19, or coronavirus, outbreak is causing significant disruption to global supply chains. When it is brought under control we can all breathe a collective sigh of relief, but the impact this crisis has had, have and might have ahead is putting a finger on increased need for insight, transparency and agility. Welcome to join EBG online!
Date: May 13th 2020
Time: 10:00-10:45 AM CEST
Place: Your computer/tablet/phone
Language: English
Cost: Free of charge but requires registration
Organizer: EBG | Network & Tradeshift
From robust to anti-fragile supply chains
During this session Mikkel Hippe Brun, Co-Founder and Senior Vice President of Greater China at Tradeshift will share his experiences in helping businesses across the globe collaborate and interact digitally. [Before Mikkel shares his experiences Mads Stolberg-Larsen, Head of Fintech and blockchain in Tradeshift Frontiers and long-time student of Nassim Taleb's* writings, will introduce the concept of Anti-fragility.]
In our globalized world, the supply chain becomes a company's biggest risk – but also one of it's biggest assets – during times of disruption.
There is a lot of talk about robust supply chains. Anti-fragility takes this a step further – but what does that mean to you? Anti-fragile supply chains aren't just strong, they're malleable to ensure they continue working no matter the disruption. But, most crucially, they don't just survive the disruption—they improve because of it.
Key topics discussed
During this session we will go through and discuss:
What are the signs of a robust versus fragile supply chain?
How can you evaluate how to strengthen your supply chain weak spots?
How can businesses better prepare for periods of supply chain disruption?
How can a digital foundation help the supply chain become anti-fragile?
Is it time to rethink the structure of global supply chains?
Key takeaways
Join this webinar to:
Understand the anti-fragility concept and how it can impact your supply chain
Learn about the role of digitalisation and tools creating anti-fragile supply chains
Tackle aspects of the current crisis and prepare for future disruptions
*Nassim Taleb coined the term "Anti-fragile"
The webinar is free of charge to join but require registration. All who register will receive the slides and recording.
About Tradeshift
Founded in 2010, Tradeshift is the world's largest business commerce platform that connects buyers and sellers. Tradeshift connects over 1.5 million companies across 190 countries, processes over half a trillion USD in transaction value yearly, and has a marketplace containing 28 million SKUs. It offers solutions for procure to pay, supplier engagement and financial services, and enables companies and partners to build custom or commercial apps on its business commerce platform. Tradeshift is headquartered in San Francisco, with offices in Copenhagen, New York, London, Paris, Suzhou, Chongqing, Tokyo, Munich, Frankfurt, Sydney, Bucharest, Oslo, and Stockholm. tradeshift.com