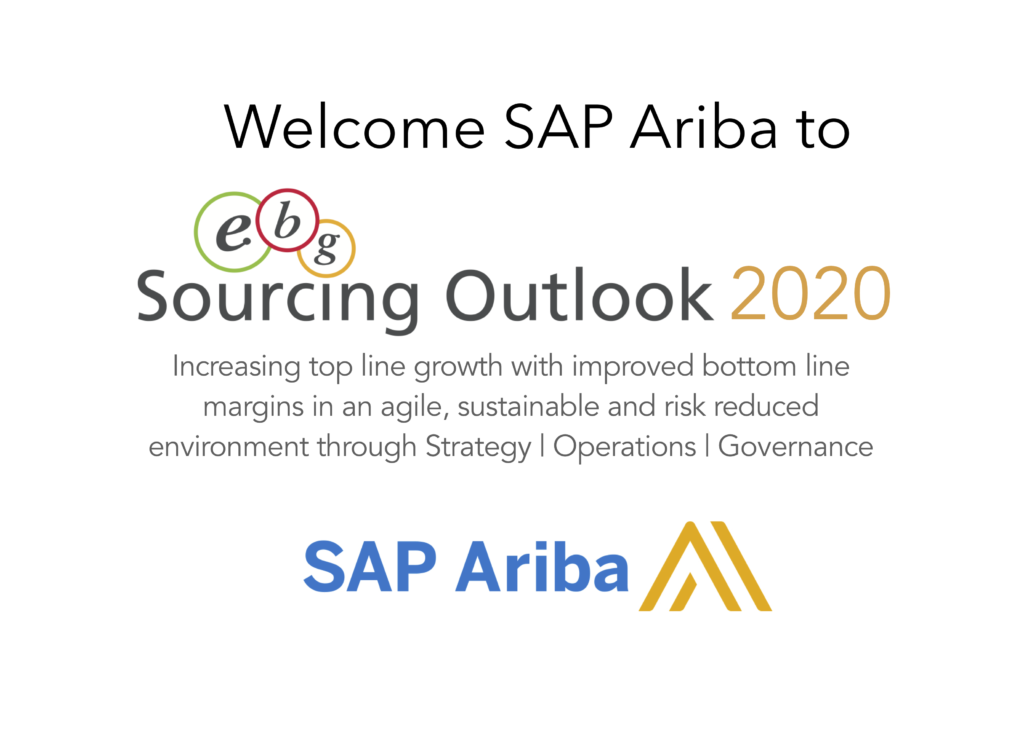 Putting faith in human capabilities and trust in data delivery, two aspects that are proving to be extremely important during a crisis. EBG | Network are happy to present platinum sponsor SAP Ariba joining Sourcing Outlook 2020 on October 8th in Stockholm. You will learn from on stage customer experiences and follow that up with informal yet to the point round table discussions. Never have we been looking forward to meeting irl as much and never has the desire to increase supply chain insight and visibility and enabling agile organizations been bigger.
At Sourcing Outlook we will learn from Nordic and European professionals and experts. We will draw from each others experiences from the – then – past 8 or so months, we will reassure one another and we will support each other. We will plan ahead. In short we will make the most of an intense day. We hope to see you there, register here!
About SAP Ariba
SAP Ariba is how companies connect to get business done, using our market-leading solutions for digital commerce and Ariba Network. We help buyers and suppliers from more than 3.6 million companies, discover new opportunities, collaborate on transactions, and grow their relationships. Now you can manage the entire purchasing process, while controlling spending, finding new sources of savings, and building a healthy supply chain. Explore all SAP Ariba solutions and become a part of this dynamic, digital marketplace, where millions of buyers and suppliers, operating in more than 190 countries, trade USD 2.3 trillion in goods and services each year.

SAP Ariba
Supplier Management: SAP Ariba provides the only end-to-end solution portfolio that lets you manage supplier information, lifecycle, performance, and risk all in one place
Strategic Sourcing: Discover qualified suppliers, speed up your sourcing cycles, and create the most competitive, best-value agreements for sustainable savings with all your sourcing needs.
Solutions for Direct Spend: Connect the people, partners, processes, and information needed to manage all design-to-deliver activities in a simple, smart, and open way.
Procurement: Ensure compliance and control while providing users a delightful buying experience, with innovative capabilities like guided buying and spot buy.
Financial Supply Chain: Transform your payables from liabilities into strategic assets to boost free cash flow, free up working capital, and deliver more bottom-line value.
About Sourcing Outlook
If you attend a conference it should ad a layer of interaction giving you insights it would otherwise not be possible to get. EBG take sharing valuable business insights very serious as we have done for 10 years. This will be the fourth annual Sourcing Outlook and this years – 2020 – we will have a layer of seriousness never seen before. A layer that says that supply chain insight, visibility and agility may very well be the do or die for most organizations. Not just now in the acute phases of a global crisis – but in the long run.
How can you collaborate with suppliers to quickly adjust to market changes?
How can you collaborate internally with the business, sales and R&D to quickly adjust to customer needs?
How can you enable an agile organization (or should you not, are there other ways of acting lean and responsive)?
How are you ensuring your sustainability strategies and your C02 targets are met and are aligned with both people, planet and profit?
How are you ensuring you act upon real time data available for those in need in the shape that is actionable?
How digitized are you and what role moving ahead will it have?
We hope to see you in October, don't hesitate to ask us questions – go here to register!