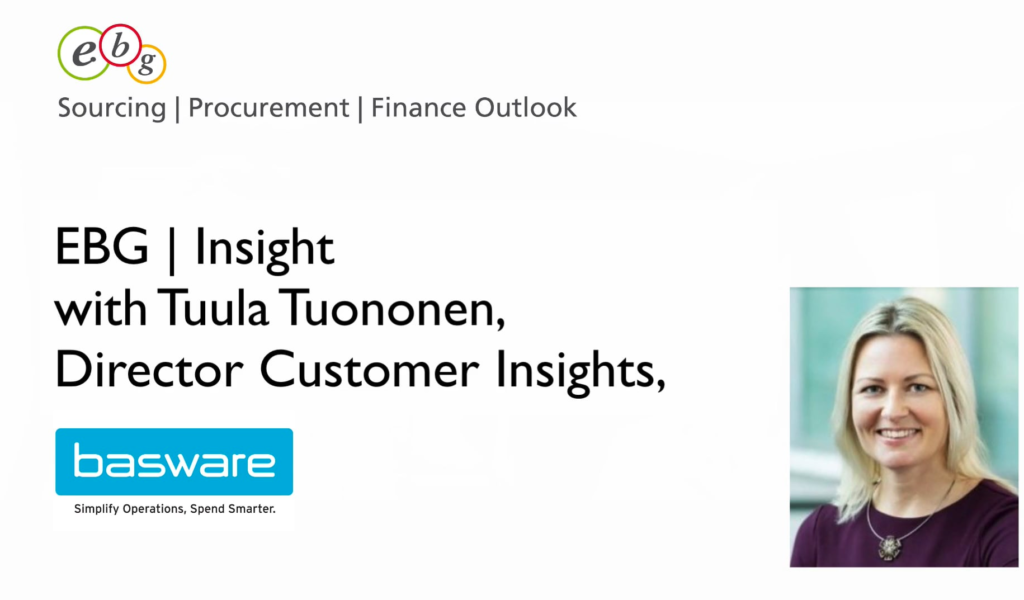 As companies get out of the first acute crisis mode there may be time to reflect. How much insight did we have into our spend and cash? How dependent on manual touches are you to get your source to pay processes through? How well can you use your entire spend and cash data to predict both your current status but also plan ahead?
It is indisputable that the current crisis should fuel the desire to digitize and automate. Not to become independent of human intelligence – but to be able to use that where it create the most value. Analyzing, predicting, communicating, collaborating – based on real and accurate data.
In a series of brief interviews, EBG | Network will meet with experienced individuals and companies online. Discussing the impact of the crisis here and now. But more importantly looking ahead at what companies can do today and tomorrow to improve their end to end spend and cash flows.
Tuula Tuononen is Director Customer Insights at Basware. EBG have had the pleasure of sharing her experiences before during Source 2 Pay Summit. Listen to her reflections over what she hear in the market right now. And what she think businesses need to consider doing today and tomorrow.
EBG | Insight interview: Basware
During the interview a recent webinar is referred to. You who read this can get a sneak peak at the session >>here. Available on demand with the possibility to send in questions and answer poll questions. How does your responses compare with hundreds of your peers? Make sure to listen until the very end where we get interesting feedback from the audience. Why is it hard to unify processes and metrics? And why streamlining procurement and finance tools can be a challenge.
Sign up to receive EBG newsletter if you want to make sure you get invites to webinars and summits EBG host.