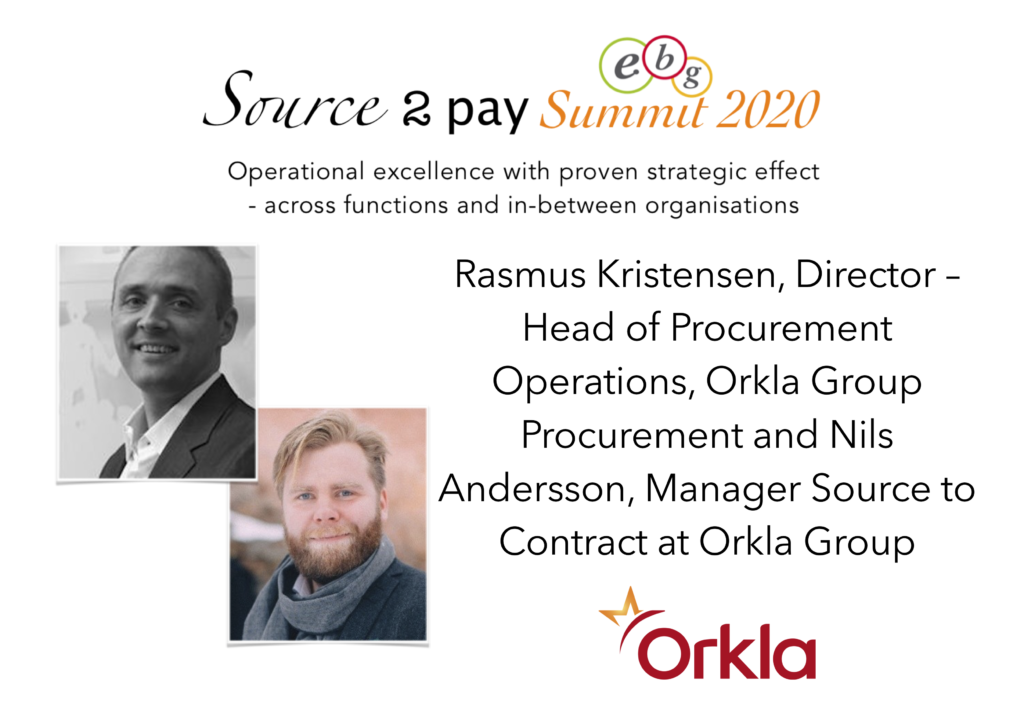 Have you had a look at the competences gathering on October 7th in Stockholm? Has it ever been more important to share concrete experiences? EBG | Network are happy to welcome Orkla to Source 2 Pay Summit 2020!
Through the years EBG have met with numerous companies wanting to increase visibility and control over spend and cash, aiming to focus on value creation rather than ad hoc oversight. But there are challenges: companies work in silos, data is scattered, processes non unified, ERPs are in the numbers and so on.
How do you then go about increasing visibility and control? Learn from the experiences Orkla have to share! Compare your roadmap with theirs. Rasmus Kristensen, Director – Head of Procurement Operations, Orkla Group Procurement and Nils Andersson, Manager Source to Contract at Orkla Group join Source 2 Pay Summit on October 7th in Stockholm. Register here and make sure to choose their round table discussions (Theme Discussions).
Theme discussion | What is your source to pay journey and is the next step?
Many companies are faced with multiple ERP systems, masses of master data in need of interpreting based on local processes and a need to support the business as the market changes. At Orkla, the decision was taken to gain end to end visibility and control and following their keynote you can hear continue discussing and comparing notes on:
What is success in source-to-pay versus source-to-contract? Moving beyond contracted savings.
How do you manage processes without a clear ownership? For example operational sourcing at a plant.
What is the next step for you? Where do you see yourself in the procurement journey.
Keynote | How do you create a measurable company wide source to pay structure?
Orkla is on a journey in evolving it's procurement functions – from a focus on source-to-contract to a holistic source-to-pay process. This is also linked to an increased focus on sustainability. As such the need for insights and data governance is changing and increasing as the organization matures.
Orkla will give their story point from the first centralized initiative back in 2006, where we are now and what analytics capabilities incl KPis we see as a need moving forward to make a successful source-to-pay process.
Why did Orkla decide to create a new source to pay structure?
What does a source to pay perspective mean to Orkla?
What processes are handled centrally and what is managed locally and how does that offer from before?
How has procurement KPI's and analytics capabilities developed over time?
Multiple ERPs, multiple companies and different ways of doing business – challenges and how we cope
About Rasmus Kristensen and Nils Andersson
Rasmus is an experienced sourcing professional with in-depth category knowledge of all major areas of procurement; having worked with raw materials, packaging, traded goods and indirect materials & services – from strategic (source to contract) to operational (requisition to pay).
Rasmus is responsible for developing central Procurement Operations (Requisition to Pay) function in Orkla – covering Direct, Indirect and Traded Goods. Focus will be on defining best practice processes, developing competence development (call-off), build cross functional understanding/modus operandi and eliminating pain points.

In addition, Procurement Operations will be responsible for prepare business units in Orkla for future roll-out of ERP system (SAP S4 Hana) – and governing R2P process across the Orkla Group.
Nils has been evolving the way Orkla runs procurement. He has been responsible for procurement analytics (spend, working capital, improvements and cost development), market insights and management of all eSourcing (RFP's/eAuctions) tenders run by Orkla through a centralized team.

Nils lead the design of the Source-to-Contract process in Orkla's project One, the largest ERP implementation in northern Europe, together with both internal colleagues and external consultants.
About Orkla Group
Orkla is a leading supplier of branded consumer goods to the grocery, out-of home, specialised retail, pharmacy and bakery sectors. The Nordic and Baltic regions and selected countries in Central Europe are Orkla's main markets. The Orkla Group also holds strong positions in selected product categories in India.

orkla.com
Facts about Orkla
Orkla ASA is listed on the Oslo Stock Exchange
The headquarter is in Oslo, Norway
As of 31 December 2018, Orkla had 18,510 employees
The Group's turnover in 2018 totalled NOK 40.8 billion
About Source 2 Pay Summit
Source 2 Pay Summit was created because founder Anna Bjärkerud noticed that challenges described by finance could not be solved without procurement and vice versa. Ten years ago when the summit was held the first time – no one gathered functions like EBG did.
The development has been amazing – today companies have a completely different focus on end to end processes and value creation. But. Companies are still organized in silos, processes are often not unified and data is not seldom scattered.
Why does this matter? Consider you want to quickly gather insights into your entire spend and cash flow, say you are hit by a pandemic. How do you do that if you are stuck with manual processes across an organization working in silos?
On October 7th peers and experts meet to exchange concrete ideas how to solve concrete challenges. It is not rocket science, the technology is there, the metrics are (somewhat) there, the willingness is there – let's support each other getting to there!