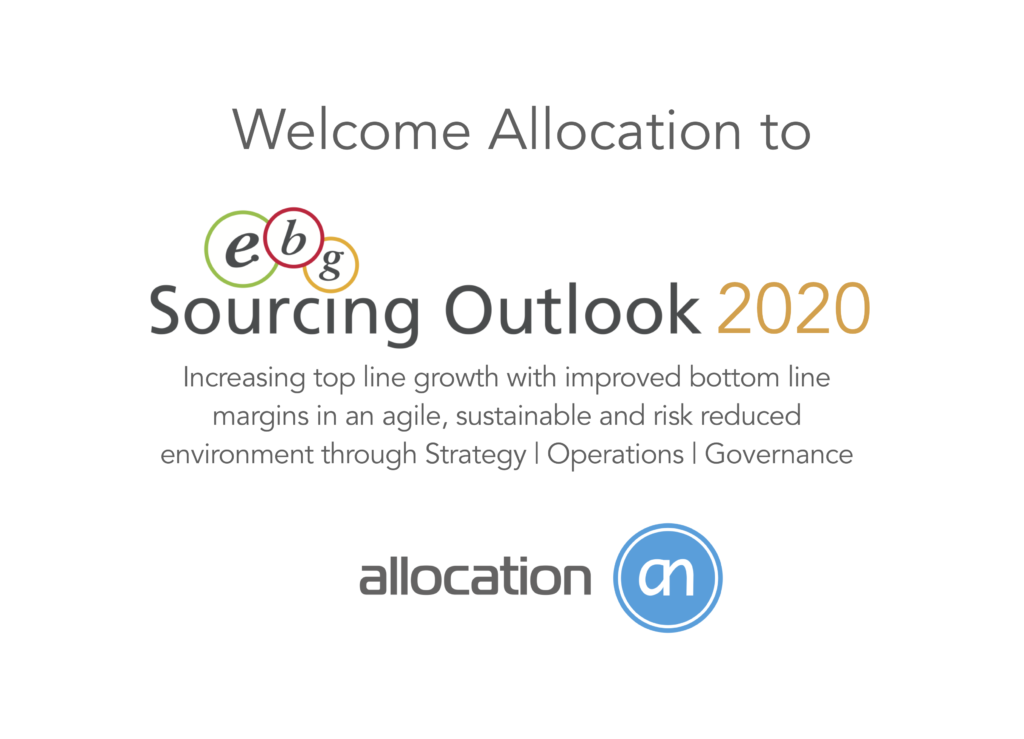 EBG | Network welcome Allocation to Stockholm, Sweden and Sourcing Outlook 2020! It is great being able to present quality resources to the Nordic and European procurement and supply chain community. On October 8th you who join us will be able to discuss and learn more about how to best improve sourcing, procurement and supply chain practices now and ahead.
SpendMatters have a look out for Allocation and so can now the Nordic community have! Named one of 50 Procurement Providers to watch 2020, here is the article.
About Allocation Network GmbH
With over 20 years of experience, Allocation is a privately-owned best-of-breed solution provider within strategic purchasing and supplier quality management.
Integrated Sourcing, Auctions, Collaboration and Supplier Management capabilities ensure the entire procurement process is managed throughout the life cycle, from requisition to end- of-life.
The software is developed, distributed and supported in Munich and delivered to our customers, e.g. BMW, Siemens, Stadtwerke München, MAGNA and VOITH, in either SaaS or on-premise models. An additional office is located in Atlanta, USA.
e-Sourcing since 1998
Allocation Network GmbH was founded in 1998 by today's managing partners Andreas Prohaska, Bernhard Soltmann and Andreas Vollmann.
Already in the first year, the first version of the software was used to picture purchasing and negotiating processes of companies.
E-Auctions since 2000
In the year 2000, we carried out the first auctions in the automotive supply industry with ASTRAS and thus extended the functionality of our software with dynamic negotiating aspects.
Supplier Management since 2003
2003, we have rolled out integrated supplier management systems for the first 2 customers. During this time, the foundation stone for today's portal was laid, an integrated supplier management and sourcing system, which is now available to our customers on the basis of the most modern web technologies in Release 6. x.
Collaboration since 2013
The year 2013 stood in the sign of standardized communication work-flows. Through the introduction of the modules collaboration, our customers are able to model communication processes in the area of supplier development, quality management and internal release processes.
About Sourcing Outlook
For the forth time, EBG are gathering sourcing, procurement and supply chain professionals to discuss what will bring companies forward.
Through collaboration – both internally and in-between companies – EBG believe in transparent and open experience exchange summits. For the past ten years EBG have presented Source 2 Pay Summit in the spring and for the past three years Sourcing Outlook in the autumn. Thus covering the entire end to end process and value chain cycle from a sourcing, procurement and finance perspective. Sourcing Outlook is held October 8th 2020 in Stockholm.
Here you can review the

Full focus on delivering experience exchange no matter what

Above a snap shot from Sourcing Outlook 2019 – imagine what you can learn from your peers and experts!
How about COVID-19?
EBG would never put anyone at risk, asking people to meet if there are recommendations from local or central governments not to. EBG can promise you we will give you the value you sign up for. Either by going online or a mix of online and physical if that is needed in October.

Go here to register and we look forward to seeing you in October! In either case – quality content is a must as is enabled quality experience exchange.

Let's assume and hope that we can all meet again! EBG always do conferences with limited seats. EBG need your support and we ensure we support you.