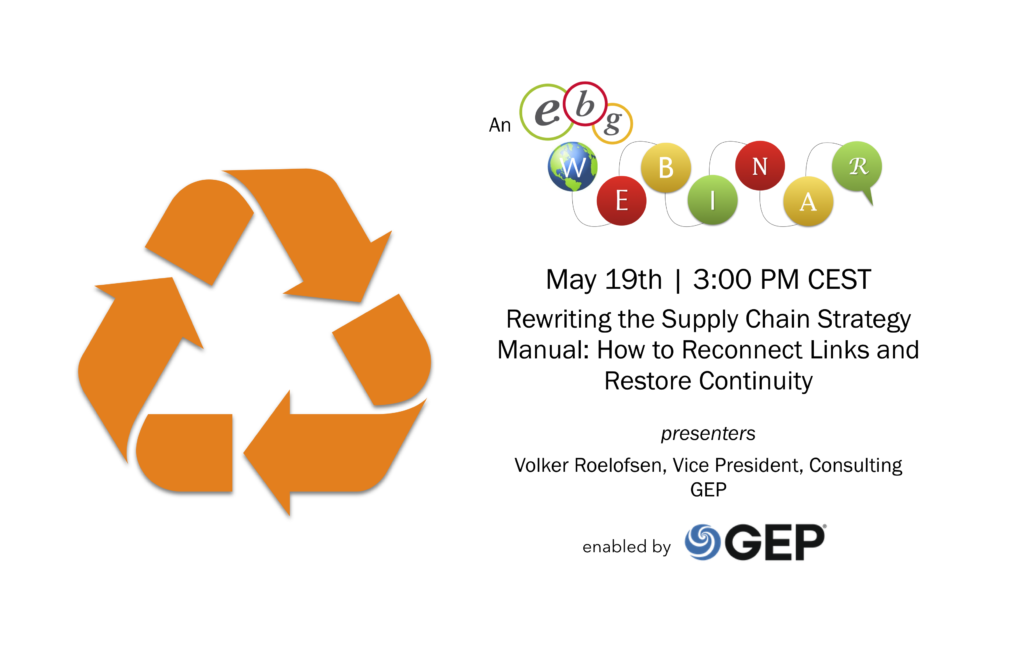 We are getting to a point in the current crisis where there is much data to be shared! Concrete comparisons to be made and valid reflections to do. Welcome to a webinar focusing on the Nordics and European supply chain and procurement current disruption data!
The supply chains of nearly every company have been strongly and negatively affected by the COVID-19 crisis. All industries are feeling, or will feel, the adverse consequences. Organizations across the world have been forced to focus their energies and resources on overcoming supply chain disruption and managing risks to business continuity. The crisis has demonstrated the need to rethink long-established supply chain and forecasting strategies.
Date: May 19th 2020
Time: 3:00-3:45 PM CEST
Place: Your computer/tablet/phone
Language: English
Cost: Free of charge but requires registration
Organizer: EBG | Network & GEP
In this webinar, Volker Roelofsen, Vice President of Consulting at GEP, will discuss practical, forward-looking measures and best practices to significantly reduce enterprise supply chain disruption. The discussion will be geared toward particular factors affecting companies in the Nordic countries as well as the wider European region.
Key Discussion Points
Internal as well as external (collaboration with customers, suppliers and service providers) levers to overcome disruption — from demand planning to purchasing
The need to combine procurement and supply chain management for full risk coverage
Recommendations for integrating traditional and innovative strategies and tools
Presenter
Volker has more than 22 years of experience in consulting, focusing on procurement and supply chain management. He leads GEP's growth in the DACH (Germany, Austria & Switzerland) region, managing consulting teams and local/global consulting engagements.
He previously was a partner at Deloitte in its procurement and SCM practice. Prior to this, he led the procurement and supply chain management practice for IBM in Germany, Austria and Switzerland. During his consulting career he has managed accounts for global leaders in the automotive, industrial, telecommunications, chemical/pharmaceutical and consumer goods/retail sectors.
About GEP
GEP helps global enterprises operate more efficiently and effectively, gain competitive advantage, boost profitability, and maximize business and shareholder value. Fresh thinking, innovative products, unrivaled domain and subject expertise, and smart, passionate people — this is how GEP creates and delivers unified supply chain solutions of unprecedented scale, power and effectiveness.
With 21 offices and operations centers in Europe, Asia and the Americas, Clark, New Jersey-based GEP helps enterprises worldwide realize their strategic, operational and financial objectives. To learn more about our comprehensive range of services and software, please visit www.gep.com.