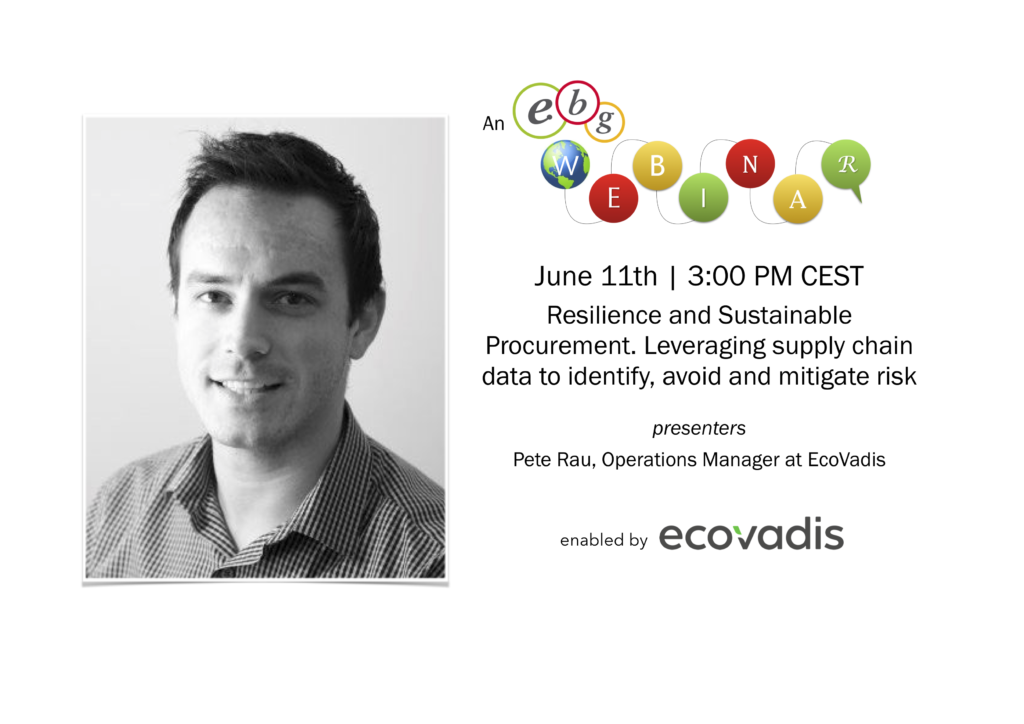 Leveraging supply chain data to identify, avoid and mitigate risk
A few months back, lowering C02 emissions, improving CSR strategies and sustainable business development had a central role in most companies' supply chain and procurement organisations. Then came COVID-19.
Welcome to join an interactive webinar:
Date: June 11th 2020
Time: 3:00-3:45 PM CEST
Place: Your computer/tablet/phone
Language: English
Cost: Free of charge but requires registration
Organizer: EBG | Network & EcoVadis
Have companies left their previous, then so important, C02, CSR and sustainability strategies? What has the impact been to date? Let's find out!
Presenter
During this session you will learn from and be able to ask questions to Pete Rau, Operations Manager at EcoVadis.
And – assessing and mitigating risks in the supply chain is a critical value lever of sustainable procurement. The COVID-19 crisis has put everyone's resilience to the test and exemplifies this interplay.
This session also explores
What risk and sustainability data and indicators are important? Many of which were exposed in this crisis!
How are these indicators used in procurement and throughout the organization to mitigate risk?
How can you quickly assess and evaluate your supplier network given the need for more/fewer, more or less regional/local/global supplies and more flexible supply options?
As we peer into the future we'll explore what tools, data, and strategies we'll need to prepare for exiting the crisis into a New Normal.
The webinar is free of charge to join but requires registration. All who register will receive the slides and recording.
Welcome!
EBG | Network & EcoVadis
About EcoVadis
EcoVadis is the world's most trusted provider of business sustainability ratings, intelligence and collaborative performance improvement tools for global supply chains. Backed by a powerful technology platform and a global team of domain experts, EcoVadis' easy-to-use and actionable sustainability scorecards provide detailed insight into environmental, social and ethical risks across 198 purchasing categories and 155 countries. Industry leaders such as Johnson & Johnson, Verizon, L'Oréal, Subway, Nestlé, Salesforce, Michelin and BASF are among the more than 55,000 businesses on the EcoVadis network, all working with a single methodology to assess, collaborate and improve sustainability performance in order to protect their brands, foster transparency and innovation, and accelerate growth. Learn more on ecovadis.com, Twitter or LinkedIn.